Nursing students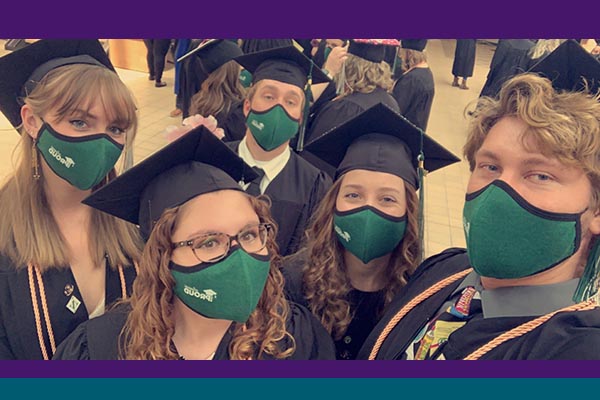 First cohort of nursing students earn associate degrees
Five Bluffton University nursing majors recently graduated from Northwest State Community College with their associate degrees. Four of the students were also inducted into Alpha Delta Nu, the nursing honor society at NSCC.
As a dual-degree program, Bluffton University nursing majors must first complete their foundational nursing classes and earn their associate degrees before completing their Bachelor of Science in Nursing (BSN) at Bluffton.
"I am very excited for our first cohort of nursing students who have graduated from our collaborating program at Northwest State Community College. These students have successfully reached a significant milestone in their journey toward becoming registered nurses and will be eligible to take the NCLEX-RN examination this summer," said Dr. Sherri Winegardner, director of nursing at Bluffton. "I commend each of them for their drive, fortitude and commitment to academic excellence in the pursuit of their dream to serve and care for others."
Members of the first cohort include:
Leksi Carpenter, Delphos, Ohio
Kourtney Kretschmar, Greenville, Ohio
Caleb Nesbitt, Deatsville, Ala.
Cale Sherbourne, Johnstown, Ohio
Ashley Watkins, Lima, Ohio
"I'm so proud to be part of Bluffton's first nursing group to graduate with our associate degrees. It's been a challenging two years, and I can't believe how quickly it's gone by," said Carpenter, who is working as a nursing extern at Mercy Health St. Rita's Medical Center in Lima, Ohio, this summer. "I'm so glad I chose to pursue nursing at Bluffton as it makes this associate to bachelor's transition seamless and easy, and I'm looking forward to my senior year at Bluffton."
Future Bluffton University nursing cohorts will graduate with their associate degrees from Rhodes State College. Ten Bluffton student will be dually enrolled at Rhodes in fall 2021
"The nursing curriculum is challenging, so we're extremely pleased and proud for these Bluffton students' achievements," said Dr. Lamar Nisly, vice president and dean of academic affairs. "Our nursing program wonderfully reflects our mission of service and care for our brothers and sisters close by and far away."
The unique partnership allows students to take classes at both schools while living in residence halls, playing athletics or joining student organization at Bluffton. Foundational classes are taken at a collaborating program during the students' second and third years.
Upon earning their associate degrees, students can sit for the NCLEX-RN examination. Passing the exam allows students to become registered nurses and work as nurses while completing their advanced nursing/BSN coursework at Bluffton.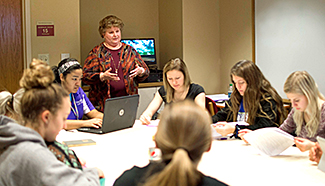 ---
Find o

utstanding liberal arts and advanced nursing education coupled with top quality technical nursing education.