Panel celebrates
11/05/2019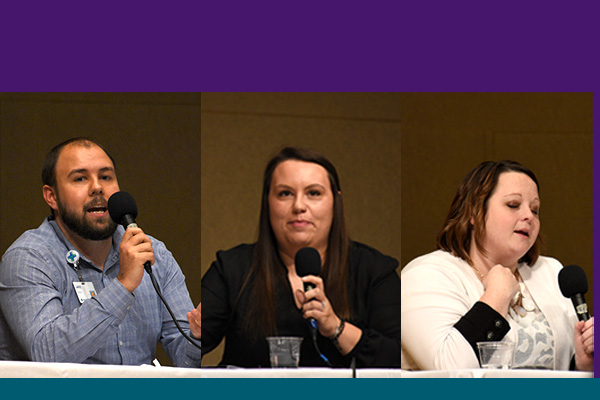 Social work panel celebrates their profession at Bluffton University
Established as a program in 1944, nearly 700 Bluffton alumni have graduated with a social work degree. To celebrate the 75th anniversary of the major on campus, Bluffton University faculty, students and alumni are coming together for a series of events to highlight the career field including an Oct. 29 Forum.
"I think people often have an idea of what they want to do in the future, but they don't realize social work is the route to do that," said Megan (Hargraves '10) Gonyer, instructor of teaching in social work and field coordinator at The University of Findlay. "I found social work in my first semester at Bluffton. Before that, I didn't know what it was."
Gonyer returned to campus as part of a panel of Bluffton social work graduates to raise awareness about the field. The presentation, titled "In the Field: Helping Others Live Their Best Lives Through Social Work," also included panelists Shae Golden '18, mental health counselor at Family Resource Center of Northwest Ohio, Inc., and Jake Stabler '13, medication assisted treatment navigator at Mercy Health St. Rita's Medical Center. Heidi Mercer, assistant professor of social work, moderated the panel.
"The social work profession is like a jack of all trades. Maybe students are interested in education or they're majoring in communication. They want to help people, but they're not quite sure how," explained Mercer. "We want them to know they can also use those skills in social work."
During the presentation, students also learned about the different places social workers practice—from schools to agencies on aging to libraries—and how they will likely interact with social workers at some point in the future, either through their jobs or everyday life.
"There is such a diversity to the field and people encounter social workers in places you wouldn't think of necessarily," said Stabler. "A lot of primary care offices now have a social worker who does screenings for depression, anxiety and suicidal thoughts."
"Our vet's office has a social worker now to help families who are dealing with pet loss," added Gonyer.
"There's a stigma that you only meet social workers if you break the law or lose custody of your kids," said Golden. "I think it's important to advocate for our profession and to help people understand what we do."
The panelists also provided wisdom they've learned in the field that is applicable to all students.
"We really do not know what others are going through on the inside, what kind of challenges they're battling within themselves," said Stabler. "It doesn't take any extra effort to be kind to somebody, and a small act of kindness can have a major impact on somebody that's been through a lot."
The question and answer session supported Bluffton's 2019-20 Civic Engagement Theme: "Living Our Best Lives." Throughout the year, Bluffton's students, faculty and staff are drawing on the Civic Engagement Theme to learn about and put into practice how we live with wholeness and joy.
---
Andrew Sluss '20 a social work major from Houston, Ohio, interned at CASA of Allen and Putnam Counties.