Summer internship
07/01/2019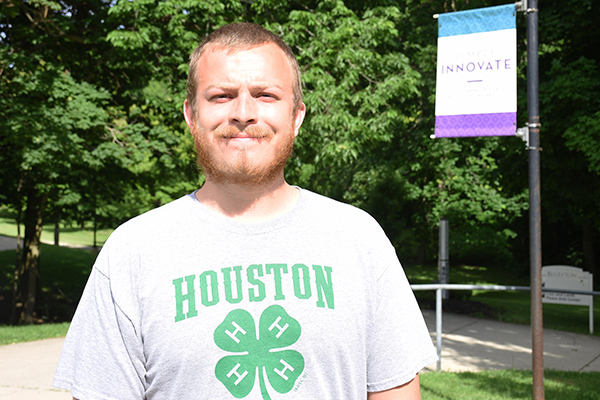 summer vocational exploration
Andrew Sluss '20 a social work major from Houston, Ohio, is spending the summer learning about his future career. This summer, Sluss is interning at CASA of Allen and Putnam Counties. The agency recruits and trains volunteers, known as Court Appointed Special Advocates, to intervene on the behalf of abused and neglected children in the court system.
"I'm doing a lot of different things. I've gone to different court proceedings, and I'm experiencing everything from abuse and neglect trials to custody trials," explained Sluss, who learned about CASA during a presentation in one of his social work classes. A connection through Heidi Mercer, assistant professor of social work, made the internship a reality.
While social work majors are required to complete a semester-long field experience during their senior year, Sluss pursued the internship to gain additional experience.
"This internship really has made me want to be a social worker even more, and it makes me want to look into CASA even more to be completely honest," said Sluss. "These are the hardest working people. They just want what's best for the kids."
On top of going to court proceedings, Sluss is also completing several projects for the agency. His favorite so far has been developing a Social Story, a learning tool which helps kids acclimate to new situations. Sluss created one on going to court for the first time.
"One of the kids felt really comfortable going to court after going through the Social Story," said Sluss. "I worked with one of the agents on the project, and it's really to cool to see that the project is already helping kids."
Sluss originally came to Bluffton to study education but gravitated toward social work. While he won't be in the classroom, he still plans to work with children in the future.
"I think the goals of education and social work are similar," said Sluss. "It was a pretty smooth transition and all of the professors were great at making sure I was where I needed to be."
His parents, David '86 and Naomi (Thompson '85) also made sure he was where he needed to be when they suggested visiting Bluffton.
"Originally, Bluffton wasn't on my radar, but my parents are alumni," said Sluss. "They wanted me to come and visit, and I fell in love with campus."