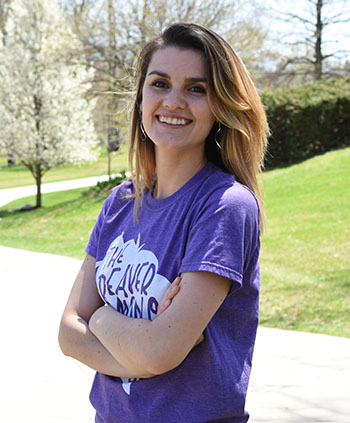 ---
Irena Xhari won the 2018 C. Henry Smith Peace Oratorical Contest. Her speech addressed the failures of the traditional criminal justice system in providing justice and promoted the use of restorative justice as a means of empowerment.
C. Henry Smith Contest
The C. Henry Smith Peace Oratorical Contest is hosted each spring by the communications department and the peace & conflict studies program.
The C. Henry Smith Peace Oratorical Contest is held annually on Civic Engagement Day


The following students gave speeches in 2018:
First place - Irena Xhari, "Restorative Justice and Sexual Violence"
Second place - Joel Jacobson, ""Truth, Peace and Media Literacy"
Third place - Katey Ebaugh, "Our neighbors have no Home"
Jared Hurst, "Little Boy and Fat Man: Blessing or Plague?"
Floid Krajcovic, "The Peace of Universal Health Care"
Julian Lavalle, "Bluffton values for Real Life Situations"
Any Bluffton University student is eligible to enter a submission for the contest. Students selected to participate will prepare an oration (no more than ten-minutes in length) that applies the Christian peace position to an issue of contemporary concern. For example, speeches that articulate a specific Christian peace witness in response to racial profiling, sexual abuse, unjust immigration laws or enforcement practices, drone attacks, gun violence, or climate change are welcome, as is any speech that invites transformation of the world toward greater justice through peace-building in any specific context..
1st Prize: $175
2nd Prize: $125
3rd Prize: $100
The first prize winner will go on to compete with winning students from other North American Mennonite colleges. Winners of the bi-national contest receive:
1st Prize: $250
2nd Prize: $150
3rd Prize: $75
The competition is administered by the Mennonite Central Committee and was established in honor of C. Henry Smith, who was on the Bluffton faculty from 1914-46. Smith is well-known for his particular attention to the peace commitments of the Mennonite tradition.
For more information, contact Gerald Mast, professor of communication, at mastg@bluffton.edu or 419-358-3208.