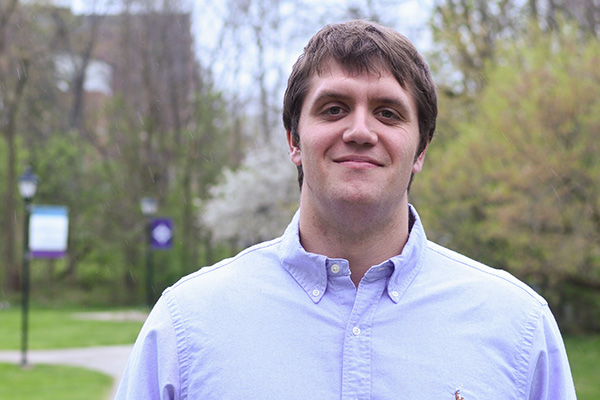 ---
Gabe Denecker won the 2020 C. Henry Smith Peace Oratorical Contest. His speech explored Catholic Just War Theory, beginning with Augustine and ending with the Just War Theory as applied to the American war in Afghanistan.
C. Henry Smith Contest
The C. Henry Smith Peace Oratorical Contest is hosted each spring by the communications department and the peace & conflict studies program.
The C. Henry Smith Peace Oratorical Contest is held annually on Civic Engagement Day

The following students presented their speeches virtually in 2020:
First place -

Gabriel Denecker

, "

The Catholic View of Peace: Just War and the Brotherhood of Humanity

"
Second place -

Claire Myree

,

"Can Friendship Trump All? Friendship in the Trump Era"

Third place -

Olivia Tennefoss

,

"America the Beautiful: At the Border and in our Communities"

Obi Martin

,

"Civilizational Self-Critique"

Zachary Lykins

,

"Peacemaking in a Pandemic"
Any Bluffton University student is eligible to enter a submission for the contest. Students selected to participate will prepare an oration (no more than ten-minutes in length) that applies the Christian peace position to an issue of contemporary concern. For example, speeches that articulate a specific Christian peace witness in response to racial profiling, sexual abuse, unjust immigration laws or enforcement practices, drone attacks, gun violence, or climate change are welcome, as is any speech that invites transformation of the world toward greater justice through peace-building in any specific context.
1st Prize: $175
2nd Prize: $125
3rd Prize: $100
The first prize winner will go on to compete with winning students from other North American Mennonite colleges. Winners of the bi-national contest receive:
1st Prize: $250
2nd Prize: $150
3rd Prize: $75
The competition is administered by the Mennonite Central Committee and was established in honor of C. Henry Smith, who was on the Bluffton faculty from 1914-46. Smith is well-known for his particular attention to the peace commitments of the Mennonite tradition.
For more information, contact Gerald Mast, professor of communication, at mastg@bluffton.edu or 419-358-3208.