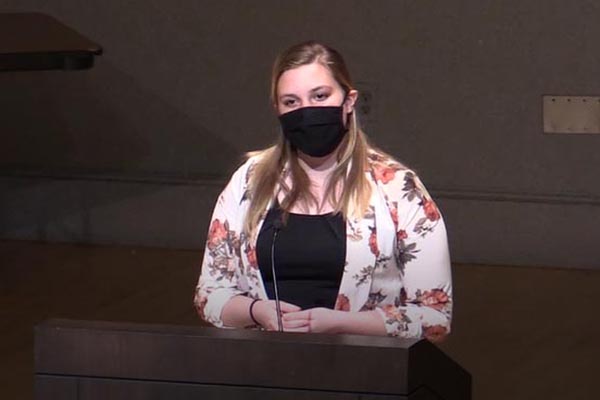 ---
Olivia Tennefoss won the 2021 C. Henry Smith Peace Oratorical Contest. Her speech was titled "Turning Profit Into Peace: The Shalom of Small Business."
C. Henry Smith Contest
The C. Henry Smith Peace Oratorical Contest is hosted each spring by the communications department and the peace & conflict studies program.
2021 C. Henry Smith Peace Oratorical Contest
7 p.m. Thursday, April 22
Yoder Recital Hall
Arts and Lecture credit.
The following students will speak out on peace and violence:
Gabriel Denecker, "Privilege, Pride, and Power: Global Inequality and the Things that Keep Us from Peace."
Jennifer Dorsey, "We Need Not Make Another Other: How the Church's Practice of Exclusion Violates Jesus' Call to Peace."
Claire Myree, "Making Peace with Our World through Reduction."
Olivia Tennefoss, "Turning Profit Into Peace: The Shalom of Small Business."
Cash prizes are awarded to the top 3 participants:
1st Prize: $175
2nd Prize: $125
3rd Prize: $100
The first prize winner will go on to compete with winning students from other North American Mennonite colleges. Winners of the bi-national contest receive:
1st Prize: $250
2nd Prize: $150
3rd Prize: $75
The competition is administered by the Mennonite Central Committee and was established in honor of C. Henry Smith, who was on the Bluffton faculty from 1914-46. Smith is well-known for his particular attention to the peace commitments of the Mennonite tradition.
For more information, contact Gerald Mast, professor of communication, at mastg@bluffton.edu or 419-358-3208.