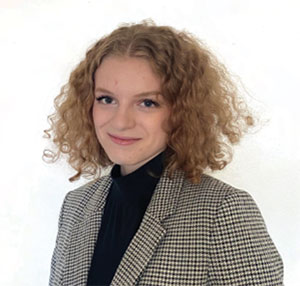 Noel Vossen
---
Noel Vossen is a junior at the University of Pennsylvania studying political science and English. She is an emerging writer and draws inspiration from the works of Walt Whitman, Mary Oliver, Kahlil Gibran and Rainer Maria Rilke.
The Philosopher
NextNonfiction
by Noel Vossen


He came to us at the apogee of November. He taught at a tired college a short train ride away. Our professor wanted his old friend to see our institution, to meet the brilliant students that he claimed to lack. The room was airy and broad but the intimacy of the setting was not lost on the five of us– the slim oak table drawing us near, the warm lighting, his electric charm. He spoke to us of alienation, city junkyards, and Wittgenstein.
Are you a Marxist? I asked him later.
Yes, but a bad one. Are you a Marxist?
Yes.
He looked at me, really looked at me.
Ardent, arrogant, and nonlinear as he was, I had to have an affair with him. Here and there Philadelphia, on and off New York. It was a simple thing for a time, but in one abrupt moment I became sickened with him.
You see, when you have a philosopher between your legs, he's the same as any other– helpless, trembling, primeval.
You almost find it pathetic.
Wittgenstein would have been no different.