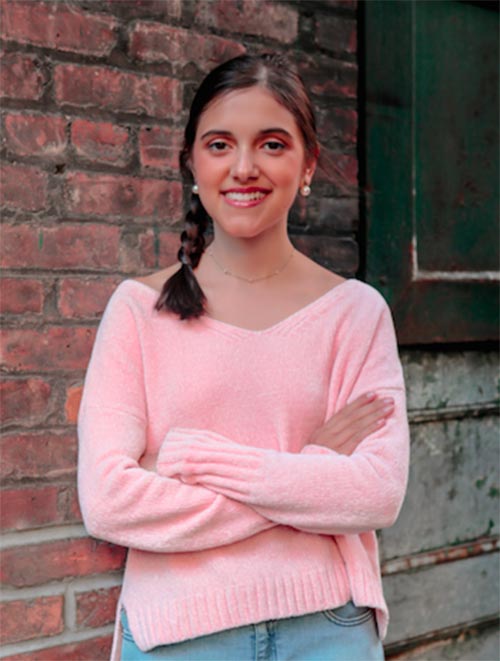 Divya Mehrish
---
Divya Mehrish is a student at Stanford University. Her writing has appeared in or is forthcoming in many journals, including Sojourners, PANK, Coastal Shelf, and Amtrak's magazine The National. She is intrigued by the intersections of the written word with nature, politics, scientific innovation, and the visual and performing arts.
Blue Summer
by Divya Mehrish
matthew
~
so they've stopped writing to me. before daddy drove me to camp in maine mommy gave me envelopes with our address pre written in her flowery cursive writing. she said The envelopes are ready. Just write and stick the letter in. It will help you practice your penmanship. We'll write back to you, I promise. she promised but i don't care b/c they're not writing maybe it's ines maybe something worse happened before i left when ines was at theater camp one morning daddy had to pick her up early and bring her to the doctor who took her blood and then the lab called at 6 a.m. the next morning b/c something is terribly wrong and then we all went to the hospital and they made her drink this white powder mixed in gatorade (Meeralacks or something) and she kept vomiting and they threatened to shove a tube up her nose and so she kept sobbing and drinking it and vomiting and then they put her to sleep and mommy was crying b/c she wasn't sure when she would wake up she wasn't sure if she would and then she woke up and she was breathing fast and hard and she grabbed her head and her eyes swelled with tears and she said leave me alone and so i left my sister alone.
Arjun
~
Day 16. 11:38 a.m. The New York Times is damp in my hands, wrinkled from my escapade through the city in the August heat. I wasted so much time today. 9:12 a.m.: that useless meeting. Then I left early, at 10:03. Maria ordered me to bring chicken soup to Ines. I wish she would just trust the food and the nurses there—well, I don't know what I wish. I don't—Deep breath, Arjun. I'm sick of the gray building now. Once, I marveled at the size of the place, the efficiency, the speed. Now, I almost wish that places like this didn't exist. I walk past the sliding doors at 11:34, the checkered cobalt tie loose around my neck. They don't even ask for my ID anymore. I run my hand through my fading chestnut hair, trying to fake a smile. But as I stumble into room 1173, she isn't anywhere to be seen.
matthew
~
i'm almost 12 i turned 11 9 days ago so yeah i'm almost 12 camp was fun but they didn't ask we had waffles every morning we climbed ¾ of the way up mt greshaw i am so tan now mommy says I should've worn sun lotion but i don't care i didn't even open the bottle my skin is peeling she says i'm going to get skin cancer like her client whose been "dying" for six years she has to keep rewriting his will but I don't care I like my skin no matter how red or brown or peeling it is. i just don't want to look like a ghost.
Arjun
~
Day 27. 12:27 p.m. Ines' blood work is terrible. Her hemoglobin level is 5.3628, almost as low as it was when she was diagnosed. She is getting four more blood transfusions. My cousin Shibani, the tenth person I've spoken to who also has ulcerative colitis, told me I need to ask how many grams per deciliter she is getting to make sure it isn't too much blood at once. I now listen to Shibani for advice, not Maria. Last night, Ines told me that when the nurse came to give her pills, Maria took them, waited for the nurse to leave, and then she threw them into the trash. The acupuncturist, Cayla, thinks that they would destroy her gut. I think they're mad. Maria has probably hypnotized her with her Italian gobbledygook.
It was 1:23 p.m. on July 18th, 2015, when we found out. I had taken Ines to India to visit my mum, and she was so pale that my sick mother, Ines' Dadiji, who hasn't seen her in years, was worried. When we came home, she slept nonstop. It's jet lag, she said. But then Ines fainted. On July 16th, in Maria's arms, she just collapsed. Then came the tests and colonoscopies, and we found out. Ulcerative colitis. I had never heard of it before, and now it's echoing and echoing through the cavern of my skull. My daughter, who hardly ever has a cold, is ill. The doctors said that if we hadn't brought her in when we had, she would have died. Now they think the solution is surgery. Obviously, it's quite logical. Disease in the colon → remove the colon → no more disease in the colon. But she would still be weak and prone to infections. And I don't want this for my daughter. I just want this to be over. I just want her to be okay.
When I couldn't find Ines in the hospital room I had left her in, I instantly thought the doctors had taken advantage of the fact that Maria and I weren't there to do the surgery, since we've been fighting against such a dangerous, drastic operation. If we aren't physically present, perhaps the doctors don't need our consent, at least in a critical situation. And Ines has been in a critical situation since June 15th. I have this wrenching feeling in my gut that one day, the blood work will be so bad that they will say surgery or death. I am terrified that we will have to give consent or they will snatch her away because we need to save her life. People who don't know her are trying to save my daughter's life when they don't know what it would mean for her to die or live or have a colon or no colon. Deep breath, Arjun.
But apparently they just moved Ines to another room, since she was bothering the newborn on the other side of the partition. How can a thirteen-year-old be noisier than a baby? My daughter hasn't slept since June.
Maria
~
She is mine—la mia bambina. I have a right, a duty to refuse. The colectomy is scheduled for Monday. But it's not going to happen. I have faith that she will heal. I want her to know that I saved her, even though it hasn't happened yet—I know it will. I know she will thank me one day and remember.
I arrived early, which I never do in normal life, so I could be there for the pills. Arjun's thin hair was messy, his orange Polo shirt wrinkled. For a moment, I pitied him. Then I remembered myself.
Arjun leapt up the moment he saw me and gave Ines a kiss. He was gone. Ines glared at me. I hate you. I hadn't even done anything. I stayed at home with Matthew last night—Arjun was with Ines. Sometimes, I want to be there with her. But every other night, when it's Arjun's turn, I am secretly relieved. Whenever I am with her, Ines sobs about something, yelling at me about everything.
Ines also tattled to Arjun about the pills; I suppose I expected she would. They always gang up against me. He is now chastising me for throwing them away. Maria, are you nuts? She's in the hospital, for the love of God! We have to listen to the rules. What are you doing? I won't let myself drop down to his level, though I know what I would say. I'm saving my daughter's life. What about you? Does he want me to obey these people, which would also mean surgery, or does he want me to go down my own route, with acupuncture, supplements, and chicken soup instead—the only possible way the surgery might be avoided?
But when I gave Ines the herbal supplement Cayla recommended, she screamed as if I were killing her. The chunky black powder didn't look so appetizing, I admit, but it helps. Ever since she started to drink it, she has been losing less blood. I say just gulp it down. If I knew it would help me, that it would be charcoal stuff or no colon, no colon or charcoal stuff, I would gulp it as fast as it would go down.
matthew
~
daddy picked me up on August 15th my birthday he loaded my duffel bags into the boot got me a strawberry sunday at ruby's and told me hurry up dude. the drive wasn't fun. the past 3 yrs have been so cool i sing to the CD he made for the road trip and we stop at dunkin' donuts and we have some cool bonding time. this time there were no donuts or coffee no singing he didn't even make a CD. but I was shocked by the coffee most. he needs it for the 7 hr drive. while we crossed the GW bridge he told me we were visiting Ines first. where is ines? At the hospital. why dad? why now? it's my birthday. dad dad dad and then I shut up. i saw his nervous glancing red eyes through his dirty glasses. i remembered he hadn't needed coffee.
when he parked in the low long black garage he was still silent i was still tan. i still had peeling skin and my duffel bag full of dirty clothes. but my summer was over. there was going to be no more sun.
she was with mommy on the 9th floor hunched over when i came bent over her stomach sitting on the short blue bed with the sheets wrinkled this isn't my sister her skin was white like the blinding sun on my tan skin in july the skin below her eyes was pitch black like campfire nights this isn't my sister there was a plastic bag full of yellow sticky stuff slivering down a long clear tube into her arm as a nurse stuck a long needle into her shaking leg bruised black and blue her light blue gown was open in the back and i saw her spine a long thick bumpy streak of bone this isn't my sister and then she looked at me my tall old mean sister with those dark dark dark empty empty eyes this can't be her. This ghost can't be her.
Arjun
~
Day 43. 5:36 a.m. The sun rises and sets and the moon whirls and the earth spins and she is still there.
Ines
~
The morning is soft, and blue, like the ocean when the sunlight sparkles on the waves. A smiling woman opens my side of the blue curtain. I watch her shadow sliding toward me, dull in the August dawn. I flip my gaze toward the East River, tasting the heat of the flashing waves. What would it be like to jump? To smash through the glass and tear through the blue sky? To be free? But then I look at the curve of my elbow. My IV is stuck fast, white fluid flowing through the tube. I wince in pain as I imagine ripping it out. My vein would burst and vermillion lava would pour out, oozing onto my dry knuckles, rusting earthy brown onto my gown, getting stuck in my hair. My poor hair. My hair, once so thick, is gone. Gone. Just thin clumps of matted straw. And my face. My cheeks. I look like a chipmunk. Wretched prednisone.
And now that lady's smile isn't a smile but just a fake purse of her lips like everyone else. Are you Ines? Of course I'm Ines, you wouldn't be here if I wasn't, I want to scream. But I say nothing. I'm here to mark your stomach for the surgery, sweetie. Would you mind pulling up your shirt slightly? She opens the cap of a thick purple pen. Do you wear bikinis? Where would you like to have the scar? I don't care about bikinis or scars leave me alone please leave me alone. But I say nothing. How is right here? At the waist? I never gave my consent this is nonconsensual and now I have a purple puddle on my stomach covered in plastic so it won't spread, sweetie. And then I lie down, the dirty sheets warm and sweaty and damp. Tears pile at the corners of my eyes, sweeping across my long eyelashes. At least hair hasn't fallen off my eyes. I want to cry and cry and my face is swollen and my eyes are red already so it doesn't matter I just want it to be over but I don't know what it is. It is just beginning and then my life will be over but just beginning. As the tears begin to drip onto my protruding collarbone, the nurse comes in and replaces the IV drip with a bag of blood, of liquefied roses, of someone else's blood someone's else's body. And I can't say no.
matthew
~
it smells so bad—like lysol mixed with vomit & purell. the doctors use SO much purell. i hate it here but i'm here all the time eventhough she doesn't talk to me hasn't said a word and they kinda ignore me. the floors have no carpet just blue spots so shiny slippery squeaky there are no marshmellows no fire no wood cabins that are warm even at night it's freezing here and she's freezing and i know b/c ines' lips are always blue her hair is really dark now like mine and mommy says it's b/c she doesn't have the sun to shine on her and make it light and sunny and reddish. she's almost as skinny as me she could be my little sister she's not 2 years older she can't be daddy is always tired now and doesn't watch jeopardy anymore so i've been deleting the episodes on the DVR so i can record the big bang theory instead. he doesn't tell me anymore that i'm growing like a weed yesterday when i said i'm gonna be as tall as a giraffe soon or at least as tall as ines his big eyes got small and he didn't look at me. he's always rubbing them raw through his glasses and sometimes he forgets and then freaks out about cracking them. he's losing hair and i know b/c it's the 1st summer he's not getting a haircut mommy is so sad she's always crying and her shoulders slump and her cheekbones push out of her cheeks she looks more like my sister with the dark thin hair and the long sharp chin and the thin lips and the matching moles on their noses and the eyes always always crying. and eventhough my sister has long hair it might as well be short since everyone in this family except me with my thick black mane is shedding hair like snakes shed their skin. i'm a giraffe—not a snake. i miss her.
Ines
~
Mommy thinks I will forgive her if she stops the surgery. I wonder if she's fighting the operation so hard just so things can go back to how they used to be. But what she has done is beyond forgiveness. It began with my grandma—but I guess it made sense for her to tell Nonna. But I was still mad, since I had specifically said don't tell anyone. I feel very strongly that no one should know I am sick. The truth is, I'm afraid. I'm afraid of being judged, afraid of my image in people's eyes being altered in some way. It's summer—I'm missing no school, so if I don't reach out to my friends, they can't find out, unless Mommy speaks to their moms. When I said no one can know, I meant no one, including our friends and relatives. I told Mommy no less than one thousand times to keep it private, and yet she went and told everyone she knew, plus at least sixty people I had never even heard of. And it hurts—not just that the entire Italian community of New York knows that I have ulcerative colitis—but also that she can't do for me the one thing I have ever asked from her. When I confront Mommy about it, after getting a pitiful call from a relative I never knew I had, she lies. She denies everything. The dishonesty has broken my heart. And it's going to take a while for it to heal—before my heart can mend itself, my inflamed intestines need to heal. What hurts most is that my own mother doesn't understand me. She won't validate my feelings since she doesn't see that it's so important to me. Even if I did say something, Ines, it shouldn't matter to you. Just forget about it. When I was young, she would say you must be honest; the only thing you own is your word. But she can't keep her own word. My mother is a hypocrite. She is the only other woman in my family, and yet I can't trust her. I need someone to rant to, to cry on. And she can't be that person.
Maria
~
I love you, mia figlia. The faded walls choke my voice, but I hear it rasping over her. And now she is awake—wide awake. I know because of her eyes, because of how much hate swims in them, flashing more darkly than her pitch-black pupils. I know because her chapped lip trembles, her brittle teeth chatter, her weak fists clench. I know because of the words she vomits that cut through my tired chest my heavy heart mommy I don't love you. How can I? You are a sick liar.
I used to blame those ugly words on her illness: the poor thing is sick and doesn't know what she's saying. But now that she is improving, I realize it's her.
We always had the typical mother-daughter tension. She's always been very anxious and she is such a perfectionist, and we are simply opposites. But in the recent months, everything has worsened and I don't know why. Well, I suppose it may, just may be because I've told a couple of people about the ulcerative colitis, although she told me not to. I mean, I'm missing so much work—I need to explain why I have disappeared from my office. I've tried telling Ines that I am not speaking to anyone, even if I am, just so we can avoid the shrieking and flailing arms, just to avoid conflict. I suppose there are a couple of people who I didn't have to tell, but they know now, and it's fine, and I can't change that, so it's fine. But she can't accept that. As I try to move on, she keeps getting more and more stuck on it.
She won't even give me a chance to tell her what happened, to show her that her life can still be beautiful. I haven't told her yet that I saved her. She doesn't know that while she was still sedated, I stood my ground, that I stopped the surgery. Look at her blood results. You can't take her. I'm her mother and I say no. My daughter will keep her large intestine inside of her body.
Arjun
~
I don't know how, but she did it. As they tried to wheel Ines away, Maria put up her arms to stop them like a human barricade. She spit out facts, sharply, like the lawyer she is—her hemoglobin is higher, the bleeding has lessened. No surgery! I give no permission. And as I squeezed her hand she squeezed back, and she smiled through her tears as they backed away. We were drenched by relief. I hadn't noticed I was holding her hand. We all knew the insurance wouldn't cover the stay longer if no surgery was scheduled and Ines was improving. So as the white jackets and red folders slipped away, unable to make eye contact with us, they mumbled: "She can leave tomorrow. She will, um, be able to make 8th grade orientation."
Ines
~
I took biology in seventh grade, with Dr. Jones. I learned how to write lab reports and fill in Punnett squares. I dissected a frog. I never thought I would come so close to being dissected myself just three months later.
I took biology in seventh grade, with Dr. Jones. I learned how to label the organs of the human body. Then one cloudy afternoon in August, as I sat in the hospital's Children's Center, painting the dawn onto a canvas, orange blossoms of light slipping into peach, peach into rosy blushes, three men with blue paper pants glided into the room, sitting next to me. We're planning to operate on you. I nodded hesitantly. I had learned that even if I didn't like these people, even if I wasn't on the same page as them, it was safest to just comply, or at least pretend to. One guy pulled out a picture of a human body outlined in blue ink. What's this? He randomly pointed at a small organ. The appendix. He was impressed. I remember because of the irony. I studied organs as a part of human anatomy, not of my own body. I never took it seriously. I couldn't take it seriously. Surgery no surgery colectomy no colectomy it wasn't real. Mommy says I didn't care, but the fact is no bone in my body knew how to care about my blood, about my colon, about watching the summer slide by through the window. It's just my life. It's happening and I can't stop it. The world is moving and I can't end the revolving I can't end it, but it can end me I can end myself it can end for me and if it ends for me everything has ended.
It's a beautiful thing, suffering. It's so humbling. In the bathroom, I would crouch over my stomach and sob silently into myself, praying. On most days, under the pink chandelier of my room, I forget there may be a God. I don't even believe in God. I'm a first-generation atheist. But on the tiled floor of the hospital bathroom, God was with me always. Please, God, help me. Just end this. Help me. Just choose. Make me die or make me live not this in between I am dying and I can't be dying I need to be dead or alive not this.
God forgot me like I always forgot that there was a God when I didn't need anything.
As I lay in that blue bed one morning, staring at the plain ceiling with no pink chandelier, my emaciated body vibrated as my phone buzzed beneath me. Next to the green iMessage bubble "Mommy" popped up. I swiped into the phone, listlessly. She wrote with no spaces, no punctuation. Hello Ines I hope you are okay tell me if you need anything I will be there at noon love you Mommy. Love you Mommy.
But how could I believe her after all her lies? I knew what she meant but I didn't want to know I knew she knew that I didn't want to know that I loved her that I don't love her, still, that I hate her that I still don't hate her that I don't want to love her and at the same time she loves me and it hurts my heart.