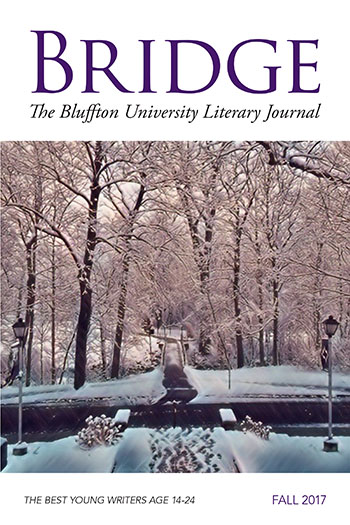 Adams Bridge is a much-loved connection between Musselman Library and the south-east side of the Bluffton University campus.
Fall 2017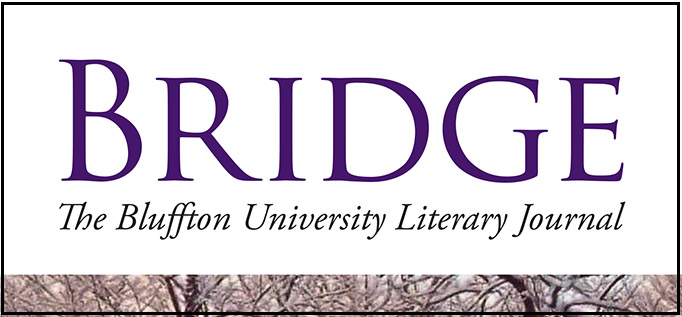 Editor's note:
Writers often ask what literary magazines are looking for when we choose the work that we publish. At Bridge, our aesthetic litmus test winnows down to one word: irrevocability.
Irrevocability is the quality that renders a story, poem or memoir unforgettable, and worth returning to. One could perhaps draw a parallel between our ideal and what Aristotle describes in The Poetics as recognition and reversal; but Aristotle specifically refers to a change in a character's understanding of changed circumstances. At Bridge, we select writers that execute this transformation in both the text and the reader. We seek writing that takes a leap, turns a corner, and takes us to a point from which there's no retreat, and no return. Work that is truly irrevocable is resonant and unforgettable. This irrevocability propels us forward - and challenges us to be better.
This second edition of Bridge is a collection of transformative works by young writers that changed, shaped and thrilled us. The work that young writers are doing — at age 14, 17, and even the ripe old age of 23 — is enthralling and powerful. It humbles us that writers from around Ohio and around the world choose to share these labors of love with us. I hope you find these works as unforgettable and resonant as we do.
Jamie Lyn Smith, Editor
November 2017
Student editorial associates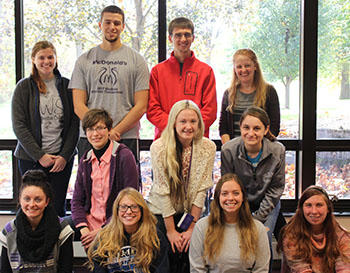 This volume of work has been selected, polished and presented by a crackerjack team of student editorial associates, many of whom are writers themselves. The students who built Bridge completed the usual duties of literary magazine staff.
SUBMISSIONS AND OUTREACH MANGER

AMBER EDWARDS
is from Covington, Ohio. She studies English at Bluffton and plans to be a high school English teacher. Her favorite book is
Frankenstein
by Mary Shelley. When she is not writing or reading, you can find Amber checking out the stars with her telescope. If she had to pick one genre to read, it would be the romance novel - she cannot resist its charms.
STUDENT EDITORIAL ASSOCIATES

BREEZIANA AMPEY-CARVER is from Redford, Mich. A psychology major, Breezi's hobbies include knitting and watching
Netflix
. Breeziana's favorite book is
The Name of the Wind
by Patrick Rothfuss.

BECKY BOBAN is from Madison, Ohio. Becky is majoring in art and writing, with a minor in chemistry. Two of Becky's favorite books are

Death is a Lonely Business

and

Something Wicked This Way Comes

, both by Ray Bradbury. Becky enjoys drawing, biking, checkers and badminton. She writes poetry and fiction. Her work has appeared in

Shalith

and

The Merrimack Review.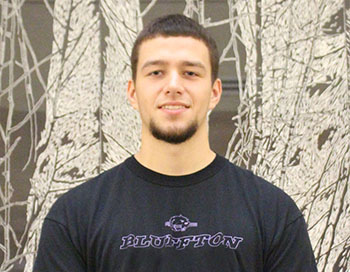 AUSTIN BUCHHOLZ is from from Holgate, Ohio. He is a criminal justice major and pre-law minor. He plays men's basketball at Bluffton University, and is currently reading Pablo Escobar: My Father.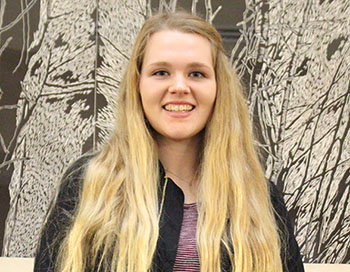 HANNAH CONKLIN is from Westerville, Ohio, and is majoring in convergent media. Hannah loves traveling, thrift shopping, and listening to Diana Ross & the Supremes records. While she is firmly a cat person, her favorite book is Because of Winn-Dixie by Kate DiCamillo.

BRISTA DRAKE is from Richwood, Ohio. She is an art and writing major, with minors in graphic design and theater. Her favorite book is Looking for Alaska by John Green. Brista has self-published two novels to date and vlogs regularly on her YouTube channel. Brista has also appeared in numerous stage productions at Bluffton. Brista designed the art for the Fall 2017 edition of Bridge.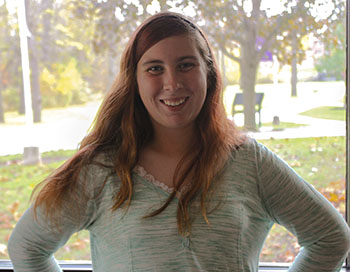 DANIELLE EASTERDAY is a first-year student from Barberton, Ohio. A writing major, Danielle is also pursuing minors in both English and psychology. She is a defender on the women's soccer team, and writes for
The Witmarsum
, Bluffton's news media outlet. Her favorite book is
Twilight
by Stephenie Meyer.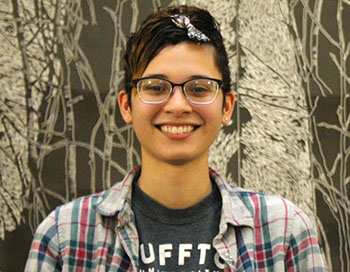 CARA ECHOLS is from New Bremen, Ohio. She's an art and writing major with a minor in graphic design. Cara's hobbies include playing basketball and gaming. Her favorite books are Isabelle Holland's

Man Without a Face

and

1984

by George Orwell. Cara enjoys reading social science fiction and Utopian/Dystopian fiction and building flyable model rockets. Cara's graphic design work includes several publications and promotional pieces for

Bridge

and

Bridge

events.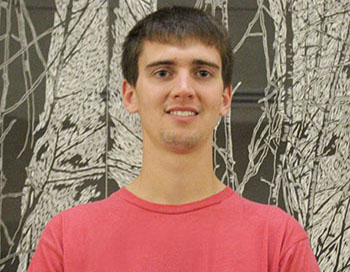 JONAH ECKERT is from Terre Haute, Ind. He is a psychology major, with a minor in public health. Jonah runs track and cross country, is a member of the Fellowship of Christian Athletes and serves as Student Senate President at Bluffton University. His favorite book is

White Fang

by Jack London.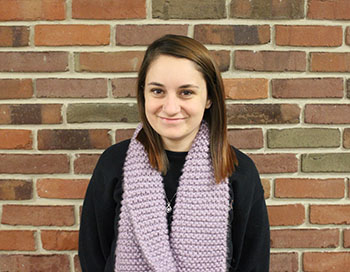 SHANON GALLAGHER is from Marengo, Ohio. A double-major in psychology and sociology, Shanon's favorite book is
The House of the Night
by the mother-daughter writing team of P.C. and Kristen Cast. She likes playing
Skyrim
on her laptop, reads science fiction novels, and serves on the Marbeck Center Board at Bluffton where she plans and coordinates student activities.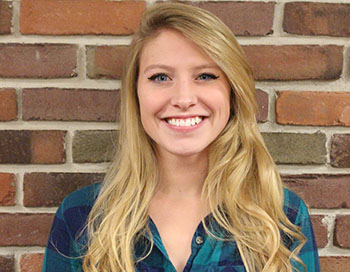 ALISSA HAUKE is from Hillsboro, Ohio. She is an art and writing major with a minor in sociology. She runs both cross country and track at Bluffton. Her favorite books are
Bad Feminist
by Roxanne Gay and
The Girl Who Loved Tom Gordon
by Stephen King. Her favorite genres are creative nonfiction and poetry.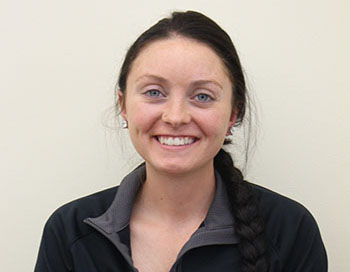 OLIVIA RAYLENE HUSS is from Bluffton, Ohio. She is a criminal justice major with minors in pre-law and psychology. Olivia loves to sew, knit, hike, explore and travel. Her current favorite book is

Letters from My Father's Murderer: A Journey of Forgiveness

by Laurie Coombs.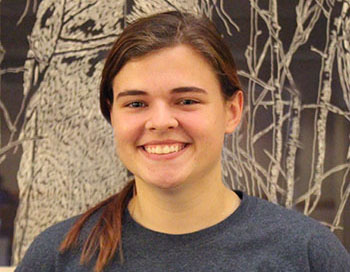 KATHRYN ROTH is from Pettisville, Ohio. She is an English major at Bluffton University. Some of her hobbies include knitting and sewing while binging shows on

Netflix

. Her favorite book is

The Great Gatsby

by F. Scott Fitzgerald.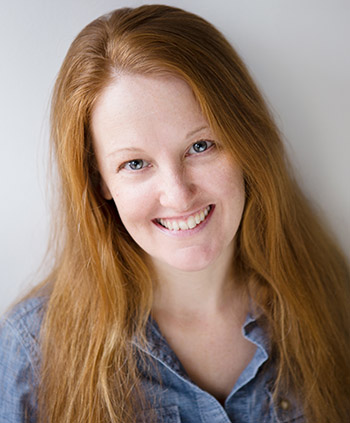 JAMIE LYN SMITH
is an alumnus of Kenyon College and Fordham University. She completed her MFA in Creative Writing at The Ohio State University. Her work has appeared in The Kenyon Review, The Pinch, American Literary Review, The Low Valley Review, The Boiler, The Watershed Review and Barely South. Jamie Lyn is working on two new projects -
Ever After
, a collection of short stories, and her first novel,
Appalachia
.
SPECIAL THANKS
to Lamar Nisly, Olivia DePalma, Alison King and Sara Kisseberth.