How do you prepare the next generation of students for a future that will be different than anyone can imagine?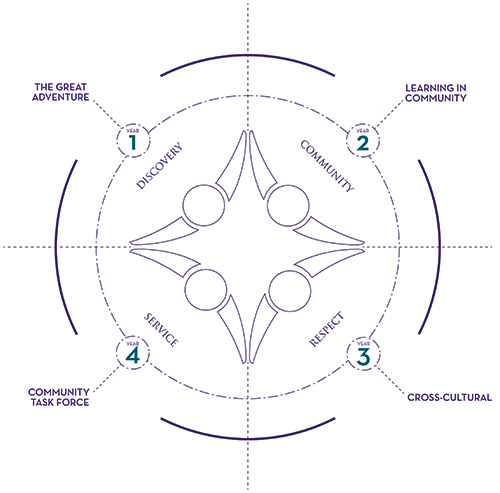 At Bluffton University, the answer is through the Bluffton Blueprint—four foundational courses, one for each year of college, which create a core of resiliency for the next generation of Bluffton students.
Featuring both traditional classroom learning and experiential components, the Bluffton Blueprint starts with The Great Adventure, a fall break retreat focused on the mind, body and spirit, in the Great Smoky Mountains of Tennessee. These experiences will push students to look at their majors and futures in unexpected ways.
From changing careers to moving across the country, the Bluffton Blueprint provides a framework for the challenges that come with life and, ultimately, for their greater purpose.
Beyond the traditional college experience
Each course within the Bluffton Blueprint aligns with one of Bluffton's enduring values—Discovery, Community, Respect and Service. These courses, as part of the Bluffton University Enduring Values General Education program, will allow students to see how different groups of people come together to create positive change. The experiential components will also prepare students for their future in ways that go beyond developing specific skills in their major. The Bluffton Blueprint, according to Dr. Lamar Nisly, vice president and dean of academic affairs, moves forward the concept of the traditional college experience.
"We hope this is going to be learning like students have never before experienced," said Dr. Nisly. "Students will gain significant insight as they go through the program that will push them into contexts where they encounter people with a wide variety of experiences and backgrounds. Those experiences will set them up well as they move into the world."
Skillsets for success
While the Bluffton Blueprint is new, the knowledge and support that comes with a Bluffton education has helped alumni for nearly 120 years position themselves for change. Some of the blueprint courses, including the senior capstone, have been part of Bluffton's general education program for years. However, the strength of those courses combined with the new experiences will advance the benefits of a Bluffton education in a whole new way.
"I knew community was important when I came to Bluffton, but I've come to appreciate the true richness of this community," said President Jane M. Wood, Ph.D. "That community facet of Bluffton works well with the experiential learning pieces that we are developing. It's the part of our students' education that will ground them for all the changes that come with life."
What then shall we do?
Throughout their four years, students will be challenged to reflect on a different question about themselves in relation to the enduring value, course topic and experience presented each year. As students make their way to their senior year, the question intentionally moves from an individual reflection to a look at their collective role in the wider world.
The final question, "What then shall we do?" is the same question John the Baptist is challenged to answer in Luke 3:10-14.
The Great Adventure
Surrounded by the vast natural beauty and immensity of the Great Smoky Mountains of Tennessee, The Great Adventure, a fall break retreat for all first-year Bluffton University students, provides the opportunity to reflect on the big questions in life. Who am I? What is my truth? What values do I live by?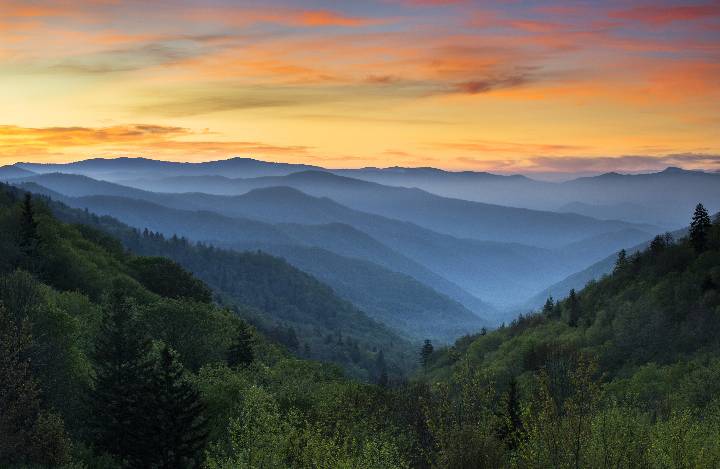 Starting during fall break in 2020, The Great Adventure will help Bluffton's first-year students grow closer to each other, discover themselves as individuals and explore their understanding of God.
While the experience is still being developed, some key components have already been determined.
Students will be asked to reflect on who they are and where they want to go in life. "We want them to imagine that trajectory and make plans so they can dream big but be grounded in reality," explained Dr. Lamar Nisly, vice president and dean of academic affairs. "We will ask them to map out the steps they need to take to reach those goals."
Dr. Randy Keeler, associate dean of academic affairs, is working on plans for the students to challenge themselves physically and mentally through an "adventure activity."
"We place limits on ourselves, but we want our students to challenge and confront their fears so they can open up new ways of imagining who they will become," explained Keeler.
Finally, an overarching spiritual component will help students envision how faith can be central to their larger vision. And while many students come to Bluffton with a faith background, Nisly says some do not, but "we all ask the bigger questions in life."
Learning in Community
Through hands-on community partnerships, developed specifically for this class, students will get an early look at how they can make a difference in their field of study.