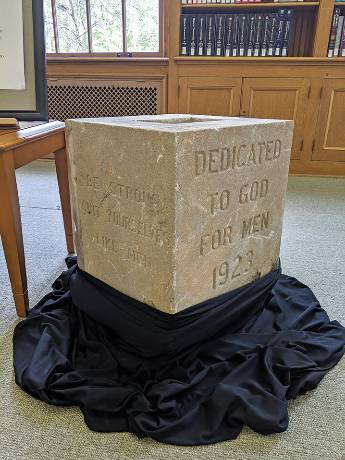 ---
Featuring items ranging from a Bible donated by a Bluffton resident to coins including a Buffalo nickel, the contents of the Lincoln Hall cornerstone were on display during an exhibit at Musselman Library on May Day weekend. The small time capsule, tucked inside the cornerstone, was dedicated during a public ceremony on May 21, 1923, as the ground floor of the new men's dormitory began to take shape. The display was curated by Carrie (Holcomb '99) Phillips, archives and special collections librarian, with assistance from Justin Berg '19, archives assistant.
Alumni
Spring 2019
From sports information to the Statehouse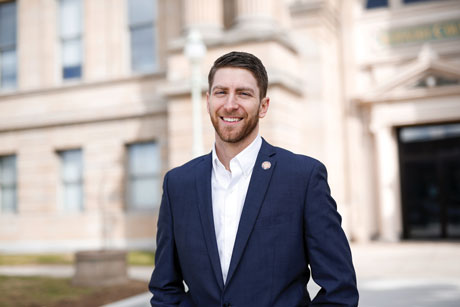 If Riordan McClain had to summarize in one word his journey to serving in the Ohio House of Representatives it would be "unexpected."
"There were twists and turns in my path that I wouldn't have projected," explained McClain, but it all started with his education at Bluffton.
Taking advantage of opportunities
While in past generations college graduates typically stayed in the same general field for the course of their career, the professional world has changed, and younger Bluffton alumni, like McClain, are taking advantage of opportunities in many different industries.
McClain came to Bluffton to study sport management and play baseball. As a sports information student assistant under Tim Stried '98 and Bill Hanefeld '05, he started building his resume and upon graduating, he was offered a graduate assistant position in the sports information office at the University of Findlay, where he also earned his MBA. Over the years, he worked in retail, market analytics and brand building and took a chance with Doc Investments, a start-up in the precious metals industry.
"I really enjoyed the entrepreneurial spirit of starting from scratch, building a brand and forming a way to make a business profitable. When I started, it was an industry I knew nothing about, but I knew how to learn and I knew how to connect to a consumer," said McClain.
But in 2017, when the state representative for the 87th district resigned, McClain was ready to serve Wyandot, Crawford and Morrow Counties and parts of Marion and Seneca counties at the Statehouse. He was appointed in 2018 and elected to his first full-term one year later.
Serving God, family and the 87th district
While he's still involved in Doc Investments, "Columbus takes the majority of my time and should be my primary focus," explained McClain, who represents about 120,000 of Ohio's 11 million people.
Despite some long days (and nights), McClain says, "I'm where I want to be, need to be and where God has called me to be for now."
On Tuesdays and Wednesdays, McClain can be found in Columbus in committee meetings or Statehouse sessions. That work regularly extends to Thursday, as well, but on Mondays and Fridays, he meets with constituents. With four children, including a newborn at home, juggling family-work balance can be a challenge.
"This is a role that has stretched our family, but every career decision I've made has been with them in mind," said McClain. "My priorities are to God, my wife and my kids, and everything else comes after that. I make sure to take time away from politics because I can be successful in
whatever career I have, but if I don't give my family the time they need, I'll know that I failed."
A well-rounded education
McClain says meeting with constituents, hearing their concerns and potentially being involved in promoting issues or solving problems in his district is a huge honor, but developing the skills to do that work goes back to his days at Bluffton.
"There's a lot of information from class that I use today, but what I return to the most is the ability to interact with people—the ability to impart your ideas or position, but more importantly, to listen and have good interactions with people," said McClain.
So who imparted these skills on McClain? He points to James Grandey, baseball coach; Phill Talavinia, director of athletics; Gary Schiefer, associate professor of business; and Tami Forbes, health, fitness and sport science department chair, with whom he had long conversations about
his future. He also credits Dr. Randy Keeler, associate dean of academic affairs, for stretching him spiritually and Dr. Perry Bush, professor of history, for challenging him politically.
"Bluffton was filled with a lot of people, from faculty to classmates, that I will be forever connected to," said McClain.
Thirteen years after graduating, McClain returned to campus to serve as the Commencement speaker for the 119th ceremony at Bluffton. Reflecting on his own path in life, he gave this advice to graduates.
"Set your course and work hard to get there, but be open to what life might bring," shared McClain. "Sometimes, it turns out much better than what you could write for yourself."