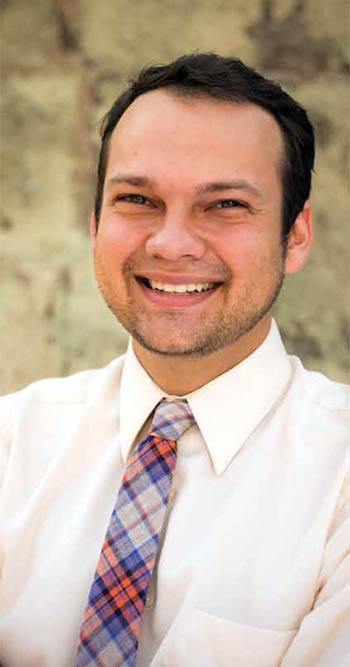 Alumni profile
Alex Woodring
Fellow, Pittsburgh Urban Leadership Service Experience
Bluffton '12
Major: Communication
A strong PULSE
As a Bluffton undergraduate, Alex Woodring knew he eventually wanted to teach. But he wasn't thinking in terms of elementary and junior high school students, nor of teaching classes just 16 months after taking his last ones at Bluffton, in spring 2012.
Last fall, though, he found himself standing in front of young faces at Propel Braddock Hills Elementary, one of nine Propel charter schools located in and around Pittsburgh, Pa. He was there to teach audio production and sound design in his position as community and education programmer for public radio station WYEP—his placement as a Fellow in the Pittsburgh Urban Leadership Service Experience (PULSE).
And now, as he nears the end of the 11-month experience, Woodring calls it a "rewarding" one.
The road to Pittsburgh.
A communication major at Bluffton, the Sherwood, Ohio, native had hosted a program on campus radio station WBWH and was head editor of Bluffton Connection, an online incorporation of WBWH and the former student newspaper, The Witmarsum.
Without that background, he says, "I'm not sure I would have gotten the job right out of school," with the Delphos Herald Inc. But as much as he loved small-town northwest Ohio, "I knew that I needed to be in a big city sooner rather than later" to see what a larger media market might hold for him, Woodring says.
Making the move.
Johnny Erevia, a college classmate who had gone straight from Bluffton to PULSE, suggested that the Pittsburgh program offered the safest way to get into a large city and make connections. And the option became a "nobrainer," Woodring adds, when he learned that WYEP was among the settings in which PULSE places its Fellows.
Fellows don't receive a salary for the full-time work they do, he explains, but the program covers their food, housing and transportation costs, and provides a small monthly stipend "to fill in the gaps."
An interview with representatives from WYEP confirmed that the placement there would be a good fit, he says, but even the day before, he had "no idea" that the job would entail teaching as well as grant writing, audio production and other duties.
Transition to teaching.
"I was pretty nervous at first," admits Woodring, who has taught for three-month stints at two Propel schools, working with about 150 students overall in grades K-8. But "it's actually pretty fun," he says, noting the excitement of kindergarteners exposed to sound recording and the satisfaction of older students when making their own productions.
"Past Alex would be very surprised at present Alex," he says with a laugh, considering his current self 's enjoyment of the experience.
"It's also one of the hardest things I've ever done," he continues, but when students respond well or produce something they're proud of, "it's all worth it."
Woodring will finish his fellowship at PULSE next month, but he plans to look for a media job in Pittsburgh, which he describes as an affordable city with a growing number of young people. Starting his own media production company is among his long-term goals, along with graduate school and teaching—at the college level. "I'm going to give it a try," he says.
Included Content