Hitting the Right Notes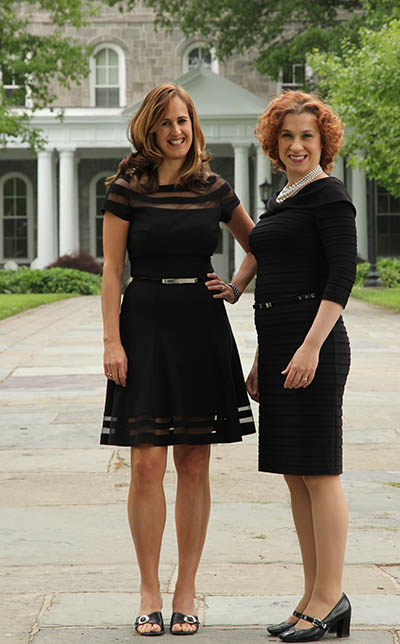 Kathryn Lehman and Kirsten Halker came to campus a year apart, both with Bluffton in their backgrounds and music—plus other, seemingly unrelated academic interests—on their minds.
The similarities were lost in a less than auspicious beginning to their relationship, but a mutual friend convinced them to see their common ground, and they wound up as duet partners at Bluffton.
After graduating in 1995 and '96, respectively, Kathryn and Kirsten went their separate ways, albeit each still in music. And now, nearly 20 years later, vocation and maybe fate has literally brought Kathryn (Lehman) Harsha and Kirsten Halker-Kratz closer again, as champions of music in their communities less than two hours apart in Maryland and Pennsylvania.
Both are executive directors—Harsha, of the Carroll County (Md.) String Project, and Halker-Kratz, of the Chester (Pa.) Children's Chorus. Both groups, their leaders say, offer affordable musical opportunities in areas where they are needed.
Kathryn's journey
Harsha moved to Maryland in 2008, continuing an eastward migration that took her from her native North Newton, Kan., to Bluffton and on to Cleveland, where she still serves as musical director for the biennial Sing Out! fundraiser for the Cleveland Rape Crisis Center.
She is the daughter of two 1961 Bluffton alumni, Mary Jo (Diller) and Thomas Lehman, who was a chemistry professor at Bethel College in North Newton when Kathryn was growing up. As college approached, the thought of attending the one in her "backyard" didn't hold much appeal, she remembers. But she had been on the Bluffton campus while visiting her grandmother in town, "and it seemed like a pretty good fit," she says.
She was leaning toward a major in music but also wanted to try pre-law as well as physics courses, she recalls, noting that she comes from a family of scientists. She couldn't have attempted that combination at a large university, Harsha says, but Bluffton let her have an undecided major for a year and Dr. Stephen Jacoby— now a professor emeritus of music—made arrangements that also allowed her to pursue her other interests. Her eventual double major was in music and humanities.
A musical path
Her college musical concentrations, in piano performance and flute performance, focused on instruments she had been playing since kindergarten and fifth grade, respectively.
In high school, while playing flute and piccolo in the Newton Mid-Kansas Symphony Orchestra, she met orchestral conductor Daniel Hege and added that profession to her file of possible careers. "I was pretty clear that was on my short list of jobs I wanted to do," she says.
Her next exposure to conducting came as a first-year Bluffton student, when Jacoby arranged for her to attend Monday rehearsals of the Lima Symphony Orchestra. She observed then-conductor Joseph Firszt, watching his demeanor—and the orchestra's response—and how he structured rehearsals, resolved musical issues and "navigated with musicians who think they
could be conducting," Harsha says. She went to performances, too, she adds, "but the rehearsal was what I needed to see."
That same year, Bluffton's First Mennonite Church provided her first opportunity to direct a musical group. Earl Lehman, the church's choral director and a professor emeritus of music on campus, had a heart attack, sending the church on a search that "trickled down" to her as the new director, she says.
She estimates that about half of the choir members were Bluffton faculty, and "by the end of my freshman year, I had a church relationship with them." Taking the Lima Symphony observation into account as well, it was a "phenomenal" first-year experience and "the best training ever," Harsha says.
An eventual friend
The following year, she met first-year student Kirsten Halker for the first time to resolve, in no uncertain terms, an issue about shared practice space with her roommate. "That pretty much ended any chance for a relationship" with the younger music major, Harsha says—until a mutual friend and fellow music major, Merv Miller, intervened, urging her to get to know Halker because they were so similar.
They were both accompanists on keyboards, for one thing, and Miller suggested they should work together, says Halker-Kratz. Later that year, with two keyboardists needed for a performance of Stravinsky's Symphony of Psalms, they were asked, and agreed, to play, "and then we had to work together," she adds.
They then realized Miller had been right, she says, and became friends, as well as duet partners. And "by the time we were both upperclassmen, we were the primary accompanists for everybody" at Bluffton, says Harsha.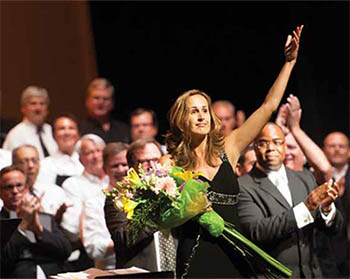 On to Cleveland
After graduation, she studied conducting privately in Fort Wayne, Ind., before moving on to the Cleveland Institute of Music, where she earned her master's degree in orchestral conducting in 1999.
She then decided in stay in Cleveland, in part because she and her husband, Tom, were expecting their first child. Over the next eight years, Harsha worked part time in several settings, including as music director of the community college-based Lakeland Civic Orchestra; with an opera company; and at Cleveland Music School Settlement, similar to the school in Philadelphia where Halker-Kratz worked for 12 years.
Also during that time, she became involved with the Sing Out! event, which helps raise awareness about
sexual violence, as well as funds, for the Cleveland Rape Crisis Center (CRCC).
Organizers were seeking a musical director for the second Sing Out!, in 2002, when a fellow member of Harsha's book club was asked about taking the position, she says. The woman turned to her instead and said, "You should do this"—and she has ever since, calling it "a great match for my skill set."
The biennial event brings together prominent Clevelanders—legislators, judges and lawyers, among other invitees—to form a roughly 100-voice chorus.
In addition to the music, a survivor of sexual violence speaks, and people who have helped the center are honored. More than $420,000 was raised at this year's Sing Out!, held on June 4.
"This is an event about hope," Harsha says, explaining that people are encouraged to support the CRCC "because of the hope the center gives, promoting healing for survivors."
"It changes lives of people who don't have anywhere else to turn," she says. "To use music as a way to help people who need help, that's huge."
A project in Maryland
A job opportunity for her husband took the Harsha family—also including daughter Alexandra and son Christian—to Maryland, where they live in Marriottsville, just west of Baltimore. Marriottsville is in Carroll County, where the string project that she now directs was founded in 2007 by Margaret Motter Ward.
Among other things, the project was designed to address a lack of both string instruction in the public schools—where most instrumental music teachers have a band-instrument background—and of qualified string teachers in Carroll County. With three locations in the county, the project also aims to be a resource for public school teachers and a place where the arts will be available to people of all ages, Harsha says.
Kirsten's journey
Halker-Kratz went directly to the East Coast from northwest Ohio, where she grew up in Putnam County before earning bachelor's and master's degrees from Bluffton and Bowling Green State University, respectively.
The daughter of a Bluffton alumna, Roberta (Strahm '70, '99) Halker, she was drawn to music as a preschooler by a great-grandmother who—like two of Harsha's piano teachers—had played for silent movies many years before.
Kirsten started piano lessons as a 6-year-old and organ lessons at 14, studying first with Jacoby and then with Jodi Diller, the current Bluffton music administrative assistant. Diller played at Grace Mennonite Church in Pandora and eventually allowed the Pandora-Gilboa High School student to take her place there once a month.
"That was really helpful to me," says Halker-Kratz, who also filled in once monthly at her home church, St. Mary's Catholic Church in Bluffton, and continued to play at Grace Mennonite through college.
The right chemistry
Her musical training had weathered a jolt when she was 12, cautioned by her piano teacher that being a musician was difficult, requiring an extensive time commitment for practice and performing. "Because I wasn't practicing like I should and had a lot of other interests," she recalls, her teacher told her "I think that you should consider something else."
Among her other interests was science. By the time Kirsten started high school, she was particularly drawn to chemistry and its "tangible nature," she says. As a senior, she wasn't sure what she would do with a chemistry degree—maybe become a research scientist or work for the Food and Drug Administration—but she decided she would try to pursue one alongside a music major.
Other colleges would have asked how she would combine the two disparate programs, she says, echoing Harsha's story. Bluffton, she continues, said the unusual double major would require creativity in scheduling activities, "but why not?"
Making the choice
Well into her senior year, Kirsten still hadn't determined what she would do with her degrees. Graduate school and piano teaching were among her musical options, but she wondered if music would "put food on the table" like a job she could get with the chemistry degree she had also worked hard to earn.
Help with the decision came from an unlikely source during a mock interview at a campus job fair. Looking to fill a laboratory-based internship, a representative from DuPont listened to "all the right answers" Kirsten says she gave to a question about why she was interested in the position. She was asked next to tell about her music degree and, "about 20 minutes in," the recruiter stopped her, saying "I don't think you'll be happy in chemistry," she remembers.
That went against everything she had been told, she says, but was "absolutely right"—she wouldn't have enjoyed being "secluded in a lab," and had to figure out instead how she could "make music my life."
She considered music therapy and music ministry but ended up at Bowling Green, teaching primarily piano to undergraduates while working toward her master's degree in piano pedagogy and organ performance.
She also met her future husband, composer Girard Kratz, at Bowling Green. In 2000, after they had married and finished their work at the university—including Kirsten's post-master's job as an adjunct piano instructor—they left for Philadelphia, where Girard had been accepted into a doctoral program at Temple University.
Philadelphia story
As it happened, Dr. Virginia Marks, then the chair of music performance studies at Bowling Green, had studied with the mother of the development director at Philadelphia's Settlement Music School. Before Kirsten and her husband moved east, Marks told her she should contact the school's director about a piano teaching job.
She did, and had an interview, but no positions were open. Two months later, though, she was offered work as the executive director's assistant—a job she needed, she says, because "the cost of living in Philadelphia was a complete shock."
Within the first year of her two years in the position, she also took on piano students and eventually became lesson coordinator at the West Philadelphia branch, one of six in and around the city and in neighboring Camden, N.J. She went on to be the branch director for seven years.
Settlement is one of the nation's oldest and largest community music schools, offering dance, along with music, to anyone who wants it, regardless of age or income, she explains, noting that participants pay on a sliding scale. "It's a family affair," she adds, saying "the whole point of community music education is that you have a place for all people."
In 2007, while participating in a project to train the next leaders of nonprofits in Philadelphia, she realized "a huge deficit" in her nonprofit experience was in direct fundraising work. So, in 2009, she left the branch to become Settlement's individual giving manager. In that role, she learned to solicit donors, she says, and helped the school reach a $25 million goal for a capital campaign that had begun in association with its 100th anniversary but was derailed for a time by the recession.
She spent her last year at the school working with a new executive director on such areas as program development, hiring and budgeting.
The children's chorus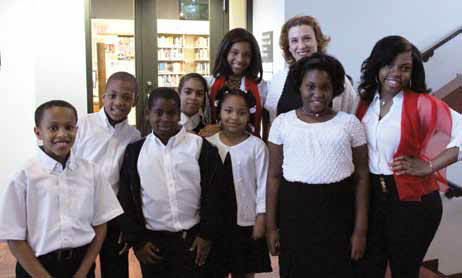 After 12 years at Settlement, Halker-Kratz found another position that sounded perfect not only to her, but also to more than one acquaintance who saw the executive director's job opening with the Chester Children's Chorus and mentioned it to her. Given that reaction from others, she says, "I thought I should probably pay attention."
Dr. John Alston founded the chorus 20 years ago with just seven boys from one elementary school. This year, the program —comprising four, age-based choral groups—includes about 140 boys and girls, ages 8-18, from every school in Chester.
Also including a summer camp component, the children's chorus is a program of Swarthmore College, a Quaker-affiliated liberal arts school "that looks and feels very much like Bluffton," according to Halker-Kratz. But while the city of Chester is only five minutes from Swarthmore, it's "a completely different world," she says, describing a poor, violent community whose children need a safe space where they can be creative and learn to work together.
Each year's dozen or so chorus concerts feature a range of musical genres, including classical, gospel, popular, jazz and rhythm and blues. "These concerts are probably the most joy you'll ever see in your life," she maintains. "And the enthusiasm and beauty will bring you to tears."
"The chorus is one of the only music programs that still exists for these kids, and the only rigorous one," the Media, Pa., resident asserts. "I feel really good about the work we do here," which, for her, includes grant writing, donor relations, marketing and hiring.
Shared experience
She and Harsha haven't been together much since the mid-'90s, Halker-Kratz says, but when they get in touch, "it's like time hasn't passed at all." When she was still working at Settlement and learned Harsha had moved to Maryland, she asked her friend to visit and they played duets all afternoon. And this spring, they each attended a community music education conference in Baltimore.
"We complement each other so well," adds Halker-Kratz, also the mother of two, daughters Caroline and Charlotte. And the two Bluffton alumnae have been discussing the possibility of performing an alumni concert on campus.
Harsha, who calls Kirsten "a powerhouse," has also stayed connected with faculty members, especially Dr. Lucia Unrau, professor and chair of music, who has been "a huge part of my life and career." Including Jacoby as well, she says "a whole lot of who I am and what I am is because of their influence."
Both women also name Dr. Michael Edmiston, a professor of chemistry and physics, alongside music faculty on their lists of biggest Bluffton influences. "The chemistry was essential," says Halker-Kratz, explaining that the scientific thought process has helped her strategize about budgeting and other aspects of her career. "I would have done it no other way."
"Bluffton was such a crucial part of my life because it was the one place that was willing to develop me as a whole person," she says. "I still think liberal arts education is the best education."
For Harsha, the university's significance extends to her sister-in-law, Julie (Harsha '06) Baumer, who, as a Bluffton junior, was seriously injured in an auto accident. The campus community's support of her to graduation was "a testament," Harsha says, "to the real education that Bluffton gives."
-by Scott Borgelt
Included Content