Making experiences possible
Longtime trustee helped make his Bluffton experience possible for others
He doesn't think he fully realized it at the time, Morris Stutzman says, but his experience as a Bluffton student over 40 years ago "was really a formative influence in my life."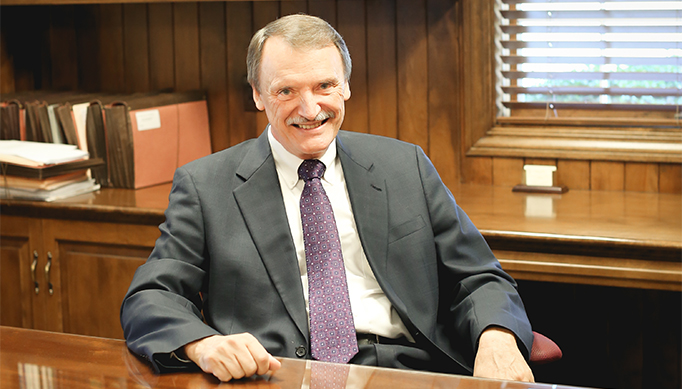 Bluffton was where his faith and values became integrated with his education in a new and meaningful way, forming the foundation for his life and vocation, the 1972 alumnus—in philosophy—and Wooster, Ohio, attorney explains.
He has heard others tell the same story, he says, and as a Bluffton trustee for the last 32 years, he worked to help make it possible for successive generations of students to have that kind of experience.
Stutzman stepped down from the board of trustees this spring as the third longest-serving member ever, trailing only the Rev. Jerry Sauder (42 years, 1926-68) and Roland Bixler (35 years, 1956-91). As board chair for the last 14 years, he is tied for second on that longevity list with J.F. Lehman (1911-25), behind only Richard Rosenberger (17 years, 1974-91).
Stutzman enjoyed the relationships developed over the years with fellow trustees, faculty and staff. While they came from different places, and with different experiences, he notes, all believed in Bluffton's mission and were united by a common desire to provide students with an educational experience that incorporated the university's faith-based, enduring values of discovery, community, respect and service.
He saw that common purpose firsthand beginning in 1983. After earning his law degree in 1975 from Case Western Reserve University in Cleveland, Stutzman and his wife, Dianne, returned to their Wayne County roots in Wooster, where he began practicing law and reconnected with Bluffton through an alumni group. He became a trustee when Larry Christman, an alumni association appointee, left the board to become president of the Association of Independent Colleges and Universities of Ohio, and he was asked to complete the last three years of the unexpired term.
During his first 13 years as a trustee, the Triway High School graduate worked with a president who had also been one of his philosophy professors at Bluffton, Dr. Elmer Neufeld. As Neufeld's retirement approached, Stutzman chaired the search committee that found his successor, Dr. Lee Snyder, who in 1996 became the first female president of a Mennonite college or university.
"While selecting a woman president was significant for us, it was probably even more significant in the Mennonite church world," says Stutzman, a managing partner in the Wooster law firm of Logee, Hostetler, Stutzman and Lehman. "We were happy that Bluffton led the way."
The choice of Snyder "gave us new visibility in the Mennonite world," he adds, crediting her, in turn, for enhancing Bluffton's sense of identity about its role in Mennonite and Christian higher education. A president who came from outside Bluffton, "she helped us understand that you have something special to offer" in terms of mission and programs, and that the then-college needed to find ways to share the good things happening on campus, he recalls.
Citing their leadership, Stutzman counts the selection of both Snyder and Dr. James Harder, her successor and the current president, among the "most satisfying" board accomplishments during his tenure.
In addition, he points to the development of a Bluffton model for offering cross-cultural experiences to students, beginning in the mid-'90s. Having a worldview is important, he says, noting his own cross-cultural experience as a student and the variety of experiences available to students today.
His list also includes increased enrollment, the addition of graduate and new undergraduate programs, and the completion of successful capital campaigns and building projects. Major building projects in the last 25 years have included the Sauder Visual Arts Center, Salzman Stadium (as part of the Sears Athletic Complex), Ramseyer Hall, Yoder Recital Hall, Centennial Hall, Neufeld Hall, the Marbeck Center addition and the Sommer Center.
"There have been a lot of changes on the landscape, which have been very gratifying because they directly benefited the students' experience and made the university more competitive with other schools," Stutzman says.
Looking ahead, he sees continued pressure on higher education—including Bluffton—to keep college affordable and to measure and report outcomes, while also facing record-low state and federal financial support. And the affordability issue will probably lead to more collaboration, especially among smaller, and maybe Mennonite, institutions, he predicts.
But Bluffton is well-suited for such an environment, he maintains, citing the year-old collaborative MBA program with Mennonite partners as an example. The program demonstrates that the university is "wide open to working with other institutions and not threatened by doing so," says Stutzman, adding that he's excited about opportunities to take it further.
In addition to its new facilities, Bluffton has "committed and gifted" faculty and staff; "loyal and supportive" alumni and church constituencies; and, in the Power of Purple initiative, a new way to communicate the uniqueness of the Bluffton educational experience that he thinks will resonate with students and families.
Above all, he says, the university continues to offer the "clear value proposition" that he experienced as an undergraduate, integrating faith and values and preparing students for life— including a life of service in their communities—as well as for a career.
"That is a value that undergirds our educational mission," is attractive to students and sets Bluffton apart from many other institutions, he asserts.
"I've always felt that serving on the Bluffton board was a privilege, and feel blessed to have had that experience," says Stutzman, who also chaired the trustees' Academic Affairs Committee for many years, and the committee that drafted the Statement of Arrangement between Bluffton and the Mennonite Education Agency during the denominational merger that created Mennonite Church USA. "It was challenging at times, but also stimulating and rewarding."