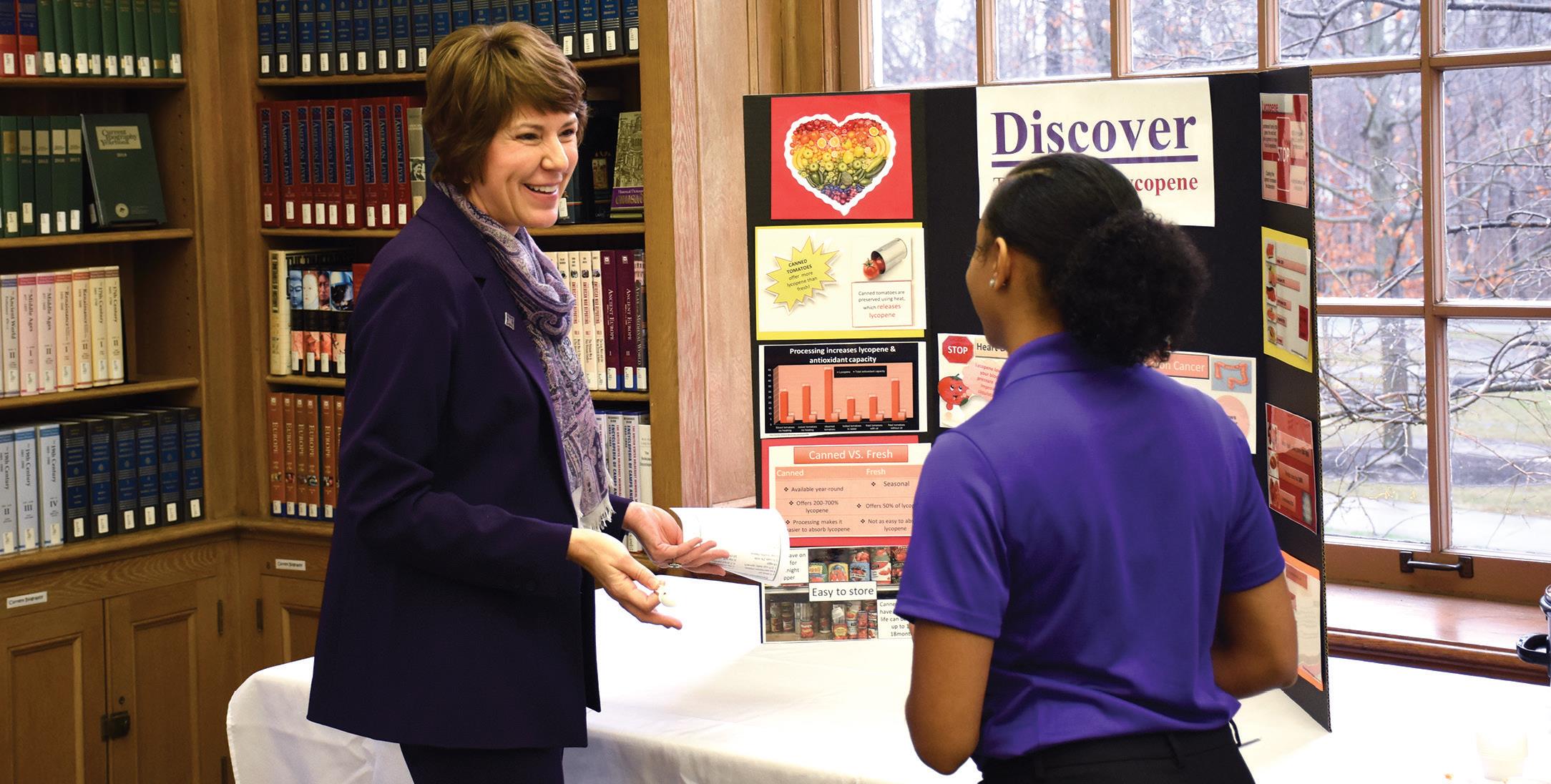 ---
This issue highlights the spirit of positive energy on campus and a number of ways, among many, that Bluffton is building momentum through academic, athletic and student engagement programs that grow from our enduring mission and values.
Building momentum
A Vision for Bluffton's Future
At Bluffton University, our sense of a greater purpose develops students of exceptional character and expansive vision. Since 1899, we've been learning, experiencing and bettering the world together.
When President Jane Wood first came to campus one year ago, she quickly realized there was something special about Bluffton. Since taking office in July, she's mobilized efforts to share the Bluffton story of success through nine "Momentum Makers"—areas of longstanding accomplishment in academics, athletics and student engagement.
These programs lift up the university as a whole, but we know Bluffton students have a transformative education no matter what major they are studying, organization they are involved in or team they play on. That's because at Bluffton everything begins and ends with mission.
Shaped by the historic peace church tradition and nourished by a desire for excellence in all phases of its programs, Bluffton University seeks to prepare students of all backgrounds for life as well as vocation, for responsible citizenship, for service to all peoples and, ultimately, for the purposes of God's universal kingdom.
nutrition and dietetics
one of two accredited programs at private colleges in Ohio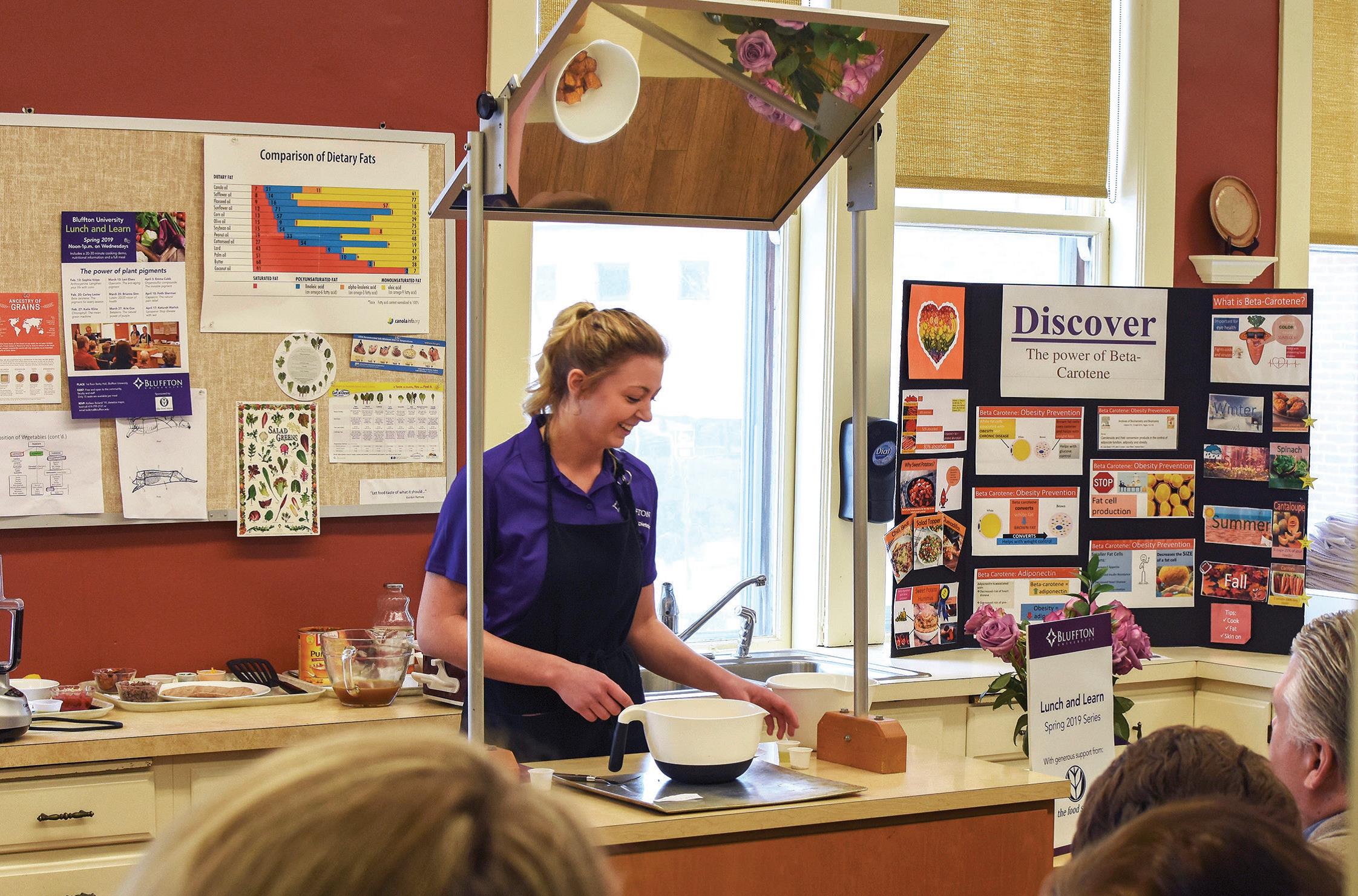 For Bluffton University's nutrition and dietetics students, the community is really their classroom. Because of partnerships with businesses and organizations ranging from The Food Store in downtown Bluffton to Mercy Health St. Rita's Medical Center in Lima to WIC offices and food banks, students are able to practice their field of study well before they start their careers.

"I think the program is successful because the professors work one on one with you, and you get so many different types of experiences," said Katie Kline, a junior nutrition and dietetics major from Perrysville, Ohio. "Presenting at the wellness events helps you with public speaking, preparing for the Bluffton University Nutrition Association's Harvest Dinner helps you with food service and the clinicals really give you a lot of great experience in a hospital setting."
Dr. Deb Myers, professor of dietetics, says Bluffton's small class sizes are what enables professors to "go outside of the classroom."
"We do a lot of experiential learning," explained Myers. "Our program has considerable hands-on, internship-like experiences that are built into the undergraduate curriculum."
Two statistics highlight the program's success. While 50 percent of students nationally who apply for post-bachelor dietetic internships earn placements, Bluffton students who apply boast an 85 percent placement rate. The fifth-year internship program is required to become a registered dietitian nutritionist, and students can sit for the RDN licensure exam upon completion. Bluffton's pass rates are top-notch on the RDN test as well with 98 percent of students passing.
While Kline came to Bluffton because of those outcomes, what she's learning in the classroom and practicing in the community is driving her to make a difference in the world.
"I am super passionate about food and nutrition," said Kline. "I'm ready to share how diet can change how you feel each and every day."
education
Accredited program with classroom experience starting in the first year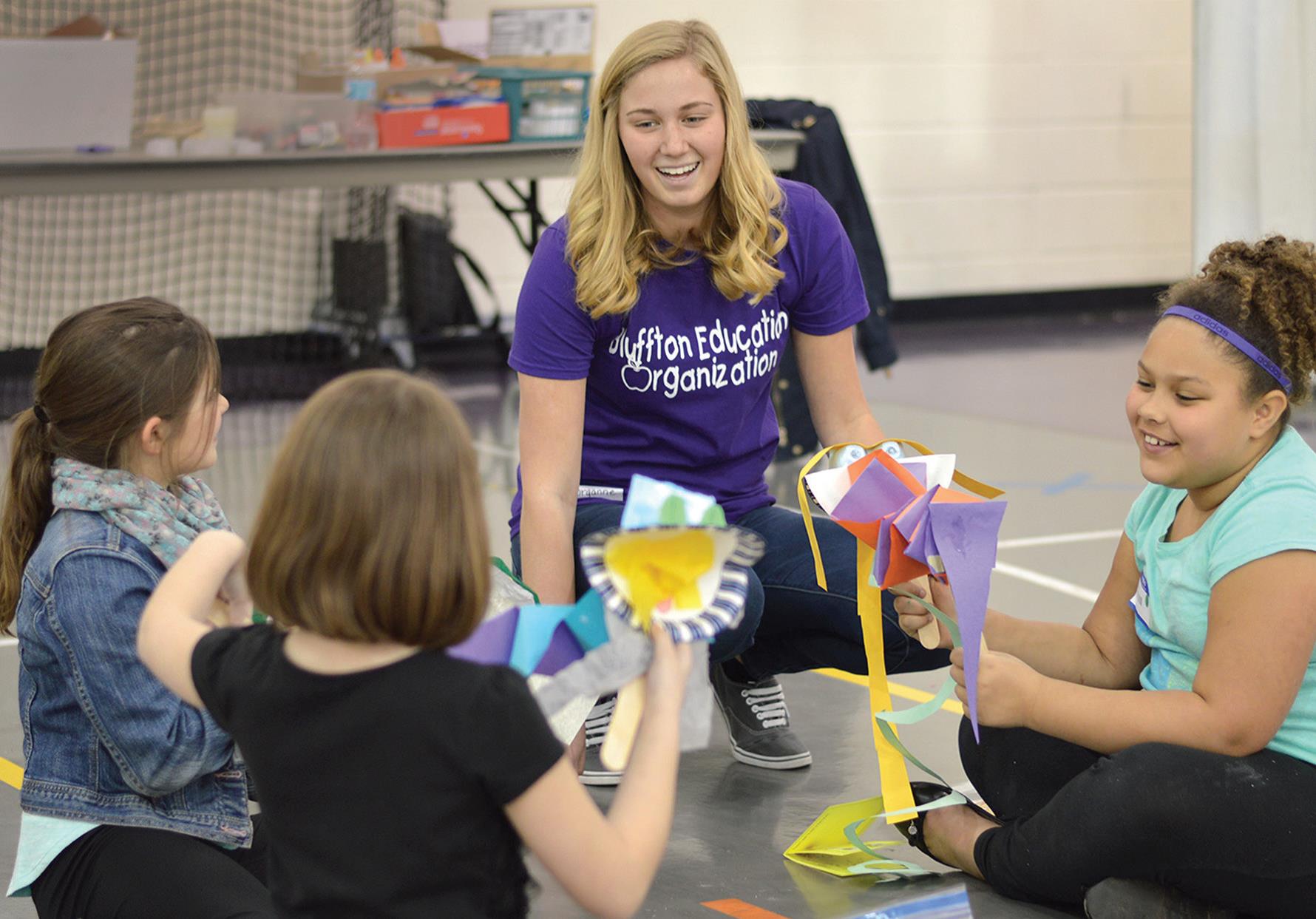 Students in Bluffton University's education program are placed in area classrooms starting in their very first semester. This ensures that this challenging career is really the place they are called to be.

For senior intervention specialist major Blake McGue, the first-year field experience solidified his choice.

"I was able to picture myself as a teacher and ask myself, 'Can I do this every day for the next 30 years?' Since starting the program, I've never had a second thought," said McGue, who is student teaching at Lima West Middle School.

McGue added that every single class he's taken for his major has included some sort of field experience—whether in the community or through a virtual classroom.

Dr. Gayle Trollinger, chair of the education department, says these experiences make for a well-rounded education program.
"We get them in the schools early and provide them with support and mentorship," explained Trollinger. "We prepare students to become highly effective teachers and they get jobs."
Bluffton's education department also offers some unique opportunities. The 3+1 program enables qualified students to earn their bachelor's degree and Master of Arts in Education from Bluffton in four years, and a partnership with the Chicago Center for Urban Life and Culture allows seniors to student teach in the Chicago Public Schools.
Bluffton also earned a 100 percent pass rate on the Ohio Assessments for Educators in 2018. This shows the university develops teachers who are both qualified and called.
"I chose education because it is a career where each day is different. Each day is a new opportunity to change the life of a student, to shape the future of the world," said Makayla Noble, a senior early childhood education major from Bluffton. "I believe the students in our schools need teachers who care about them now more than ever, and I feel God has called me to meet this need."
enduring values
A new approach to the general education program at Bluffton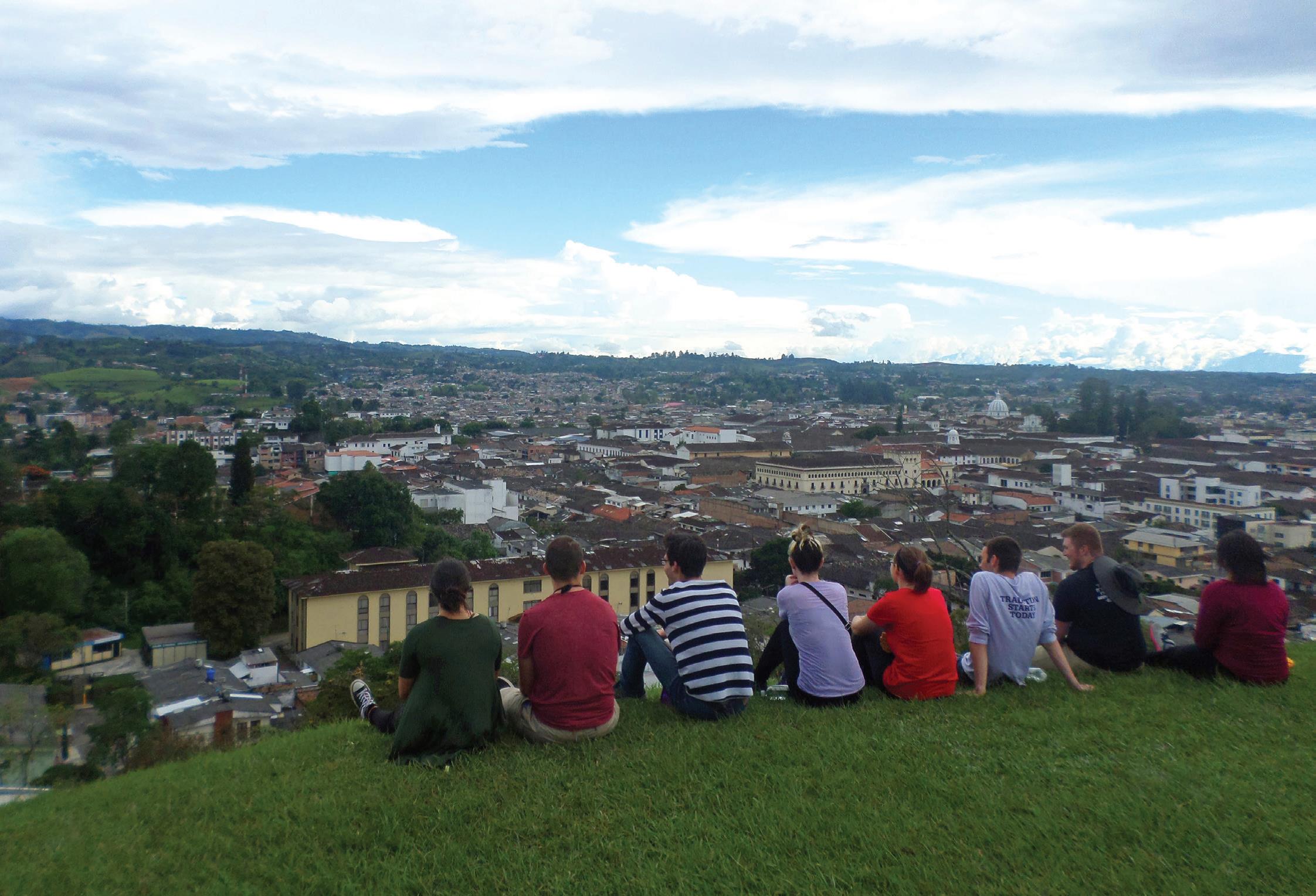 Bluffton University's general education program was recently updated to better serve incoming students and reflect the values of the university. The Enduring Values General Education Program features the Mission Core—one class each year connected to one of Bluffton's four enduring values.
Freshman – Discovery: Becoming a Scholar
Sophomore

–

Community: Learning in Community
Junior

–

Respect: Cross-Cultural Experience
Senior

–

Service: Christian Values in a Global Community
While three of the classes are part of Bluffton's current general education program, the sophomore-level Learning in Community class will be a completely new experience. The class will be team taught by professors in a variety of disciplines and will encourage students to make direct connections between their academic study and community engagement. Students will learn about nearby Lima, Ohio, and the class will feature both community stakeholders presenting on campus and students traveling off campus to better engage in their learning.
Dr. Lamar Nisly, vice president of academic affairs, believes the approach "pushes forward the concept of the liberal arts."
"We embrace classroom learning," explained Nisly, "but we know students have had a lot of years experiencing education in the same way. We think giving them these significant touchstone experiences through the general education program will allow them to come to their education in a different kind of way."
Nisly believes the Learning in Community class, which includes guided classroom processing of their experiences, will set students up to have even more beneficial cross-cultural experiences, although they already have a significant impact on students.
"I came back with a different mentality and a better understanding that the world is a lot bigger than Bluffton," said Taylor Aurand, a senior from Traverse City, Mich., who spent a semester in Guatemala. "It really pushed me to look at my major in a new way."
Faculty will pilot Learning in Community during the spring 2020 term, before implementing the class for all sophomores in the 2020-21 academic year.
volleyball
Eight ncaa tournament appearances and 11 conference titles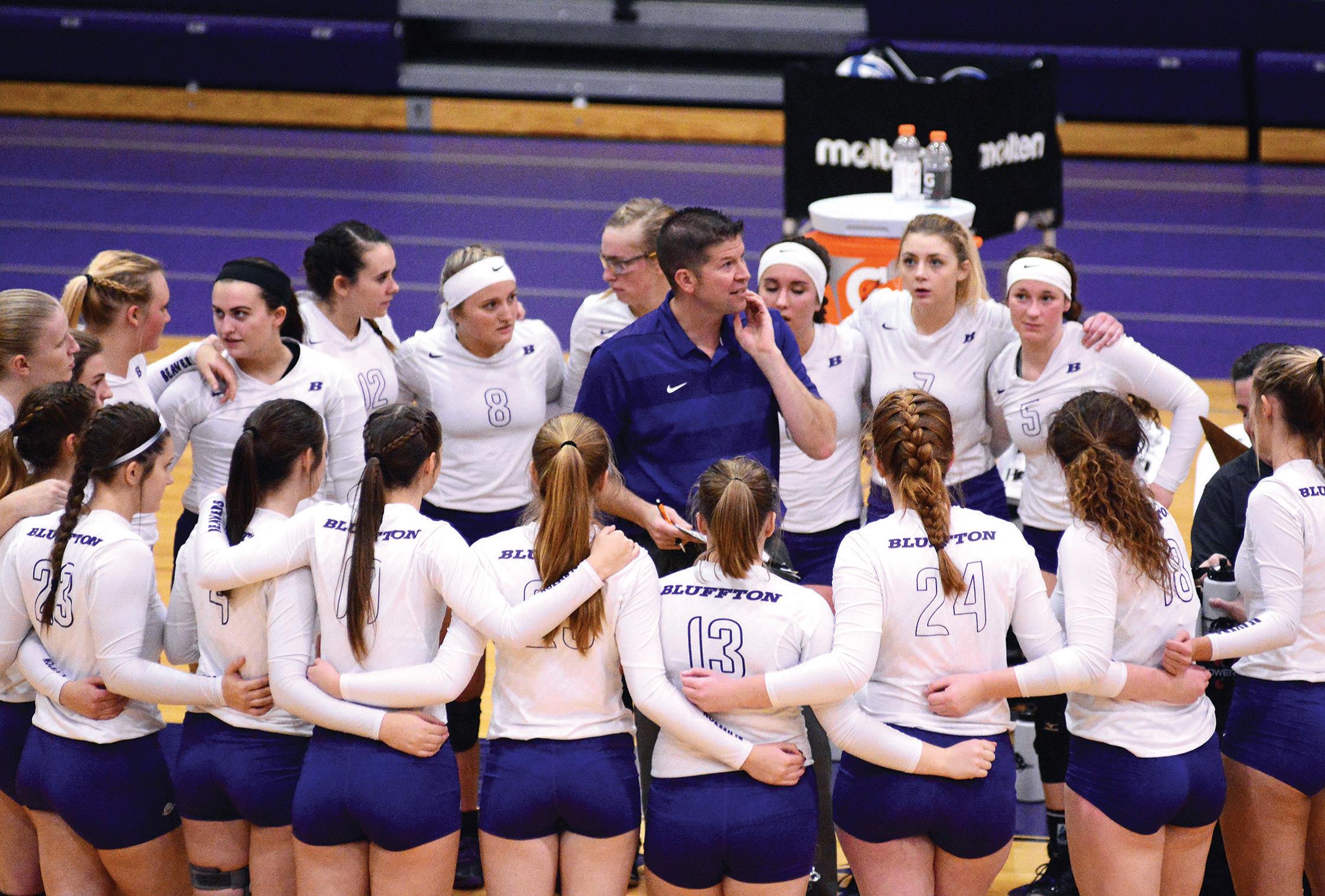 Before every game, the Bluffton volleyball team envisions their success.
"We get in a big huddle while the opposing team is warming up and each player says one thing they are going to excel at," explained Brooke Kleman, a first-year defensive specialist. "We hype each other up. The first time I was part of it I was so excited that I thought 'Oh my gosh, we are going to win!'"
The team also has a mantra that is ingrained into their psyche.
"We come in and put our hands in the huddle and one of the captains will say 'together on three,' said Steve Yarnell, head volleyball coach. "Over the past 14 years, at some point that word is what broke a huddle and it's tradition now."
"We say it before water breaks, during practice or after our huddles during games," elaborated Kleman, a speech-language pathology and audiology major from Ottawa, Ohio.
Whether it's on the court, in the classroom or even at lunch, you can often find members of the volleyball team "together."
Those relationships are cemented each preseason through a team bonding trip that has nothing to do with volleyball. This year the team went whitewater rafting in Ohiopyle, Pa.
"We are graduating a group of eight," said Yarnell. "It's great to retain players for four years. They stick around because we are a family. We want Bluffton to be a home-away-from-home, and I think we built that."
The team is also consistently successful on and off the court. Last season, Bluffton volleyball qualified for the Heartland Collegiate Athletic Conference tournament for the 11th consecutive year, but they also maintained an in-season team GPA of 3.62.
"Academics are really important to us," explained Yarnell, "We averaged being on the dean's list as a team of 25. Fun for us is achieving at a high level."
Football
A new staff and a fresh outlook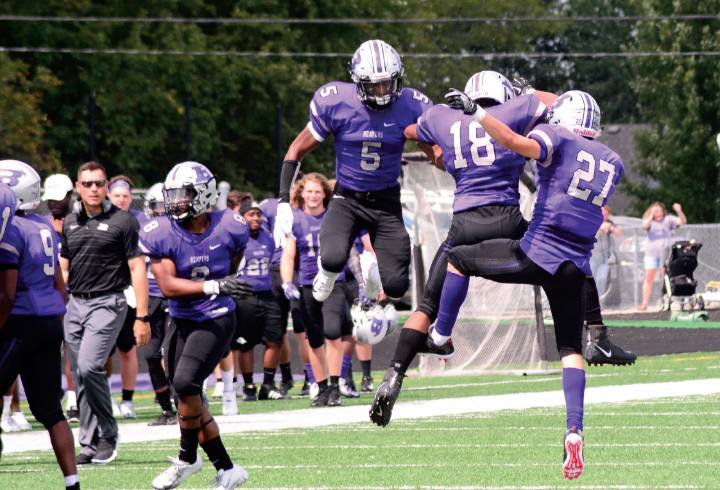 Walk into a team meeting for the Bluffton University football program and the coaching staff looks completely different than it did just two years ago. In his ninth month on the job, head coach Aaron Krepps has recently added Chris Mosley, a former assistant coach for the Miami Dolphins and Tampa Bay Buccaneers; DeVan Hill, who has 10 years of Division I experience; and Josh Runda, a 2014 alumnus who served as a graduate assistant while earning his Bluffton MBA in 2016.

Krepps is also implementing a new team culture.
"Our program values are family, academics, football," said Krepps. "Family speaks for itself, academics is a must and football is an option. It's not guaranteed if one and two aren't there."
He's strict but student-athletes are responding.
"I'm seeing people push each other to do better in academics, sports and their lives," said Plummie Gardner, a sophomore quarterback and sport management and marketing major from Lima, Ohio. "Even the coaches are pushing each other to be the best they can be so they can push us to be the best we can be."
Krepps is keeping this mentality strong in the off-season through biweekly check-in meetings with the entire team. "At the team meetings we're talking everything but football," explained Krepps. "We talk about academics and new gear. We introduce them to the new coaching staff and we give them a sounding board. At the end of the day it's about building a team culture."
Junior linebacker Dylan Shaffer says the changes are building a solid foundation for the future
"It gives me goosebumps to see that we have a lot of talent in the weight room right now," said Shaffer, a marketing major from Shelby, Ohio. "It's going to be an exciting year coming up."
By building a family-type atmosphere and holding student-athletes to high academic standards, Krepps aims to build a culture that breeds success on and off the football field.
Women's basketball
six consecutive HCAc tournament appearances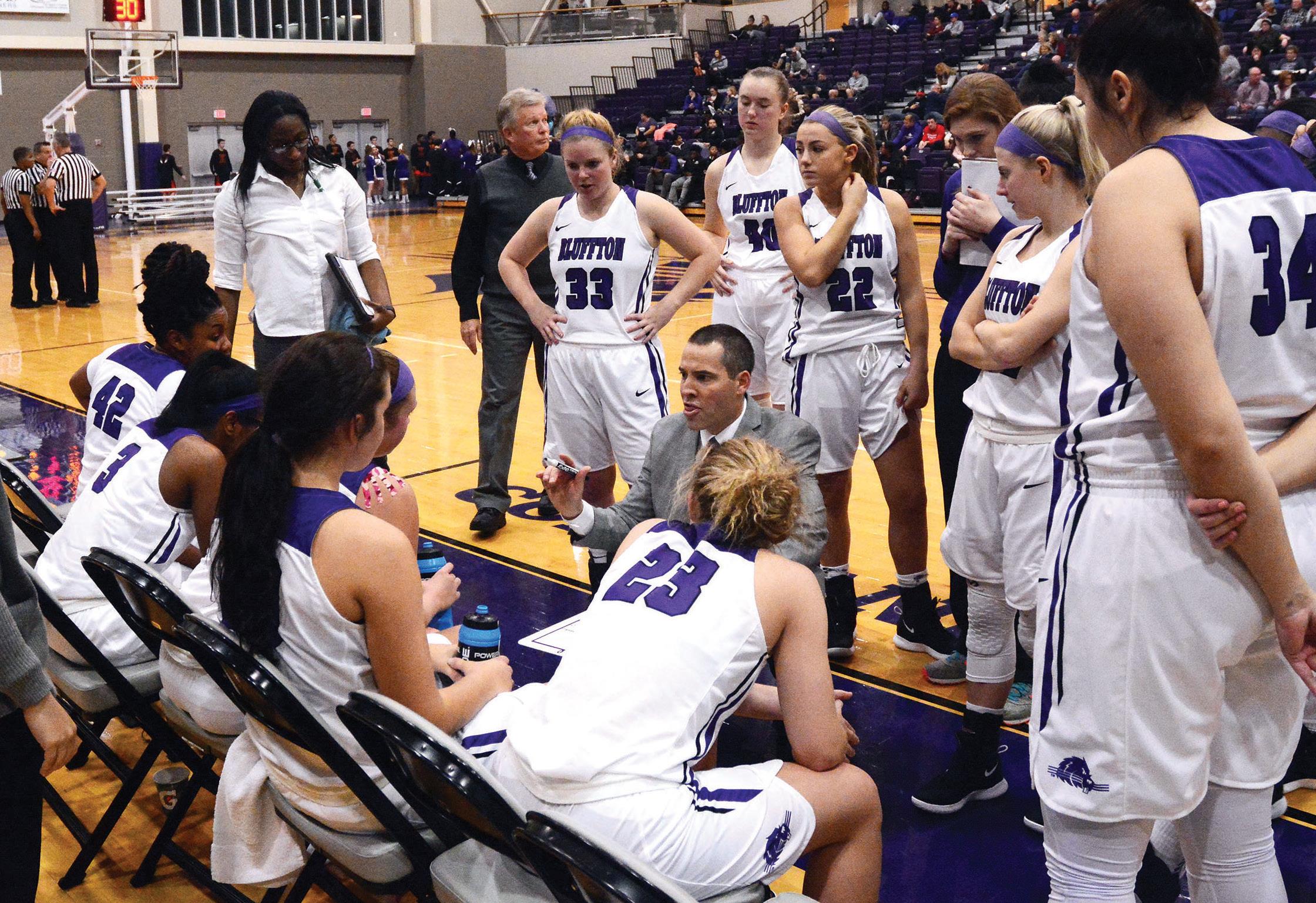 For the Bluffton women's basketball team, success hinges on one key concept—playing as a team.

"The best teams play for each other," said Chad Shutler, head women's basketball coach. "They have to buy into that concept and spend time with each other—learn and grow and laugh and cry and do all of that together. That's where the friendships are made and the trust."

It's a concept Abbie Parkins, a sophomore accounting and business administration major from Bluffton, has bought into.

"We spend three to four hours together every day, which is awesome," said Parkins. "Being together so often and having the practices together, that's when you build the chemistry."

The team strengthens these bonds at the beginning of each season by competing in a tip-off tournament. This year, the team traveled to Rhodes College in Memphis, Tenn., where they beat the Arkansas Ozarks but also bonded during a tour of the National Civil Rights Museum.

They also appreciate the support from the campus community.
"President Wood really connected with us this year," said Parkins, "and we have a lot of faculty and staff at every game showing us their support. Even those who can't make it often ask how things are going. They pay attention."
While the chemistry and community support was present this season, the 2018-19 team was without three key seniors from the previous season due to graduation, including Bluffton's all-time scoring leader Macey Shearer.
"This year was about bringing the pieces together and establishing new rotations on the floor," said Shutler. "We have a lot of athletes coming back next season with great experience."
After three previous 20-win seasons and a 2016 conference championship, the team was able to make their sixth consecutive HCAC tournament appearance in 2019. But after a year of rebuilding, they're focused on the future.
"We expect to be back at the top of the HCAC very soon," said Shutler.
the truth makes free
"The Witmarsum" and "Bridge Literary Journal" allow our students publishing experience from their first year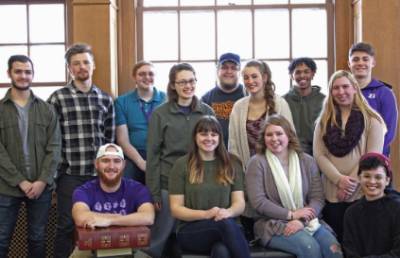 Having just finished their fifth issue, "Bridge: The Bluffton University Literary Journal" student editorial associates went from reading 75 submissions for their first publication to up to 500 a semester. Submissions come from young writers all over the world. While "Bridge" students choose their favorite short stories, poems and artwork to feature, they also serve as developmental editors, project managers and layout designers. They're also gaining the administrative and leadership skills that will help them transition to the world of employment.

"'Bridge' operates on a consensus model and that's excellent training for the team-based work that we are seeing more and more of in the 21st century workplace" said Jamie Lyn Smith-Fletcher, assistant professor of English. "A lot of colleges have literary magazines but not a lot of magazines are run the way 'Bridge' runs. We are moving to a student-driven model and our genre editors now lead selection meetings."
While "Bridge" flexes the ambitions of creative writers and editors, "The Witmarsum" develops the next generation of convergent journalists.
"We have a website and a radio station, and we are working to seamlessly blend the two so students learn to adapt their storytelling strategies based on the media through which they are communicating," said Marathana Prothro, assistant professor of communication. "We are asking, 'What does a story look like if it is being tweeted or if it involves video or if it's turned into a podcast?'"
On a practical level, "The Wit" allows students to create portfolio material. This year, students are on track to produce more than 250 pieces of original content. "Employers are going to say, 'Show me what you can do,' so having solid samples is a real benefit for them," explained Prothro.
Involvement in student media also improves written and oral communication. While often thought of as soft skills, Prothro disagrees. "In reality, they are specific skills that employers want and you need to be successful."
community
Celebrating nature, the outdoors and our relationship with the village of Bluffton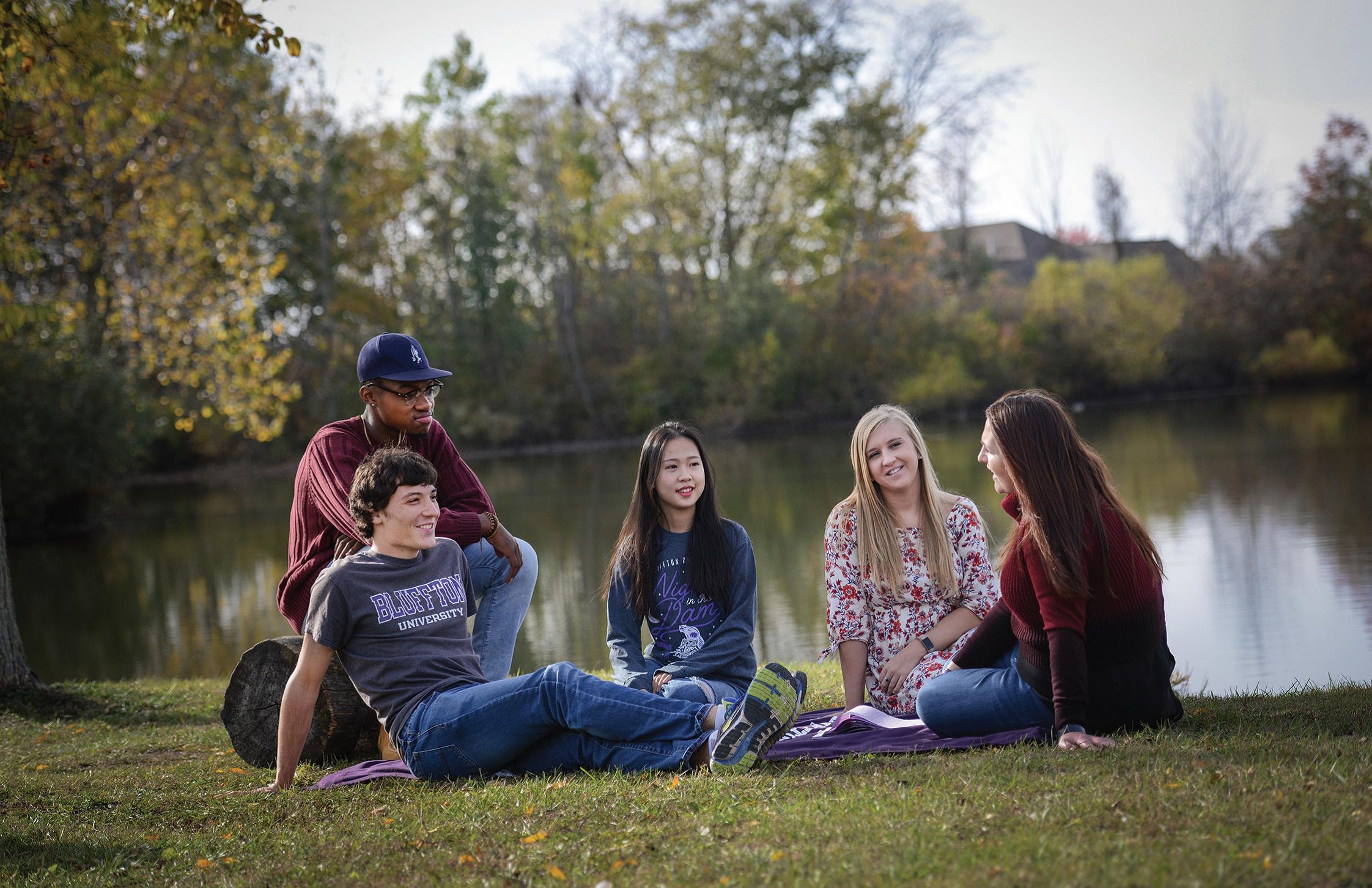 Sixteen education majors recently took part in a unique teacher training opportunity with Project Wild, the Ohio Department of Natural Resources' conservation education program.

Held at the Moyer Nature Center, the location allowed participants to develop new skills in a classroom setting and then practice those lessons moments later during a field investigation of the plants and wildlife at the Bluffton University Nature Preserve.

This is an early example of what Dr. Hans Houshower, vice president for advancement, explains as "extending the classroom" to the Nature Preserve.

"We have a truly wonderful resource in the Nature Preserve that is greatly enhanced by the addition of the Moyer Nature Center, a facility with drinking water, accessible restrooms and ample parking," said Houshower. "We now have opportunities in not just the sciences but in arts, education and in many other areas to partner with the external community to create new learning opportunities for our students."

Students and community members have enjoyed the Nature Preserve for years from hiking on the trails to birdwatching to braving the swinging bridge, and the pond is routinely used by students enrolled in recreational leadership classes. Now, with a new facility, faculty and staff are developing new program opportunities that encourage students to explore this special natural area, as both a learning laboratory and a destination for recreational opportunities.

With storage nearby, use of the pond will be open to current students, faculty and staff for a variety of recreational water activities including canoeing, kayaking, paddleboarding and catch-and-release fishing.
"We are able to utilize this space in so many different ways," said Tami Forbes, chair of the health, fitness and sport science department. "It's fun seeing our students enjoy the pond. You really get to know people while you are sitting on a bank, fishing and talking. You can really build relationships out there. It's time to get everyone outside in appreciation of nature."
Meaning and purpose
It's more than a degree, it's a path toward a life of passion and purpose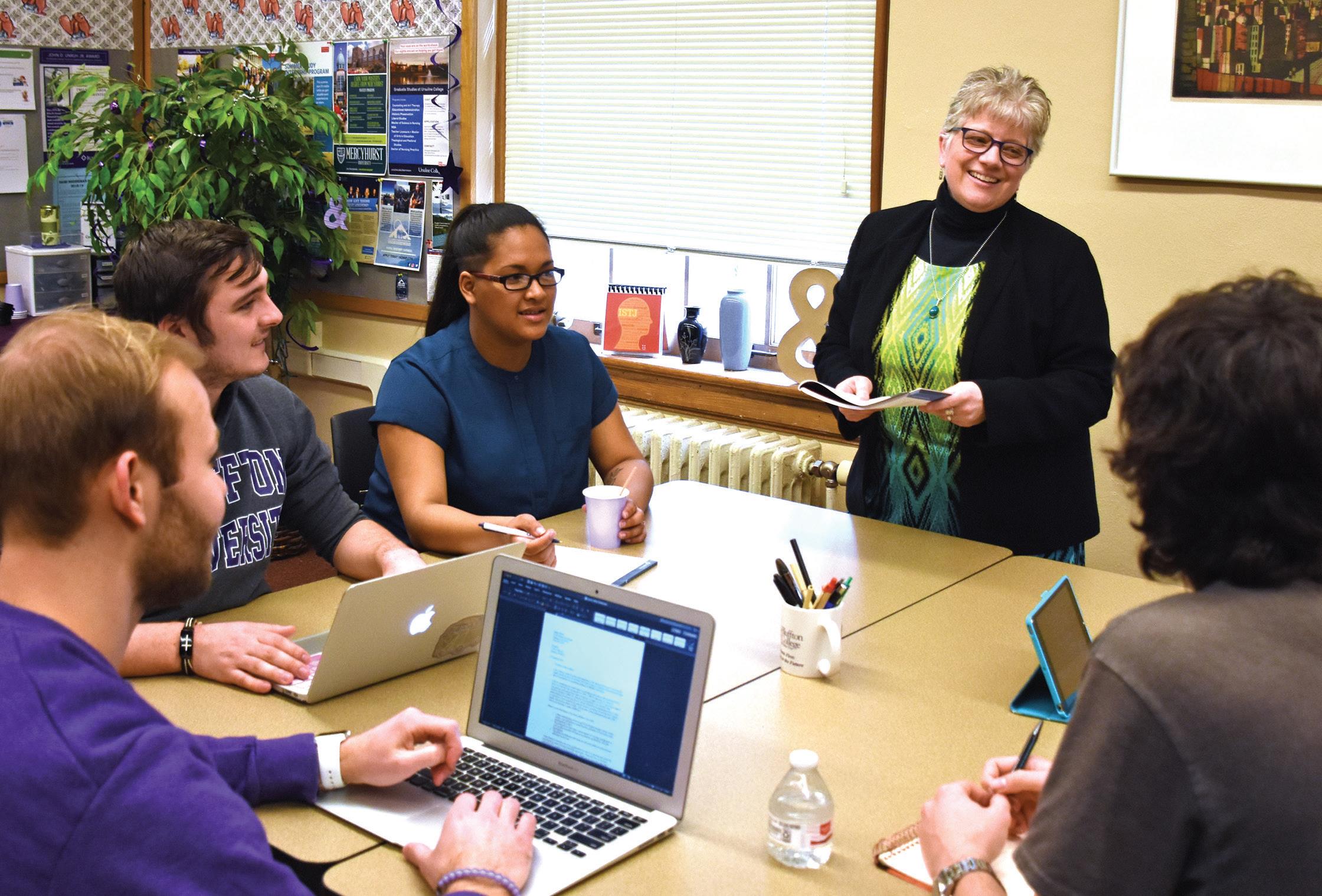 "For the greater purpose. It's why we do everything we do."
When prospective students receive a viewbook in the mail or check out the recently updated website, this is the first message they see. These words sum up the Bluffton experience—where students are challenged to excel as well-rounded graduates prepared for a life of passion and purpose.

"We have the opportunity to shape lives," said Dr. Jane Wood, president, "to prepare the next generation for a future that is different than anything we can imagine."

At Bluffton, lives are shaped with a careful focus on vocational discernment. This work is highlighted at Bluffton's Center for Career and Vocation.

"The center takes career development to the next level," explained Shari Ayers, director. "It's a place where people can ask questions such as: 'What are my gifts?' 'What are my strengths?' 'What am I passionate about?' 'What do I want to share with the world?'"

Ninety-nine percent of Bluffton's most recent graduates are employed, in graduate school or completing long-term service. It's an impressive statistic, but Ayers is most proud of another point in the graduate outcomes report.
"We ask graduates in their first positions about the long-term potential of their position," said Ayers. "Ultimately, we're looking to see if this is a temporary stop, but we find many of our students right out of the gate are doing the type of work they want to do."
This doesn't mean students are expected to stay in one career field their entire lives.
"We used to say students will get a myriad of jobs, but stay on the same general path," explained Dr. Wood. "Now, we expect students to jump lanes. Maybe they start out as a social worker and then become an entrepreneur and that leads to a position as an executive in a hospital. Now, we need to look at the skillsets that help our graduates lane change."
Ayers added, "It's the kind of preparation Bluffton does extremely well."