Dr. Ruth Abaya '07
2023 Professional Achievement Award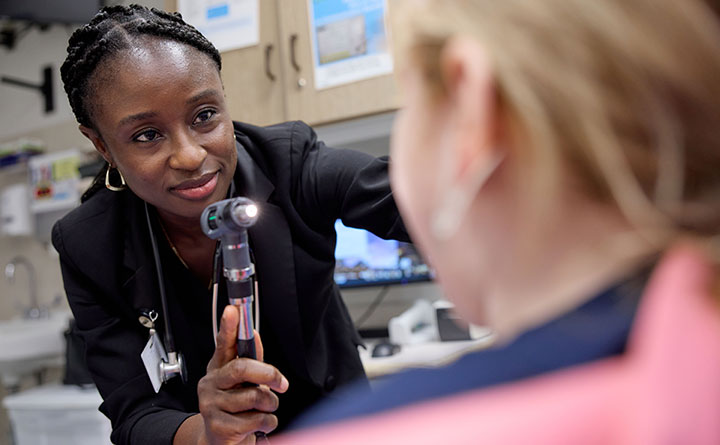 Finding art in science
Taking a line from Forest Gump, Dr. Ruth Abaya describes her typical day in medicine as a being like a box of chocolates.
"You never know what you're going to get. So, for me and my personality, emergency medicine makes a lot of sense," explained Abaya. "It has variety. It is unpredictable. There's a lot of creativity. Sometimes there's a clear right thing to do, and sometimes you're making a judgement based on a number of factors."
Expanding her portfolio
In her role as a pediatric emergency physician, Abaya is often able to "fix" problems in the short term. However, after completing a stint in the emergency department where the same young man was treated twice for gunshot wounds in the span of a month, Abaya began working in public health and violence prevention, as well.
"It's completely different parts of my brain that I'm using in my different roles, and I really enjoy that," said Abaya. "One informs the other. It makes me a better clinician because I have that 10,000-foot view around the problem of violence."
Informed by Bluffton
Abaya's values as a health practitioner were also informed by her Bluffton experience.
"I had exposure to nonviolent theology while developing my own personal journey of spiritual formation and coming to an understanding of what it means to live in the world as a peacemaker," said Abaya. "I'm very grateful for that aspect of my education."
Abaya came to Bluffton University from Nigeria already familiar with the community. Her father taught at Bluffton for a short time and her family lived in the community during a couple of her elementary school years. When her brother, Esuga Abaya '05, came back to study business, she followed.
"The science department was my home, but I also had really good experiences outside of science," said Abaya. "I took piano and sang in 'Messiah' and Mozart's 'Requiem.' I took a French History class that I absolutely loved and was just riveted by. I really got to explore during college."
A lifelong learner
After graduation, Abaya earned her Master of Public Health and Medical Doctorate in Chicago at the Feinberg School of Medicine at Northwestern University and completed her pediatric residency in Boston before moving to Philadelphia. She's called the City of Brotherly Love home for the past 11 years, and while Philadelphia may have a reputation for violence, the people and communities remind her of Nigeria.
"Even in the communities that see the highest levels of violence, that have been chronically disinvested in, there's a lot of light and a lot of beauty. That's what I love about Philly," she explained. "People sit on their porches and greet their elders."
Outside of work, Abaya stays busy raising two daughters with her husband, but she intentionally makes time for creative outlets such as learning guitar and reading fiction.
"I think you can't stop learning," said Abaya. "It adds such richness to your life and sets a good example for your kids to pursue a variety of interests."