Gregory Wannemacher '77
2023 Award of Merit
The Bluffton University Award of Merit is the highest honor one can receive from the institution. This award is bestowed upon an alumnus who has gone above and beyond the call of service. This person has made outstanding contributions to the institution, is distinguished in their professional achievement and possesses exemplary personal qualities.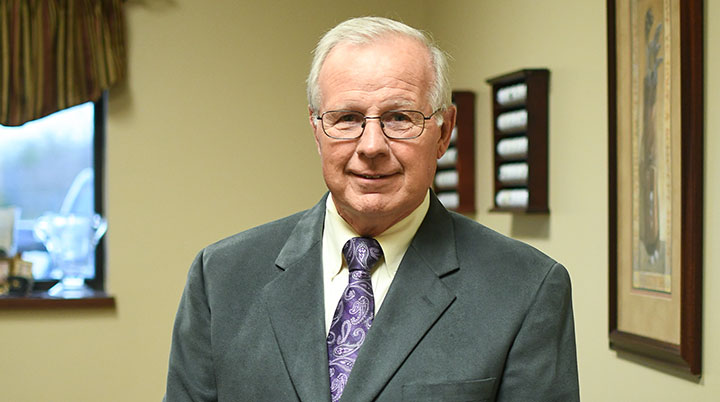 Challenged but prepared
Even as a kid in Delphos, Ohio, Greg Wannemacher was a true salesman at heart.
"I was a paperboy, and I asked the people on my route if I could also mow their lawns," said Wannemacher. "I was always growing my business."
Now CEO of Wannemacher Enterprises, he originally came to Bluffton to play football and become a business teacher/coach. However, his student teaching experience wasn't nearly as exciting as learning from Dr. Howard Raid and serving as general manager of the Bluffton Slaw Cutter Company.
"Doc put us through a lot of challenges. We had to apply for an inventory loan," said Wannemacher. "The bank president drilled us with questions, but Doc had prepared us. He sat back and we answered all the questions."
Growth through the Golden Rule
The lessons served Wannemacher well following graduation. For 14 years, he worked for his parent's business, Double A Trailer Sales. With his siblings, they grew and expanded the dealership to be one of the top 10 dealers for their manufacturer in the country.
The sixth of 10 children, Wannemacher realized over time that he would need to set out on his own if he wanted to totally be challenged in business. He did so in 1991 by buying out a trucking business in Lima, Ohio.
"I always believed in the Golden Rule: Treat people the way you want to be treated," said Wannemacher. "So, when we expanded and designed our first warehouse, we laid it out so the truck drivers could get in and out within an hour."
According to Wannemacher, if the truck drivers are happy, they tell the dispatchers, and the resulting word of mouth leads to growth.
Wannemacher Enterprises now employs around 140 people, including eight Bluffton graduates, and provides a range of services including trucking, logistics, warehousing, distribution services and packaging. They also have a hot liquid fill facility, for processing honey, and a spray drying plant.
"We pride ourselves on having strong communication with customers and always learning about their needs," said Wannemacher. "It's all about finding your niche, doing it well and fulfilling your customers' need."
Giving back to Bluffton
While his values and work ethic were established at a young age, Wannemacher said they were reinforced and further developed at Bluffton.
"Doc Raid always told us, 'If you are a successful businessperson, you owe time back to your community.'"
So, when Greg and his wife, Donna '78, were asked to serve as co-chairs for the Simply Innovate Campaign, they accepted. And when Bluffton needed a "construction manager" for the Knowlton Science Center, Wannemacher worked alongside Phill Talavinia, vice president of student affairs and athletics, to oversee it from the contractors' bidding process clear through its completion.
"I often look back on what I was able to achieve as a result of going to Bluffton," said Wannemacher of his dedication to the university. "Could I have learned those same lessons at another college? Maybe. But I know I got them at Bluffton."