Carrie (Ream) Woodruff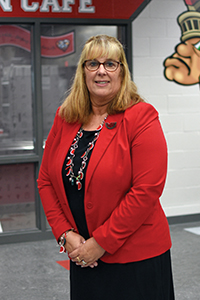 Fall 2019

2019 Professional Achievement Award
Bluffton '85, MAOM '02
Finding the right path in life
Carrie Woodruff discovered her calling at a women in science conference during her junior year of high school. There, the Ada, Ohio, native discovered the up-and-coming field of nutrition. She also learned one of the best places to study nutrition was just minutes from home at Bluffton.
"I called my mom [Mary Martha (Best '59) Kellogg] from the conference and said, 'Guess what? Bluffton has a nutrition program, and I think that's what I want to do,'" said Woodruff.
Now, after a long and continuing career in the field, Woodruff is being recognized as the recipient of the 2019 Professional Achievement Award. The award distinguishes a graduate who has continued the pursuit of intellection growth and has explored creative avenues in his or her chosen field.
"I love what I do. I love the fact that I can provide students with nutritious menus, and I can help guide their future," said Woodruff. "Nutrition is so important and instilling those ideas at an early age for kids is so important. I truly believe in this work."
For the past 20 years, Woodruff has served as the food service director of the Lima City Schools. During that time, she has balanced the budget, overseen the implementation of free breakfast and lunch programs, earned multiple USDA grants for fresh fruits and vegetables in the schools, and testified about school nutrition in Washington, D.C.
Fueling the future
While Woodruff's position is mainly administrative, and she doesn't directly work with children, she has witnessed the impact of improved nutrition.
For example, when Woodruff began, the district's breakfast program reached about 19 percent of students. With the support of administration, Woodruff led an initiative to provide free breakfast served directly to students in the classroom. Now, about 85 percent of the district's students eat breakfast at school each morning.
"After these kids started to get a good breakfast, we saw a 40 percent drop in nurse visits almost immediately," said Woodruff.
Another instrumental project was rebranding the district's nine school cafeterias into "Spartan Cafés."
"The kids get excited for lunch, and they have more Spartan pride and school spirit," said Woodruff. "We created unity within the nine buildings."
Each café features the district's mascot and school colors, as well as a unique saying that explores the importance of healthy eating. Sayings range from Lima Senior's "Feeding the Students: Past, Present and Future" to South Science and Technology Magnet's "Gearing up to fuel the future."
While Woodruff is committed to helping young learners, she's also dedicated to advancing the profession. She has mentored more than 50 post-baccalaureate dietetic interns, including many from Bluffton.
"I think it's important for these students to see what working in a school is like. It's not something you immediately think about doing when going into dietetics, but it's a good mix of dietetics with business," said Woodruff, who strengthened her business skills through Bluffton's Master of Arts in Organizational Management program.
A place of honesty and integrity
At Bluffton, Woodruff was totally committed to her studies and graduated with her bachelor's degree in three years. She cites Barb Stettler, associate professor emeritus of family and consumer sciences, as a key mentor.
"There is none better than her. She was hard, she had high expectations, but she really did push me to be the best I could be," said Woodruff.
Woodruff fondly remembers Bluffton as a place of honesty and integrity, especially through the use of the Honor Code.
"I remember taking our tests and signing them at the end. That act definitely makes you aware of right and wrong," said Woodruff. "Being in that Christian environment made an impact on my life."
Prior to her current position, Woodruff refined her skills at Lima Memorial Hospital and with Aramark at the Lima Ford Engine Plant. Presenting food demonstrations for 4-H also gave her early experience in teaching others about nutrition.
Now, she calls herself blessed to be where she is at in life.
"I do believe in God, and I believe I've been purposely placed here," said Woodruff. "And, I wouldn't be where I'm at without the support of my family."