Charles Stapleton '78
Senior vice president, chief operating officer,
Motorists Insurance Group
Major: Health, physical education and recreation


2015 Professional Achievement Award
The award recognizes an alumnus for continued pursuit of intellectual growth and exploration of creative ventures in a chosen field, resulting in notable career success and recognition.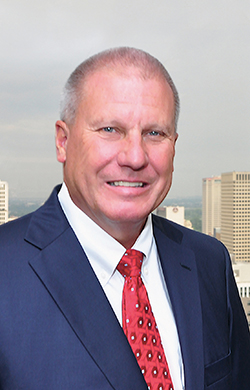 Charles Stapleton's life would never be the same after the basketball coach at then-Findlay College pointed him in the right direction, literally and figuratively, to Bluffton.
That "referral from a competing school," as he calls it—plus the encouragement of his girlfriend, and now wife of 37 years, Vicki—was the start of a transformation for Stapleton.
Growing up in eastern Kentucky and west of Cleveland, he was an admittedly "misguided" teenager from a difficult family environment. But Bluffton provided a life-altering atmosphere that helped pave the way for what has been a 32- year career in insurance with Motorists.
As current senior vice president and chief operating officer for the companies of the Motorists Insurance Group, Stapleton is the 2015 recipient of Bluffton's Professional Achievement Award. The award recognizes an alumnus for continued pursuit of intellectual growth and exploration of creative ventures in a chosen field, resulting in notable career success and recognition.
Stapleton and his basketball coach at Brookside High School, just outside Sheffield Lake, Ohio, came to northwest Ohio to visit Findlay on a spring day in 1974. Findlay Coach Jim Houdeshell didn't see an opportunity for his visitor there, but the coach was well acquainted with Bluffton—then a fellow member of the Hoosier-Buckeye Collegiate Conference—and suggested that it "might be a good fit for you," Stapleton recalls.
So he and his high school coach came to Bluffton, where he walked on campus "and I just fell in love with it." The campus was beautiful but, more than that, the people he met were "so friendly and so nice," he says. "I wasn't really used to that."
"It was just meant to be," adds Stapleton, who became an Athletics Hall of Fame basketball player and earned a degree— in health, physical education and recreation—that he thought would lead to his desired career in teaching and coaching.
Married the day before graduation in 1978, he started to prepare for interviews for teaching positions. Needing a summer job, though, he took one in Cleveland with then-Republic Steel Corp. About a month into it, he was questioned about his interest in entering a management training program.
"My initial response was 'no,'" he says. He paused, however, and asked for more information, including what income he might expect from getting into management. The answer was significantly more than he could make as a teacher.
"I saw this as a great opportunity," says Stapleton, who took the training and stayed in the steel industry for five years.
Toward the end of his time at Republic, with the company starting to have financial problems, his manager suggested that Stapleton might want to think about other career possibilities. And the manager even had an option in mind—with Motorists, which was his primary company in the independent insurance agency he had opened.
Describing it as another meant-to-be milestone, Stapleton was interviewed and offered a job as a district sales manager for Motorists in Cleveland.
"It was a huge adjustment; we essentially started over," he adds. But after beginning in Motorists' marketing division, he served as vice president in several areas from 1992-2002, when he was appointed senior vice president for property/ casualty marketing. In his current COO post, he maintains overall responsibility for claims, sales, underwriting, risk management and workers' compensation. He also serves on the boards of directors for six insurance companies.
"It's truly a people business," Stapleton says. "When bad things happen to good people, we want to be there to take care of them."
The first member of his family to attend college, Stapleton credits his wife with convincing him that he needed to take advantage of the opportunity. He remains thankful to Bluffton for what it gave him, too.
"I don't know what would have happened to me, honestly, if I hadn't gone there," he says. "The people were so good, good to me beyond belief."
"It really gave me the foundation for everything that has happened to me, especially in the business world and how I treat people."
"It was the right environment for me," he adds, saying that he has recommended Bluffton to students from backgrounds similar to his, thinking "maybe it could change their lives like it did mine."
Beyond that, he is also giving back to his alma mater in part by trying to create an internship "pipeline" between Bluffton and Motorists. "It's not 'if ' it will happen; it's 'when,'" he predicts. "The door's been opened for great possibilities."
And some of them probably resemble the possibilities he first saw in 1974. "It all started at Bluffton," he says.
Included Content