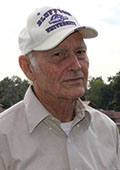 Jack Earl '56
2013 Professional Achievement Award
The award recognizes an alumnus for continued pursuit of intellectual growth and exploration of creative ventures in a chosen field, resulting in notable career success and recognition.

He had been a high school art teacher, then a graduate student in art, but by the mid-1960s, Jack Earl was looking for something else.
"I wanted to become well known" in the craft community, says Earl, who knew what some of his peers there were creating as he pursued his master's degree at Ohio State University. "I wanted to be one of those people."
The Uniopolis, Ohio, native had followed the lead of John Klassen, his Bluffton art instructor, into ceramics. After earning his master's degree in 1964, he began teaching ceramics in the Toledo Museum of Art's School of Design. His students were primarily older women who preferred European porcelain, "so that's what I started to copy," he recalls.
When one of his porcelain sculptures was chosen for "Objects USA," an exhibition that toured the country from 1969-71, the recognition that he desired started coming his way. "If you were in that show, the people in the show knew who you were," he says.
Earl followed "Objects USA" with his first solo exhibition, at the Museum of Contemporary Crafts (now the Museum of Arts and Design) in New York City. He was invited by the museum's curator, Paul Smith, who had judged, and awarded, Earl's work at two other shows. His New York exhibition was the subject of a feature story in Craft Horizons (now American Craft), the only craft magazine published at the time, the artist notes.
"From this exposure, he gained gallery representation nationwide, and his work has since been included in many major national exhibitions," writes Gregg Luginbuhl, professor and chair of art at Bluffton, in his nomination of the 1956 alumnus for the university's Professional Achievement Award.
He has had additional solo shows in New York, as well as in Washington, D.C.; San Francisco; Chicago; Los Angeles; and Philadelphia, among other places. His varied sculptures have also been part of group exhibitions nationwide and in London, England; Calgary, Alberta, Canada; and Perth, Australia.
The list of museums displaying Earl's art also includes the Smithsonian American Art Museum in Washington, the Los Angeles County Museum of Art and the Art Institute of Chicago. He is grateful for those public collections, he says, "because it indicates that my work will live."
Earl is represented on campus as well. His bust of Menno Simons—with a varsity "B" and backward baseball cap—sits between Centennial and Founders halls, while a bust of Klassen and "Bill Takes Art at Bluffton" are located in Marbeck Center's Gallery Lounge. The latter piece features Earl's everyman character, in ball cap and work clothes, nestled in the lap of the kobzar figure created by Klassen. Prominent in the artist's body of work, "Bill" combines elements of Earl's father-in-law and other people he has known, as well as himself, he explains.
"I think my work is really based on life that I knew as a child and a teenager," he says. "That's where my personality was formed and what I relate to."
His high school art teacher in Wapakoneta, Ohio, was Darvin Luginbuhl, Gregg's father and, beginning in 1959, Klassen's successor in the Bluffton art department. Until high school, Earl says, "I had always wanted to be my father," who was a factory worker, but meeting Luginbuhl showed him the possibility of making a living in art. "Darvin inspired me to be an art teacher."
He came to Bluffton largely because his brother, Robert, a 1954 graduate in chemistry, was already on campus, he says. Bluffton offered "a safe place" to attend college, he notes, and Klassen's instruction in "making things" led him to his eventual career. "He changed my life in that sense," says Earl about the teacher he copied. "He put me in my profession, and I stayed in it."
But that's not to say it has always been fun. "It has become a compulsion," he says, allowing that "I don't particularly enjoy it. When I'm awake, I'm out in the garage working," adds Earl, who also taught for several years at Virginia Commonwealth University before returning to Ohio in 1977 and moving into the Lakeview home where he and his wife, Fairlie, still live on Indian Lake. "The interruptions are family and church, but that's where the life is. It isn't in the work."
In 1985, he was the subject of a book, "The Genesis and Triumphant Survival of an Underground Ohio Artist." "It was one of the first books written about a crafts artist," Earl points out, although, he says with a chuckle, "I didn't know I was an underground artist."
Supporting his assessment are the honors he has received from established sources, including several grants from the Ohio Arts Council and two awards, in 1974 and 1988, from the National Endowment for the Arts. He was named an honorary member of the National Council on Education for the Ceramic Arts in 1990 and, in 1997, a fellow of the American Craft Council.
Earl has been described as having a "heightened visual sense"— a variation on a similar, earlier observation. "I remember one of my grade school teachers saying I certainly saw a lot," he says.
He doesn't dispute the descriptions, but "part of it is having time to see," he maintains. "One of the things that amazes me is how close cars drive to trucks. Just drop back and look at the country."
Included Content