Lawrence Milan '73
Senior vice president, human resources,
ING U.S. Insurance
Major: English
2011 PROFESSIONAL ACHIEVEMENT AWARD
The Professional Achievement Award recognizes a graduate who has continued the pursuit of intellectual growth and has explored creative avenues in his or her chosen field. As a result, this individual has achieved notable success and recognition in his or her career.
Redirected for life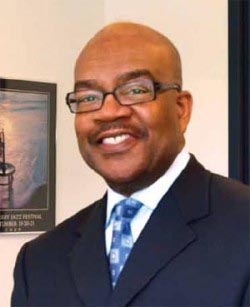 Until his senior year of college, Larry Milan remembers, his career plans were "straight forward"—he wanted to teach English and coach football, which he played at Bluffton.
But the arrival of two new administrators in the fall of 1972 started Milan down a winding career path instead, leading to higher education administration and then human resources at three Fortune 500 companies, most recently ING.
Before they came to Bluffton as president and dean of students, respectively, Benjamin Sprunger and Donald Schweingruber had each been in the higher education personnel graduate program at Michigan State University. Schweingruber introduced Milan—already a resident advisor in Hirschy Annex—to the "premier" program, which he worked his way through over the next two years.
Campus career
Earning his master's degree in 1975, with a minor in personnel management and labor relations, he moved on to the State University of New York at Oswego and then, three years later, to the Massachusetts Institute of Technology.
Milan's transition to the business world actually began at MIT, which he calls "as close to corporate life as you could get in higher education" due to its unions and "aggressive" hiring and staff development programs. Given the choice of two positions at MIT, he opted for a human relations role, which he held for one year before becoming a regional alumni affairs director for several more. The Canton, Ohio, native won a Black Achievement Award in Boston for his work while at MIT.
Getting down to business
In 1985, Milan moved into the employee/human relations field, first at Pitney Bowes and then, in 1996, at Aetna. He joined ING in 2000 when it acquired Aetna Financial Services.
At Pitney Bowes, Milan says, he was able to contribute to a company turnaround in the early 1990s by aiding the integration of research and development with manufacturing.
In 1999, his career took another turn when he was appointed vice president of customer service centers for Aetna Financial Services, where he built a prizewinning service organization. Later, he helped meld the financial services company with ING, initially by leading the customer service area and then human resources, transforming both functions into highly efficient, low-cost units.
In his current role with ING U.S. Insurance, reporting to the chief executive officer, Milan is responsible for the overall human resources operation. His team serves ING's roughly 9,000 U.S. employees.
Beyond the boardroom
The Bloomfield, Conn., resident is also active in professional associations and the philanthropic and not-for-profit communities in the Hartford area and beyond. That community involvement was a factor last year in his selection among the "Top 100 Most Influential Blacks in Corporate America" by Savoy, an African-American culture magazine. And it extends back to Bluffton—"a high priority outside my professional circle," he says, and where he has been a trustee since 2001 and is active in the Project H.O.M.E. mentorship program for students of color.
Included Content