Dr. Paul Ropp '66
Research professor of history at Clark University
2010 PROFESSIONAL ACHIEVEMENT AWARD
The Professional Achievement Award recognizes a graduate who has continued the pursuit of intellectual growth and has explored creative avenues in his or her chosen field. As a result, this individual has achieved notable success and recognition in his or her career.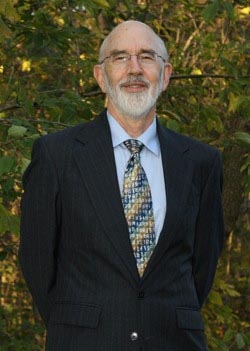 Dr. Paul Ropp '66 followed two brothers to Bluffton from their parents' farm in Normal, Ill., with admittedly little interest in reading, or studying in general.
He wasn't "a fan" of history when he arrived, either, Ropp recalls, but left four years later with a bachelor's degree in the subject and a spot in graduate school at the University of Michigan. He earned master's and doctoral degrees there, in 1968 and 1974, respectively, and embarked on an academic career that has earned him Bluffton's 2010 Professional Achievement Award, given for continued pursuit of intellectual growth and exploration of creative ventures in a chosen field.
"Some Bluffton professors really lit a fire under me," says Ropp, now a research professor of history at Clark University, where he has taught since 1985. The husband of 1965 Bluffton graduate Marjorie (Liechty), he teaches Asian history on the Worcester, Mass., campus and researches Chinese social and cultural history in the 17th and 18th centuries.
Ropp credits Robert Kreider, the dean of faculty who became Bluffton's president in 1965, and Ron Lora, a 1960 Bluffton alumnus who returned in 1964 to teach, with sparking his interest in history. "I gradually fell in love with it," he says.
Kreider complimented a paper he wrote, telling Ropp he could do well in the seminary—where he had planned to go after college—or in graduate school. "That was the first time anyone had mentioned graduate school to me," Ropp remembers. And Lora, who was pursuing his Ph.D. at the time, spoke "in glowing terms about how wonderful it was to read book after book" as a graduate student, he adds.
Kreider was instrumental, too, in Ropp changing his graduate-school focus from European to Chinese history. "Bob Kreider had put China in the back of my mind," he says, noting Kreider's interest in the country, where he was heading to do relief work in 1948 when the Communist Revolution forced him to return to the United States. Kreider also told students about a 1964 New York Times poll of historians who named two Chinese leaders—Sun Yat-sen and Mao Zedong—among the 10 most important people of the 20th century. "That was a wake-up call," says Ropp, who recalls thinking "China's important, and I know nothing about it."
Even more influential, though, was another faculty member, Jerry Shenk, who was dean of men and taught both science, including the history of science, and religion. "He was, in my mind, a genius," Ropp says. "He changed the direction of my life in many ways."
"He just inspired me to want to read books and be like him," Ropp explains. "It was a life-changing conversion to the world of books and ideas. I just started reading all the time."
The result? "I think Bluffton prepared me marvelously for graduate school," Ropp maintains, "and filled me with passion for what I was going to do."