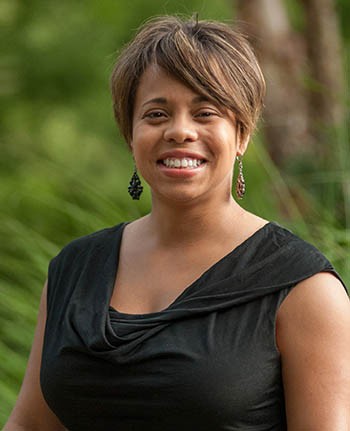 Bethny (Ricks '06) Brown
November 2014
Executive human resources director, Scotts Miracle-Gro Co., Marysville, Ohio
Majors: sociology, criminal justice
2014 OUTSTANDING YOUNG ALUMNI
The Outstanding Young Alumni Award is awarded to an alumnus who graduated within the last 10 years and has dedicated him or herself to serving people, community or the church or has made extensive contributions to his or her career.
Seizing opportunities
Bethny (Ricks) Brown has never taken a class in human resources or, for that matter, any business classes. So, naturally, she is now the executive human resources director at the corporate headquarters of a $3 billion company, Scotts Miracle-Gro.
But Brown, a 2006 alumna, remains grateful to Bluffton for providing intangibles that have continued to impact her life, she says, as she has climbed to a high position in her profession.
For her early career success, coupled with giving back to Bluffton through interaction with students, Brown is receiving this year's Outstanding Young Alumni Award. The award is presented to a graduate from the previous 10 years who is either distinguished through service or has made significant professional contributions.
Setting a course
What she calls an "absolutely gorgeous" campus—along with the major she was eyeing at the time—brought Brown to Bluffton, which she first drove through on the way home from another college visit. The faculty and students she subsequently met, and the "community feel" she sensed, also helped influence her decision, the Bellefontaine, Ohio, native says.
Once at Bluffton, she changed majors a couple times before settling on the combination of sociology and criminal justice, which she thought would lead to law school or possibly graduate school in sociology.
Finding her calling
Throughout college, though, Brown worked for a large Cincinnati construction company. The owners needed someone to do administrative tasks, which she did remotely from Bluffton and in person during breaks. As time went on, she was given more responsibility, and the work "turned into an opportunity to have influence, which is natural for me," she says.
Applying for jobs after graduation, Brown was hired by a law firm in Cincinnati. She was still looking toward law school, but involvement in an "HR-focused" office reorganization helped change her mind.
Also considering her prior work in Cincinnati, she started thinking she should try human resources—a thought reinforced by a recruiter for Bluffton's DTR Industries. Brown subsequently returned to Bluffton as a human resource generalist at DTR, a manufacturer of automotive rubber products.
"I took a leap of faith," she says, calling the decision one of the best she has ever made. It was one of a series of such moves that, along with "unplanned encounters and lessons," have led to "unimaginable" opportunities in her career, she adds.
Moving on, and up
Two years later, Brown moved on to the apparel business in Columbus, first at Gap Inc., where she supported all domestic and international call centers and distribution centers. From there, she went to Express Inc. as senior human resource generalist, with responsibilities in the eastern U.S.
While at Express, she was approached by a co-worker who asked if she was familiar with Scotts Miracle-Gro—whose Marysville headquarters she passed every day en route to work in Columbus—and said that Denise Stump at Scotts wanted to meet with her. Googling the name, she learned that Stump was executive vice president of global human resources for the lawn and garden company, and thought, she recalls, "maybe I should meet with her."
She did and, at age 28, was offered a director's role. "Denise's leap of faith has allowed me to influence a corporation in ways I never thought possible," she says. "Denise saw potential in me and provided me the platform to transcend my professional expectations at the time." She has been with Scotts since January 2012.
Common denominator
While she has worked for three large companies in different industries during her still-short career, Brown says they have a common thread: people. Regardless of the company, "people are the most valuable assets; they are the backbone of any successful business," she maintains. And differences aside, she notes, they all deserve to be treated with respect and to have their viewpoints valued.
She takes "much joy" in seeing Scotts associates progressing in various areas of their jobs, especially when knowing she's had a hand in it, she says. "I was definitely meant to do this; there's no question about it."
Community at the core
"Community is what's really important to me," says Brown, who still lives in Bellefontaine with her husband, Nickolas, and their two young children. Referencing the "simplicity and the quiet wisdom of the Bluffton University community," she says "for that, I'll be forever grateful."
She gives back by returning to campus to conduct mock interviews, speak to classes and talk to students who are considering the human resources field.
She credits Bluffton faculty in particular for their positive impact on her life, including several whose comfort with "who they are and their ideas on life" was especially influential. Considering those examples, Brown asks, "How could you not come out a better, wiser, stronger person?"
Included Content