2022 Alumni Award Recipient
Fall 2022
Outstanding Young Alumni Award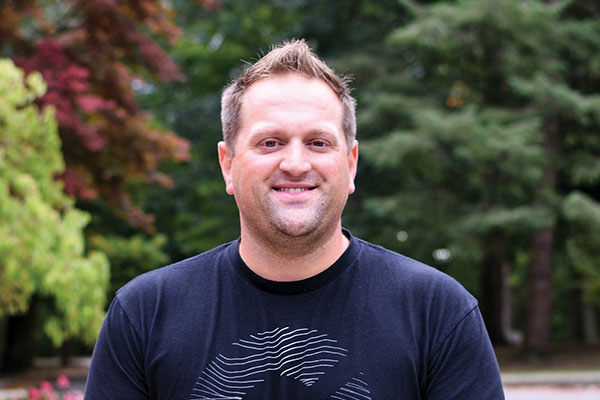 Brandon Freytag '08
Loaded, founder and chief of creative monetization
Bluffton '08
Major: Business administration
Passion equals success
There's a simple reason Outstanding Young Alumni award recipient Brandon Freytag '08 is successful in his career. The founder and chief of creative monetization at Loaded, a gaming management and advisory firm, found his passion early in life.
"What I do doesn't feel like a job," said Freytag. "I realize I'm privileged and proud to be in a job where I love every single minute of it."
Freytag founded Loaded in 2016. The Santa Monica-based company has more than 50 employees who work across the country, and the team exclusively manages over 30 content creators. They are big names in the gaming community including Shroud, Courage, Summit1G, Tarik, QuarterJade and Lirik to name a few. However, the business works with hundreds of additional gamers and provides strategy in the gaming space for major brands such as Adidas, Gillette and Frito Lay.
Strategic growth
To keep up with massive growth in the industry, Loaded recently raised $20 million to develop new ventures. For Freytag, focusing on sustainable growth has always been key.
"I was very strategic with the executive team we built and how the business was built to ensure it was always profitable," Freytag explained. "In the gaming space, unfortunately a lot of stuff isn't profitable."
Today, Freytag maintains a position on Loaded's executive team but has stepped aside from the CEO role. Instead, he focuses on his favorite part of the business – platform and content deals and started with famous gamer Ninja's (Tyler Blevins) multimillion dollar move in 2019 from Twitch to Microsoft's former platform Mixer.
"My whole emphasis is thinking outside the box," said Freytag. "The streaming platforms and sometimes third parties were making a lot of money off these creators, and I didn't think that was fair. I realized there's a ton more value to their content and if you move the content somewhere else there's also value in that."
Freytag has been behind more than 60 of these deals, and it remains the biggest part of Loaded's business.
Establishing his values
Freytag began his career in high school by cold calling companies to gain sponsorship deals for his buddy's esports team. His first big deal was for five gaming mice from Razer, and he cultivated relationships that last to this day. Freytag refined his skills at Bluffton with the help of former professors Pete Suter and Bill Lyons in business and Darryl Moody in art.
And, he established his values as a member of the 2007 baseball team.
"That defined who I was and what I value and the realization of how it can all be taken away in an instant. At the time, President Harder, Coach Grandey and the entire faculty developed a support chain through that whole difficult process," said Freytag. "I try to do the same today. We treat our clients the way we would want to be treated."