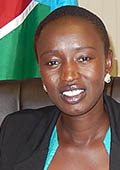 Angong Acuil '05
2013 Outstanding Young Alumni Award
The award recognizes a graduate within the previous 10 years who has gained distinction through service to people, community or church, or has made significant contributions in his or her career.

Angong Acuil has come a long way, in more than one way and sometimes improbable ways. A young refugee from her war-torn homeland of Sudan, she is now a diplomat in the United States embassy of her two-year-old nation of South Sudan.
She has made the journey with an abiding sense of duty that was further fortified by Bluffton and Mennonite emphasis on peace and service. Embodying those beliefs has helped the 2005 graduate earn this year's Outstanding Young Alumni Award.
Acuil was one of roughly four million southern Sudanese displaced by a civil war that began in 1983. For a time, her family was among hundreds of thousands in a refugee camp in neighboring Kenya.
She came to Bluffton in 2001 through connections that had been established years before. Her father had been an official in a southern Sudanese regional government before he was jailed for one year by the national government and then sneaked out of the country. In Kenya, he worked with and befriended Isaac Riak, a refugee from the first Sudanese civil war who had met future Bluffton president Elmer Neufeld in the Congo in the 1960s. Riak subsequently graduated from, and taught economics at, Bluffton before moving to Kenya in the '80s.
Acuil graduated from high school in Nairobi and, with Riak's help following her father's death in 2000, received a scholarship from Bluffton. "When you look back, it is quite amazing," she says of reaching the U.S. "It has defined the future I have now."
"There was a lot of kindness at Bluffton, a lot of people who helped," she recalls. Among them was Dr. Perry Bush, a professor of history who, despite her uncertainty about her qualifications, recommended her for a post-graduation position with Mennonite Central Committee (MCC) in Washington, D.C.
Acuil, a Catholic, had been attracted to the Mennonite pacifist tradition, calling it "very appealing" to a former refugee of war—and still instrumental in her approach to diplomatic issues. And she ultimately became legislative assistant for international affairs in MCC's Washington office, where her duties included advocacy for Africa and HIV/AIDS awareness.
Her life changed course in 2007, two years after the end of the civil war she had fled as a girl. Her name was taken from an application for a job as deputy manager of the Bank of South Sudan and added to a list of educated Sudanese who were considered candidates for foreign-service posts. Acuil, whose mother was an adviser to the nation's president at the time— and remains a political figure and rights activist in South Sudan—ended up in the capital of Khartoum as a beginning diplomat.
Her experience in Khartoum, she says, "was really the worst time" of her life. She was directly mistreated for the first time because of her race and Christian religion, she explains, and living conditions were hard, including low pay, "ghetto-like" dwelling and extreme desert heat and dust. It was "not really a life I thought I would be living," but, Acuil adds, her sense of duty kept her there for more than three years.
By 2010, she decided to pursue a master's degree. She believed the southern Sudanese would eventually vote on independence, she says, and she wanted to have an advanced degree when she returned to an independent South Sudan to work.
"That was the best decision I ever made," says Acuil, who opted for a new language experience at the University of Potsdam, Germany, where she earned her master's in global public policy.
The South Sudan independence vote came in January 2011, as she was nearing completion of her degree program. Denied a vote in an earlier Sudanese presidential election, she went home to help register voters for the referendum in which South Sudan was created, with 98.8 percent favoring independence.
"It was scary. There was a lot of tension," due to fear that Sudan wouldn't accept the results, she remembers. "The fact that it happened and nothing went wrong was something we couldn't believe. People are still in that state of disbelief."
But there was, and is, hope as well, says Acuil, who joined the new nation's diplomatic corps in April 2011, based in the capital of Juba. In May 2012, she moved on to a four-year assignment at South Sudan's U.S. embassy in Washington, where she handles media-related work; administration and finance issues; and matters related to education, culture, health and agriculture.
Independence "was always in our minds," notes the diplomat, who counts eight or nine deaths of immediate family members in the many years of fighting and estimates the death toll in her extended family at 30-40. "I didn't lose my family in vain; their deaths are justified."
"We have tons of challenges and work ahead, but we always know that things will get better."
And Acuil wants to be part of making that happen. Pointing out that the peace she found at Bluffton "really helped calm down the chaos I came from," she adds that "education was always a means to help my people. You have that sense of responsibility because we've all experienced the suffering."