Jonathan Moyer '02
Ph.D. student in international studies, University of Denver
Major: Business administration, with a concentration in international business
2011 OUTSTANDING YOUNG ALUMNI
The Outstanding Young Alumni Award is awarded to an alumnus who graduated within the last 10 years and has dedicated him or herself to serving people, community or the church or has made extensive contributions to his or her career.
A global view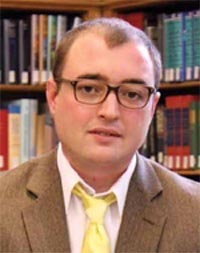 International relations work—including, since 2005, forecasting the character of interactions between nations—took Jonathan Moyer to Asia, Europe and Africa before he was 30.
But what stoked his interest in international politics and economics was his first taste of living abroad, as a Bluffton-supported student spending his junior year of college in Spain. "That was a huge turning point in my life," says Moyer. "That's when I hit my stride."
Engaging with the world
The time in Spain instilled a sense of obligation to the world, he recalls, and, after a senior year "when everything seemed to click," Moyer acted on that feeling, traveling to Vietnam in fall 2002 to teach through Mennonite Central Committee (MCC). In 2005, knowing he wanted to go to graduate school, Moyer returned to the United States. That summer, he married his wife, Rachel—whom he had met at MCC orientation three years before—and moved to Denver, where he started his master's degree program at the University of Denver's Josef Korbel School of International Studies.
An international future
At the same time, Moyer began working with International Futures (IF), a quantitative model designed to help policymakers think strategically about economic, social, political and environmental systems. He is now among the five-member leadership team at the Korbel School's Pardee Center for International Futures—whose interest, he points out, isn't in making predictions about probable outcomes in interstate relations.
"We're not these crazy people who think we have a handle on the future," says Moyer, the son of David '71 and Elaine '72 Moyer. "There's definitely subjectivity involved with this, and we embrace that."
For instance, for his doctoral dissertation—which he expects to finish early next year—Moyer is modeling emerging pressures on state relations over the next 20 years.
Those pressures include climate change, the rise of China and India, peak oil and gas production and changing demographics, especially the aging of Europe. In the latter case, he explains, the growing proportion of old to young in the U.S. will pale in comparison to many European countries, which could face "massive pressures" over budgets, further debt crises and radical shifts in immigration policies as a result. But a positive demographic change may be in the works for some of the world's least developed countries, where aging of young populations could translate to less domestic upheaval in coming years, Moyer says.
Well traveled
His work has taken him frequently to Europe and Africa, as well as across the U.S. He has led research projects for the European Union; helped develop a long-term, low-carbon strategy for Slovenia; and co-authored publications on development in Africa, technology and carbon emissions, measures of state fragility and fair trade.
But for helping him "figure out who I was in the world," he adds, Moyer remains grateful to Bluffton. "It provided me with a ton of tools."