Chad Stearns '00
Major: Music education
2010 OUTSTANDING YOUNG ALUMNI
The Outstanding Young Alumni Award is awarded to an alumnus who graduated within the last 10 years and has dedicated him or herself to serving people, community or the church or has made extensive contributions to his or her career.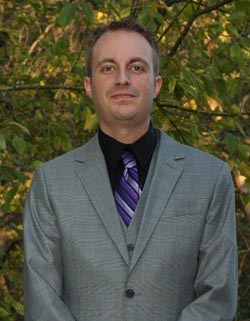 The story of Chad Stearns' journey from Bluffton to Broadway features seized opportunities—and one of his fellow 2010 award winners at the university.
Stearns, a 2000 Bluffton graduate in music education, is this year's recipient of the Outstanding Young Alumni Award, given to a graduate from the past 10 years who is distinguished either through service or professional achievement.
Since 2006, he has been keyboardist and associate conductor for the U.S./Canadian tour—with additional stops in China and Japan—of the Broadway show "Hairspray." He had previously filled the same positions for U.S. tours of "Oliver!" and "Oklahoma!"
The Burgoon, Ohio, native came to Bluffton with no musical theatre background. That changed, however, during his sophomore year, when he saw his first show, "Ragtime," on what he calls a "life-changing" New York City trip led by Dr. Stephen Jacoby, now a professor emeritus of music, and art professor Gregg Luginbuhl.
Jacoby, the university's 2010 Faculty/Staff Service Award honoree, and Dr. Lucia Unrau, its current music department chair, were "my rocks" at Bluffton, says Stearns, who earned his degree with a concentration in piano and organ.
He then became instrumental music director for Waynesfield-Goshen Local Schools in Waynesfield, Ohio, and got his "foothold in theatre," he says, in the University of Findlay's SummerStock program. There, as music director of a 2003 production of the Frank Sinatra tribute "My Way," he was encouraged by Diane DiCroce, the show's director and a member of the Broadway cast of "Les Misérables," to give New York a try.
Stearns moved to the city that fall and learned almost immediately that the "Oliver!" company needed a rehearsal pianist. Within two weeks, he had the job and began six weeks of rehearsals that preceded an 18-month tour, launching his ongoing musical theatre run. "It was amazing," he says, recalling those who advised giving himself two or three years to catch on in New York.
Helping pave the way, he adds, was his experience in the Bluffton music department, particularly with Jacoby and Unrau. "They were just really instrumental in preparing me," says Stearns, whose career is taking him next to Japan for the December opening of a touring production of "Avenue Q."