Tobias Buckell '00
Science-fiction writer
Major: English
2009 OUTSTANDING YOUNG ALUMNI
The Outstanding Young Alumni Award is awarded to an alumnus who graduated within the last 10 years and has dedicated him or herself to serving people, community or the church or has made extensive contributions to his or her career.
Explorer, writer, futurist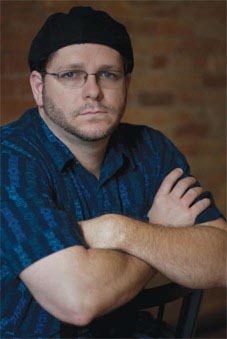 Getting an early start.
"I started writing seriously at the age of 15," says Grenada-born writer Tobias Buckell. "I finished my first short story at that age and also received my first rejection letter." His undergraduate experience at Bluffton fueled his passion for writing. In a span of five years, beginning his sophomore year, Buckell wrote 150 short stories.
The lure of science fiction.
Science fiction has always been Buckell's genre of choice. "There is a playground within science fiction that you can fit other genres into," he says. "You can go so many places." Three of Buckell's original novels—Crystal Rain, Ragamuffin and Sly Mongoose—take place in a universe that he created, one that draws on his experience of growing up in both Caribbean and North American cultures. His fourth original novel, Arctic Rising, which is slated for release in 2010, takes a brand-new direction. He describes it as an "ecological techno-thriller" that is set in the near future when the melting north polar ice caps form a seventh ocean.
Creative fun and games.
Buckell's most recent novel, Halo: The Cole Protocol, made The New York Times best sellers' list and is based on the popular video game Halo. Buckell was invited to Seattle, Wash., to meet with Halo's creators and discuss a concept for the book. "When I was asked to write a novel revolving around the game, I decided the project was too much fun to not do it," says Buckell. "One criterion I have for any work I do is that it has to be 'creative fun.' This project was perfect."
Blending passion, career and family.
Buckell's talent and hard work have not gone unnoticed, and he has earned a number of recognitions. He is a "Writers of the Future" winner. He was nominated for the Campbell Award for Best New Writer. His second novel, Ragamuffin, was nominated for both the Prometheus Award and the Nebula Award. However, for Buckell it's about the story not the ego boost. "Writing is a hobby and what I love and a passion and a job all blurred together," he says. Being a writer allows him to set his own schedule and spend more time with his wife, Emily (Hyatt '01) Buckell, and twin girls born in April.
Included Content