2022 Alumni Award Recipient
Fall 2022
Lifetime Service Award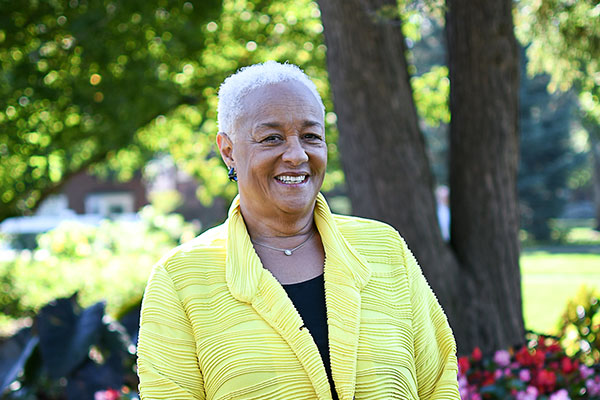 Kathy (Gaines '78) Carr
Retired educator and administrator, Fort Wayne Community Schools
Bluffton '78
Major: Elementary education
Following her path
Over the course of her 40-plus-year career in education, Kathy (Gaines '78) Carr estimates she touched the lives of roughly 6,000 children. However, the recipient of Bluffton's Lifetime Service Award explains her dedication to the students, teachers and the larger community of Fort Wayne, Ind., as simply "my path to follow."
Carr followed a path inspired by her mother who was also a teacher. Growing up, it was a given that Carr would attend college to become a special education teacher. She never researched any other career.
"It was always in my heart that that was what I wanted to do," said Carr. "I never really wanted to do anything else." Guided by Ruth Anne (Steiner) Sprunger, her mom's best friend and 1951 Bluffton alumna, it was also a given that Carr would attend Bluffton.
"I didn't know much about Bluffton, and I was not Mennonite," explained Carr, "but it was a small school that wasn't very far from home and that was appealing to me."
She later earned master's degrees in elementary education and elementary school administration from Indiana University-Purdue University Fort Wayne. However, Carr began her career as a special education teacher.
Pushing her 'tentacles' further
Eventually, she pursued administrative roles and served as a resource teacher, dean of students, principal and manager of human resources. Carr retired from Fort Wayne Community Schools in 2019 after five years as director of human resources but served as the interim director of exceptional learners at South Bend Community Schools for a year and a half, ending in April 2022.
"By being an administrator, you could touch every student in the building. You had contact with every teacher, every staff person. I wasn't limited to the walls of my classroom per se," explained Carr. "The tentacles went a little further, and, hopefully, the input and impact I had on people reached a little further, as well."
Making a difference
During her career, Carr was active on many boards and service organizations ranging from the Indiana Black Expo to the National Education Association to the board of directors for the Fort Wayne Rescue Mission.
"My mom was always very involved in the community as I was growing up. I think I tried to emulate her life," said Carr. "I focused on organizations that had something to do with education or children or served the wellbeing of others."
Carr's two daughters now carry on the family legacy by working in Indiana schools, and she continues to get recognized by former students. The encounters confirm that she made a difference in people's lives.
"But I know, bigger than that, there are the people who touched my life," Carr said. "Forty-two years working in the same district really framed me into the person I am."