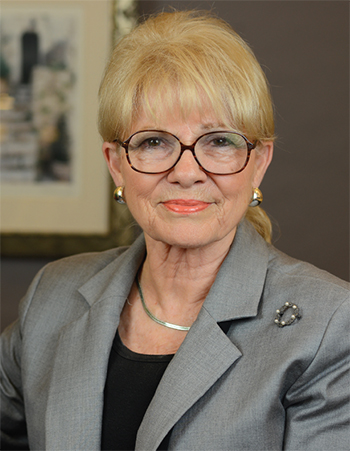 Judy (Mull '63) Pierman
Deputy director and education director, Hispanic Human Resources Council
Major: Education
LIFETIME SERVICE AWARD 2016
The award recognizes an individual who, inspired by personal faith to make a difference in the lives of others, has dedicated his or her life to heartfelt service to people, community or church.
Big Moves and Milestones
When Judy (Mull) Pierman sees a need, she seeks to find a solution. Sometimes it is from her own family's need, but the solution benefits others as well. By fulfilling that pattern of behavior, this year's recipient of the Lifetime Service Award has lifted the lives of countless people in need.
Pierman is a native of West Leipsic, Ohio, but she's lived the last 40 years of her life in North Palm Beach, Fla. She is a mother of three and grandmother of five, including a granddaughter who is following in her footsteps at Bluffton University. Pierman has lived all over the United States, but her record of service is rooted in the values she developed at Bluffton.

"The college years are impressionable years," said Pierman as she reminisced about the influence of faculty members including Dr. Paul Shelly, professor of religion, and Christine Purves, choral director and music instructor. "A good pattern for living is instilled in you when you go to a place such as Bluffton."

Pierman transferred to Bluffton after a semester at North Central College in Naperville, Ill. Her parents were only able to support her for two years, so she earned a cadet teaching certificate, taught for a year at Ottawa Elementary School, and made enough money to return to Bluffton and graduate with her class.

After graduation, Pierman's life was a flurry of big moves and major milestones. She taught for a year in Puerto Rico, moved to New Jersey, married Jerry Pierman, had a baby, moved to Michigan and returned to Ohio to be closer to family.

While living in Bryan, Ohio, she couldn't find a quality educational setting for her young daughter so she helped establish the Bryan Community Preschool, which served the community for nearly 40 years. When the family moved to Columbus, Ohio, the same need arose, but this time around for her son. "So, I started another preschool, Trinity United Methodist Preschool. We called it TUMPS. My son will be 48 years old and it's still going strong," said Pierman.

Pierman's husband is in the golf course business, and because of that, the family made a final move to Florida in 1974. Once again there was a "need" for quality education for her children. She began teaching at The Benjamin School so her children could also enroll. During her 14 years at the private school, she taught language arts, Greek and Latin.

Pierman's service to North Palm Beach began with committees to improve the village's recreation programs for children. "I started with my son's baseball and all of the sports programs. Then somebody said, 'Why don't you run for council.' So, I ran never thinking that I would win, but because I was a teacher and had the support of all of the families of the children I was teaching, I won the election." She served on council for eight years, and her fellow council members elected her to serve as mayor for two, one-year terms.
Helping the Community
"I was the first woman mayor, appointed by all men. You can't succeed yourself, but later I was appointed again, so I was also the second woman mayor. Evidently, I did a good job," Pierman joked.

Pierman also served the community by volunteering. She came to her current role at the Hispanic Human Resources Council while trying to fulfill another need as a volunteer for the American Association of University Women.

"I did literacy in the workplace for the group, and I came across a fellow from Honduras who needed to learn English to get a job," said Pierman. "That's when I was referred to the HHRC. When I met the founder he said, 'We have so many people that need this type of help, why don't you come and help us?'"

Twenty-two years later, Pierman continues as the education director and deputy director of the agency and currently serves as one of five Palm Beach County Commissioners on Ethics.

"What we are doing here is very significant," said Pierman. "We have families from more than 20 countries who are trying to find a better life in this country."

She oversees more than 50 employees and 19 preschool classes, which are filled with 300 children from 3 months to 5 years of age. Most come from Spanish or Creole speaking families.

"Our mission is to prepare children to go to school speaking English while maintaining their home language," said Pierman.

Even with an impressive resume such as this one, Pierman says she's very humbled by the recognition. "What I've done has been rewarding. I feel I received much more than I gave." She adds that she is grateful for receiving the Lifetime Service Award at this stage in her life from her alma mater, but "hopefully, I'm not finished yet."