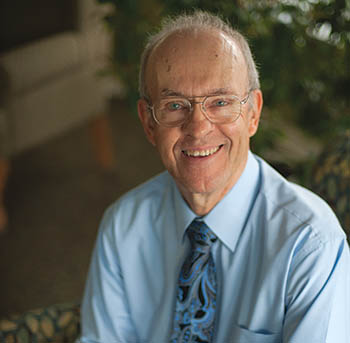 William Herr '61
Chaplain, Mennonite Memorial Home, Bluffton
Major: Mathematics
2014 LIFETIME SERVICE AWARD
The award recognizes an individual who, inspired by personal faith to make a difference in the lives of others, has dedicated his or her life to heartfelt service to people, community or church.
A history of helping
He has had two distinct careers over the last 50 years, but Bill Herr says he has loved two of the same things about both of them—the people, and the preparation.
The 1961 graduate has followed 30-plus years as a high school teacher with 18 years as chaplain at Bluffton's Mennonite Memorial Home. That ongoing commitment to others has earned him the university's 2014 Lifetime Service Award, presented to alumni who have dedicated their lives to heartfelt service to people, community or church.
'The hardest and most important profession'
Raised on a farm three miles south of Bluffton, Herr was drawn to mathematics at Bluffton High School by a teacher, Joe Harris, who "made it fun," he recalls. Then, as a math major and physics minor on campus, he was particularly influenced, he says, by Drs. Luther Shetler and J. Richard Weaver, now professors emeriti of mathematics and physics and chemistry, respectively.
As a college student, he helped his father with the farming, and thought he might continue to farm after graduation. A Bluffton adviser planted the teaching seed upon learning that Herr, then a junior, liked math. But, admittedly lacking confidence and not outgoing, he wasn't certain he wanted to teach.
What he did want, he decided, was to join the Army, but when he and a friend went to Columbus to sign up, Herr was sent home because he had a history of asthma.
So he applied to teach in Hancock County and, over parts of the next two school years, substituted for ailing math teachers at Arlington, then Riverdale High School. When the latter teacher didn't return, Herr did, ultimately staying at Riverdale for more than 11 years. For most of those years, he also taught physics, which he calls the hardest course he taught but one he loved, too.
Also during that time, he earned a master's degree in teaching from Bowling Green State University and moved to the homestead—only a mile and a half from his boyhood home—where he and his wife, Gloria, have now farmed for 44 years.
Given a chance to work nearer home in 1975, he took a math teaching job at Bluffton High School. He also coached the first girls' fast-pitch softball team at Bluffton, where he retired in 1994.
Herr, the father of four children, says he enjoyed developing a rapport both with fellow teachers and students. "I always found that if students know you respect them, they'll give it back to you," he says, describing teaching as "the hardest and most important profession." Teaching honors he received at Riverdale and Bluffton were a reflection on his college experience, he adds, saying "Bluffton University is a great institution for education."
Called to serve anew
After retiring from teaching, he became a volunteer at nearby Richland Manor Nursing Home, where his wife—"my supportive partner for 48 years," he says—was a nurse. He still leads a men's discussion group there for one hour each Monday.
He became interested in Dayton's United Theological Seminary after seeing a flier that mentioned its degree program in religion communication, with equal parts theology and video production. That was a good fit for Herr, whose interest in videos had manifested itself in a number of sports-related and other clips he made during his final years of teaching. After living in Dayton during the week and coming home on weekends for two-plus years, he earned his second master's degree in 1996.
Soon after, Herr received "the greatest phone call I ever had," from Laura Voth, then activities director at Mennonite Memorial Home, with an offer to become chaplain at the home. That meshed, too, with his enjoyment of older adults. "I love older people because they're humble, they're wise, they have deep roots of faith and they have great stories to tell," he summarizes.
He credits Voth—now CEO for Mennonite Memorial Home Communities—with giving him early opportunities to attend seminars about such topics as providing quality-of-life care for the elderly and Alzheimer's disease, death and dying. "I learned a lot that first year," he says, noting that Alzheimer's patients, despite losing their memories, don't lose their faith roots, nor their playfulness or love of children.
His job remains "a wonderful way to grow spiritually," adds the chaplain, who teaches Bible studies at the home and, on Sundays, has been a lay speaker in area Methodist churches for many years. And his work, and philosophy, dovetail with a belief expressed in a quote attributed to Dr. Michael DeBakey, the pioneering heart surgeon: "The highest calling is to make people feel better."
"That's what motivates me," Herr says.