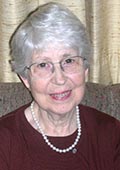 Lenna Mae Gara '49
2013 Lifetime Service Award

The award recognizes an individual who, inspired by personal faith to make a difference in the lives of others, has dedicated his or her life to heartfelt service to people, community or church.

For one hour on the third Saturday of each month, Lenna Mae Gara stands with a small group—also including her husband, Larry—on a sidewalk at the edge of the Wilmington (Ohio) College campus.
Not far from the cars driving through Wilmington on U.S. 22 and Ohio 3, they hold up signs bearing such messages as "Troops Out Now," "Bring Them Home Now" and "War Is Not the Answer."
"It's just our way of making a statement, of testifying to something," says Gara, a Bluffton student in 1948-49. While he reaction from passers-by is mixed, it includes many supportive honks and waves, which "tells us there are people who are sick of these wars," she says.
Through the monthly gathering, Gara continues to express a lifelong concern for peace. That commitment and others, particularly to juvenile justice, were key to her selection as Bluffton's 2013 Lifetime Service Award recipient.
Her father was a Congregational pastor who was "pretty strong on peace and social justice," notes Gara. But her passion for peace really developed, she says, when she enrolled at William Penn College, a Quaker school in Oskaloosa, Iowa. There, in 1946, she married Larry Gara, who, after serving three years in prison as a World War II conscientious objector who refused to register for Selective Service, graduated with plans to become a history teacher.
Coming to Bluffton in 1948, he taught history and served as acting dean of men while she was a senior English major.
Neither of them, however, finished what they had planned for that year. Lenna Mae wound up graduating from William Penn, transferring her credits back to Iowa in part because she believed she would have to repay a scholarship if she didn't finish her degree there. And when a Bluffton student was arrested for refusing to register and Larry told him not to be coerced into violating his conscience, Gara, too, was arrested— on a counseling charge—and served another jail sentence in a case that went to the U.S. Supreme Court.
"We will never forget the support we got from Bluffton," recalls Lenna Mae, who worked on campus during her husband's seven-month incarceration in Toledo and Milan, Mich., in 1949. "It was kind of chaotic, but we got through it."
He went on to teach at several colleges, including five years at Grove City (Pa.) College. His past "blew up" at Grove City, Lenna Mae says, resulting in his dismissal in 1962, but Wilmington—another Quaker college—hired him to fill a history vacancy shortly thereafter.
It was, she says, "an incredible coincidence that this job came up just when we wondered what we were going to do next."
During the Vietnam War era, they began organizing peace vigils and demonstrations like the regular vigil they still attend in Wilmington.
In 1972, Lenna Mae co-founded the Wilmington Writers' Group, and her involvement with juvenile justice began that same year, when her Quaker Meeting group gained ermission to visit prisoners in the county jail once a week. Sometimes seeing a teenage girl among the adult inmates, she was "appalled" to learn the girl was being held only as a runaway and that "nobody was helping her." Looking at jail records that listed ages of past inmates, she found numerous juveniles, including one 10-year-old. "The wording was almost always that they ran away," she says, explaining that in some cases, parents turned their problem children over to the authorities when they couldn't handle them.
That revelation sparked Gara's campaign to change the system, raising awareness of alternatives—Saturday school and community service, for example—to jailing of juveniles who hadn't committed serious crimes.
She helped establish the Clinton County Youth Service Bureau, where residents could be directed toward services for teens. She served as a board member, secretary and then president of the bureau, which operated from 1975-78.
The bureau closed when county officials wouldn't approve local funding to replace exhausted federal funding, so Gara rechanneled her efforts through the Wilmington League of Women Voters. Through the league, she organized, was an observer in and reported on a six-month juvenile court monitoring program.
Over the next several years, the system in Wilmington and Clinton County did change, she says. By the mid-'80s, under legal and economic pressure, the county had stopped holding juveniles in its jail, but "how much we can take credit for, I don't know," she adds.
"At the very least, we let people know about it," says Gara, who also wrote news releases and meeting reports about the issue, and was a member of the juvenile court's Youth Advisory Board for several years. "I think everyone became much more aware of what was going on."
She has also attempted to raise consciousness about environmental concerns in her city and county. Beginning in 1991, she promoted curbside recycling in Wilmington—an idea that finally came to fruition in 2005.