Marietta (Landis '65) Sawatzky
Missionary in Taiwan
Bluffton '65
Major: Elementary education
2011 Lifetime Service Award
The award recognizes an individual who, inspired by personal faith to make a difference in the lives of others, has dedicated his or her life to heartfelt service to people, community or church.
Committed to the call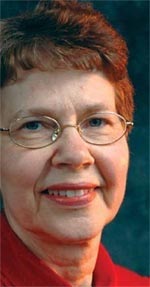 As she was nearing graduation from Bluffton with her education degree, Marietta Landis received a letter from Hugh and Janet Sprunger, who were Mennonite missionaries in Taiwan.
The Sprungers, with whom Landis had corresponded since they met at a church camp in Pennsylvania, wrote that a teacher was needed for elementary-age missionary children in a one-room school setting. "We think you're the person for that," they added—words that the ensuing 46 years have borne out.
On July 31, 1965, scarcely two months after graduation, she was on her way to Taiwan, where she pursued a teaching ministry that's been "the heart of what I've done," she says.
Teaching on Taiwan
She taught at Hualien Christian School on the island's east coast during her initial three-year assignment with the then-General Conference Mennonite Church Board of Christian Service. Having met and married Sheldon Sawatzky in Taiwan, she then settled into the role of a pastor's wife while they began raising their three children.
She did a little substitute teaching during that time, and later taught a ninth-grade Bible class at the Christian international school her children attended. But "my niche," Marietta says, was the English-language classes, including Bible classes, she taught as a church-outreach program.
Teaching Bible stories—and working in everyday English material—at a public middle school on Saturday afternoons for two semesters was particularly rewarding, she recalls. The school promoted the program as a way for its students to gain more familiarity with English, she points out, saying there's still "a strong drive for English learning" on Taiwan.
Another high point, she notes, was teaching an English/Bible class to middle school teachers, a banker and other professionals from 2007-09 and seeing adult students meet the challenge of grasping biblical material that was new to most of them.
Help along the way
"There were always new challenges" in teaching, says Marietta, but the Taiwanese people have been welcoming and she and her husband's co-workers have always been supportive. That included mentorship by their predecessors on the island, who helped with the Sawatzkys' adjustment to the culture and the Taiwanese dialect. Learning the language was difficult, she concedes, but since most foreigners speak Mandarin Chinese, the locals' ears "perk up" when they hear their dialect, allowing closer contacts to form.
Still serving
The Sawatzkys retired from the Mennonite Mission Network (MMN) in 2009, but the national Taiwan Mennonite Church invited Sheldon to work for the church in the leadership development area. So, until September 2012, they remain as MMN associates on the island, where they have actually lived for about 31 years. That excludes periodic furloughs and other time spent back in the United States for additional schooling and administrative jobs, including, in Marietta's case, 10 years as part-time MMN Prayer Network facilitator.
Over the years, they've witnessed considerable change on Taiwan—where they once saw water buffaloes and now see high-speed rail transportation, Marietta says—but not a change in their relationship with the island.
Keeping them in the mission field there was "our commitment to God's call, and that seemed to be directed to Taiwan," she says.