Robert Smucker '52
2010 LIFETIME SERVICE AWARD
The award recognizes an individual who, inspired by personal faith to make a difference in the lives of others, has dedicated his or her life to heartfelt service to people, community or church.
Robert Smucker '52 came to Bluffton in 1948 in part because it was a small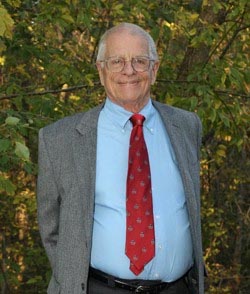 school, "and I was hopeful it was small enough that I would make the football team." He did better than that, earning eventual induction into the university's Athletic Hall of Fame for his play on the field.
His alma mater has now granted the Orrville, Ohio, native an even bigger honor, based upon his achievements in the more than 50 years since his graduation.
Smucker is this year's recipient of the Lifetime Service Award, presented to alumni who have dedicated their lives to heartfelt service to people, community or church. He has worked with nonprofit organizations since 1957 and has been a lobbyist for charities at the local, state and national levels for more than 40 years.
Smucker received his bachelor's degree in business administration from Bluffton, where Dr. Howard Raid, his primary business professor, and Ken Mast, his football coach as a junior and senior, were important influences, he says.
A conscientious objector to the Korean War, he went into alternative service after graduation and worked in several mental health facilities. He was attracted, he says, by stories he had heard about "dreadful conditions" endured by patients in large, state mental hospitals, told by conscientious objectors who worked in the hospitals during World War II.
In response to those experiences, he adds, Mennonites—and other denominations—opened smaller mental hospitals after the war, including Brook Lane Farm, the Hagerstown, Md., facility where he spent the first of his two years of alternative service. "That was what really interested me," Smucker says.
He went on to work with state and local mental health associations in Pennsylvania from 1957-71, then became director of public policy for the National Mental Health Association, a position he held until 1979.
From 1980-98, he was vice president for government relations at Washington, D.C.-based Independent Sector and, in 1996, he initiated the Center for Charity Lobbying in the Public Interest. The Falls Church, Va., resident is the author of The Nonprofit Lobbying Guide, as well as Promise, Progress, and Pain: A Case Study of America's Community Mental Health Movement from 1960-1980.