Marcia Gallant
Retired administrative assistant, Marbeck Center
2015 Faculty/Staff Service Award
The award recognizes a former faculty or staff member who fostered a spirit of community on campus through relationships with others, including students whom the recipient mentored and inspired.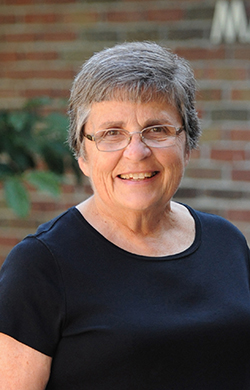 After her three children started school, Marcia Gallant went back to work and found a second family.
Over 28 years, until her retirement in 2012, she was a mother figure to many Bluffton students, offering a listening ear and counsel to members of her "Marbeck family"—the hundreds of students she worked with as the administrative assistant in Marbeck Center.
Her history of caring, and friendship, made Gallant this year's choice to receive the Faculty/Staff Service Award. The award is presented to faculty and staff members who have fostered a spirit of community through personal relationships with others, particularly students they have mentored and inspired.
"There were some super ones who went through here," Gallant says of the student assistants who helped with such tasks as metering and sorting mail, answering the phone and, before the electronic reservation system was introduced, making room reservations campuswide.
"When they were here for the school year, I probably saw them more than their parents did," she points out. "We could discuss many things," which could include deeply personal matters.
"We laughed together, and we cried together. Some days, you just listened."
The Bluffton resident says she tried not to be too "pushy" with her advice, which was sometimes acknowledged with a hug of appreciation. Among those she tried to reach were students who were thinking about leaving Bluffton for various reasons. She recalls asking some to "give it another try," to consider what they wanted to do after college and possibly take different courses, and to "really think it through before you say you're not coming back." The results? While some didn't stay, others did, she says
She became friends with the majority of the student employees, Gallant says, and has stayed in touch with many. A sports fan—and the 1996 recipient of the Larry W. Jones Memorial Award for her support of Bluffton athletics—she still hears from former co-workers who played women's basketball and ask if she's coming to alumni games they play on campus each year.
And she continues to strengthen longstanding ties, too. Last year, for example, she made "goodie bags" for Lauren Miller, then a first-year student from Dayton, and she and her husband, Darryl, also took the volleyball player out for dinner. Lauren is the daughter of Eric '89, who worked at the Marbeck information desk, and Teresa (Storrer '92) Miller.
Gallant's Marbeck memories include the "Mailroom Olympics" and annual decoration of a Christmas tree, with student help, in the Kiva—plus the time that assistants held pig races, complete with bales of straw and then-President Lee Snyder in attendance, inside the building. The organizers cleaned up everything afterward, she adds.
Then there were the postcards that she liked to remind students, as well as staff, to send back to Bluffton from their cross-cultural, spring-break and family travels. Coming from farthest away, she estimates, was probably one sent from Australia by Mark Bourassa, the Marbeck Center director. But others arrived from such locales as Morocco—when her son, Allen, was in the Peace Corps there—and Jerusalem, where a sender on a cross-cultural experience mailed one that didn't show up until a year later.
The first postcards went on a bulletin board but, by the time she retired, they filled two albums with reminders of students past. "If they were going somewhere, we wanted to know and share in their adventures," Gallant explains. "It was just a really good tradition we started."
Growing up in Mount Cory, Ohio, just up the road from Bluffton, Gallant was the younger sister of Barbara Boutwell, a 1968 Bluffton graduate who was the first beaver mascot, Bucky, and was inducted into the Athletics Hall of Fame in 1991. "That started our association with Bluffton," says Gallant, who kept the connection strong in her own campus niche.
"I consider Marbeck a family, I really do," she says, noting that its members also included the four directors during her tenure. That list begins with Lawrence Matthews—who hired her in 1984—and extends through Ron Slinger and Eric Fulcomer to Bourassa. The director since 1996, he is also assistant dean of students and director of conferences and the University Event Complex, which includes Founders Hall and the Sommer Center as well as Marbeck.
"We tried to make it an atmosphere where students wanted to come to work," Gallant recalls. When student employees started at Marbeck, "we were total strangers but, by working together almost every day, we got to know each other and built a good rapport."
"It was just a good place to be."
Included Content