Betty Sommer
Associate professor emeritus of social work
2011 FACULTY/STAFF SERVICE AWARD
The award recognizes a former faculty or staff member who fostered a spirit of community on campus through relationships with others, including students whom the recipient mentored and inspired.
Making 'real-world' connections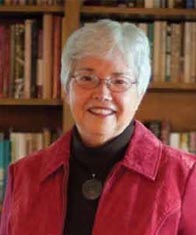 For the first 12 years of her professional career, Betty Sommer was a social worker in several locales, including Nairobi, Kenya, and Washington, D.C.
"Teaching was just not on my radar screen," Sommer recalls, saying she felt that being in a classroom would be too confining but social work, which she had discovered at Goshen College, "fit me like a glove."
But that was before she came to Bluffton in 1979 with her husband Willis, who had accepted a faculty position in business on campus. The mother of an 18-month-old daughter at the time, Sommer was thinking about the possibility of part-time work when she was offered the chance to teach one or two social work courses. That opportunity became five years as a parttime assistant professor and then, beginning in 1985, 20 years as a full-time faculty member until her retirement in 2005.
Practical applications
"I enjoyed working with students, especially teaching them to apply theoretical concepts to helping actual people and solving social problems," says Sommer, who also served as chair of the social and behavioral sciences department for 10 years and as Bluffton's faculty chair for two terms. "As a part of that process, almost every course had an outside-the-classroom assignment or project, often in conjunction with local social service agencies. Through these 'real-world' experiences, students could see the relevance of the classroom learning."
Sommer, who has a particular interest in mental illness, also taught her students that what happens in the policy arena affects individuals, so they would know how to advocate for those not getting needed services, she says. While front-line casework services are essential, she believes, work on big-picture issues through policy advocacy is key, too, to help change societal reasons for people's problems.
Seeing the growth ...
In addition to teaching most of Bluffton's social work courses, Sommer was, from 1986-2005, the program's field work director—the part of her job she probably enjoyed most, she says. In that position, she saw students put their learning into practice as seniors. "That's when the light bulbs tend to go on the most," she points out.
But watching them develop over all four undergraduate years, from first year students with vague ideas about "helping people" to seniors ready to become professional social workers and colleagues, was satisfying as well, she continues.
... and the payoff
"It has been an amazing experience to witness the creativity and accomplishments of our graduates," says the Pocomoke City, Md., native, who earned a master's degree in social work from the University of Denver. "Many have gone on to earn master's degrees, and some have had extraordinary experiences in voluntary service in the U.S. and abroad. Several have entered doctoral programs; one is currently in a Ph.D. program at New York University.
"I believe the quality of social services in our area has been enhanced by the contributions of our graduates."
Her eventual connection with teaching thus was based on more than what routinely happened in the classroom, says Sommer, who is now a volunteer tutor in an adult literacy program. "It was helping students find their way, their gifts and their passions. That was exciting."