Dr. Stephen Jacoby
Emeritus professor of music
2010 FACULTY/STAFF SERVICE AWARD
The award recognizes a former faculty or staff member who fostered a spirit of community on campus through relationships with others, including students whom the recipient mentored and inspired.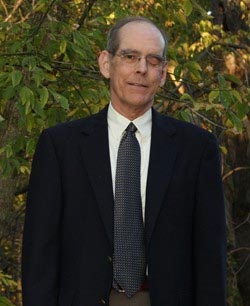 In the summer of 1966, Earl Lehman, then chair of the Bluffton music department and a doctoral student at Ohio State University, recruited Stephen Jacoby, who was pursuing a master's degree at Ohio State, to fill in for a Bluffton faculty member who was on leave for one year.
Jacoby ended up staying for 39 more.
For fostering a spirit of community through personal relationships with others and for mentoring students during those 40 years, the professor emeritus of music is the 2010 recipient of Bluffton's Faculty/Staff Service Award.
"Bluffton was a great place to be," says Jacoby, who also chaired the music department, from 1980-96. During that time, he coordinated two successful accreditation reviews by the National Association of Schools of Music and was a member of the leadership team for the design and construction of Yoder Recital Hall. "I admired and respected my colleagues, and loved working with the students every year.
"After having done all my college and graduate school work at Ohio State, I was drawn to Bluffton's size, its intimacy," he recalls. "I enjoyed all the opportunities for cross-disciplinary interaction, from 'Shoker coffee' to Integrated Arts and First Year Seminar.
"In music," he adds, "I most enjoyed the performance projects, like choir tours and May Day musicals, where you bring a project from 'birth' to completion and realize its significance in the lives of the group and even for those who only observe the final product."
Jacoby, now of Powell, Ohio, led Bluffton's touring choir for 12 seasons and, in 1984, established Camerata Singers, a select chamber choir. He directed more than 25 musical theatre productions, at Ohio State and Lima's Encore Theatre as well as at Bluffton, where he also taught a range of courses outside the music department.
Included Content