Dr. Mary Ann Sullivan
Professor emerita of English
Teacher, artist, learner
2009 FACULTY/STAFF SERVICE AWARD
The award recognizes a former faculty or staff member who fostered a spirit of community on campus through relationships with others, including students whom the recipient mentored and inspired.
Reading the day away.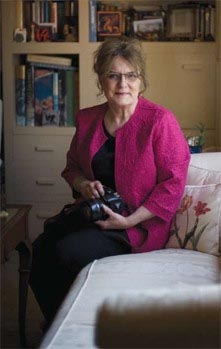 Growing up in Texas during a polio scare that kept her indoors, Dr. Mary Ann Sullivan spent many a childhood afternoon reading. A career in English literature was a natural fit.
Seeing literature through art.
Sullivan's love of literature launched an interest in art history. "A lot of writers in the 19th century, and Britain especially, used illustrations in their novels," she says. "Often, the illustrations added another dimension to the story. And, a number of writers were actually artists as well." Sullivan received a grant from the National Endowment for the Humanities to study the connections between 19th century literature and art, further perpetuating her interests.
Energized by students.
During her 32 years at Bluffton, Sullivan taught nearly every course offered in the English department. "It was always exciting to learn new things," she says. "And it was exciting to see students get excited about the things that excited me." Sullivan says she always depended on her relationships with students to energize her. Among her many efforts to develop new approaches that would excite students, Sullivan designed art history curricula for Bluffton's cross-cultural program and co-led football team experiences in Italy and Spain.
Award-winning digital art.
Throughout her teaching career, Sullivan enriched her lectures with visual materials. She built a large collection of color slides, many of which she photographed as she traveled the world to enrich her understanding of art and architecture. In the early 90s, Sullivan started scanning slides and putting them online to make it easier for students to review for quizzes and to see images beyond those presented in class. The resulting Digital Imaging Project—spurred on by the digital age—is an evolving and award-winning art and architecture resource with more than 17,000 images. At least 400 have been published in widely distributed textbooks, art history books and periodicals.
Sharing with a global community.
Sullivan says her site is her way of living out Bluffton's ideals of social justice and service. "While I have never done voluntary service in third-world countries or worked in obvious ways to further these goals, I am gratified that I receive so many e-mails from those in countries where expensive art books are unavailable, where libraries are limited and where budgets are so meager that travel around the world is impossible. I believe that those of us in wealthy countries with personal means have an obligation to share resources. For me, the great advantage of the Web is that it helps to eliminate some of these inequities."