President's Ambassadors
Bluffton University President's Ambassadors are high-achieving students who will assist in recruiting prospective students, welcoming and greeting campus guests, and engaging alumni and donors.
Lead ambassadors
Evan Burden '22
---
Music education major from Sidney, Ohio
I chose Bluffton initially because of the ability for me to be a music student as well as continue playing soccer. Being able to meet the coaches and faculty on my first visit and them being invested in getting to know my family made me know Bluffton was the perfect fit. After visiting the first time I was able to visit again and observe classes and participate in a rehearsal, as well as doing Experience Bluffton and getting to meet some of my future classmates while I was there.
Avery Carter '22
---
Nutrition and dietetics major from Bryan, Ohio
I knew I wanted to major in nutrition and dietetics by the end of my junior year of high school after I job shadowed a Registered Dietitian Nutritionist (RDN) who also happens to be a Bluffton University alum. Bluffton has a nationally-accredited dietetics program filled with incredibly hardworking students. When I visited Bluffton, it felt like home. I loved the welcoming atmosphere of the campus, how my student ambassador knew almost everyone we passed on my tour, and that the admissions team still had contact with me by sending me birthday cards, etc. I knew I wouldn't have difficulty finding long-lasting relationships here.
Emily Clawson '22
---
Speech-Language Pathology and Audiology from Troy, Ohio
I chose Bluffton because when I visited for the first time, the faculty and staff seemed so friendly and welcoming. The smaller class sizes appealed to me, as well. I like knowing that my professors can talk to me and know who I am. The nature on campus was also a big piece that attracted me to Bluffton. I felt a calm presence which I imagined would be nice during the chaos of school, work, and studying. Of course, a big reason for coming to Bluffton was because Bluffton has Speech-Language Pathology and Audiology as a major, and a smaller setting! Not many schools have my major in Ohio, especially smaller schools like Bluffton. Lastly, I could imagine myself at Bluffton and enjoying it.
Wayne Frey '22
---
Psychology and Criminal Justice major from Kirby, Ohio
I chose Bluffton for its close-knit community. I really liked how the professors were so welcoming and how everyone says hi when you walk by.
Marissa Hall '22
---
English major from Avon Lake, Ohio
As soon as I stepped foot onto campus, I knew there was something special about Bluffton. Everyone I met was extremely helpful and welcoming. I was looking for a university that offered a community-centered atmosphere and Bluffton has that. Furthermore, I wanted a small school where my professors knew me well. I can say after two years on campus, I know each of my professors very well.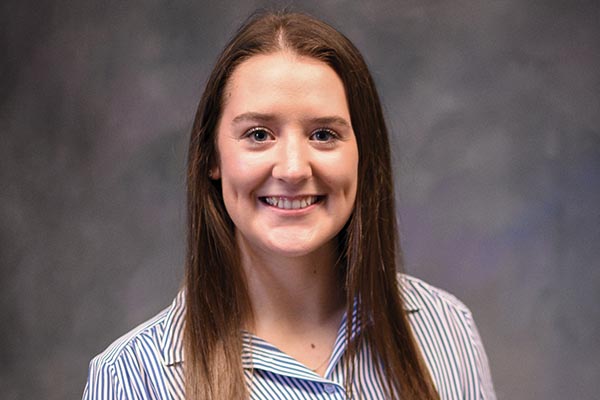 Cassie Mladek '22
---
Elementary education major from Coshocton, Ohio
I chose Bluffton because it immediately felt like my home away from home. I do not feel like a number; I know that I matter.
President's ambassadors
Darius Boeke '24
---
Mathematics major with AYA Licensure from Sidney, Ohio
The community feel of Bluffton is very hard to find. We are a close-knit community where everyone knows each other, and I love that aspect of Bluffton. I'm also a student athlete and this was one of the couple schools that was interested in my abilities.
Haley Byrnes '23
---
Elementary education major from Coshocton, Ohio
I choose Bluffton because it instantly gave me a sense of comfort. I love the family community atmosphere of the university and how welcoming everyone is. Bluffton had a strong program for exercise science and has a lot of resources that will help me reach my future career goals. I felt that this was the best fit for me because I like to have lots of interpersonal relationships and want to build close bonds with the professors, staff, and my fellow classmates. I thought the campus was beautiful and fit me and what's best for me.
Stacey Chirewa '23
---
Accounting and Business Administration major from Harare, Zimbabwe
I like how the four core values (Discovery, Community, Respect, and Service) tied in with how I was raised back home. I also like the student to faculty ratio, as well as the fact that they care for international students, in the way they email us and always kept us in check even before I arrived.
Nathan DeWeese '23
---
Mathematics and Business Administration major from Columbus, Ohio
When I first visited campus, I was greeted by people I had never met. There were faculty and students that took a true interest in me from the start. The small class sizes were appealing to me, and I have never felt like a number in a seat. My professors know who I am and take in interest in my activities.
Leslie Diaz '22
---
Graphic Design and Marketing major from Chaclayo, Peru
I chose Bluffton because of the welcoming treatment I experienced since my first visit.
Carina DiMarco '24
---
Intervention Specialist and Elementary Education major from Hartville, Ohio
I chose Bluffton because I wanted to go to a smaller school with a strong sense of community, and it really stuck out to me how friendly everyone was. It also stuck out to me how quickly people here responded when I had questions as compared to other larger schools.
Riley Garmatter '24
---
Primary P-5 Education and Special Intervention major from Rawson, Ohio
The very first steps of my first ever visit at Bluffton simply felt like home. I had visited other campuses but at Bluffton, the small, welcoming community of friendly faces made me comfortable in a new environment. I had no idea what I wanted to do with my future, and the people I met at Bluffton made me feel like that was perfectly okay and the professors I met with encouraged me and informed me that we could figure my future out together. That was one of the first signs of community, and since being here, community has proven itself to be a true quality this campus has.
Jenia Freewalt '24
---
Art Education major from Delphos, Ohio
I chose Bluffton University because of its welcoming staff and students, beautiful campus, small size, and it is close to home.
Noah Heiing '24
---
Elementary Education and Intervention Specialist major from Delphos, Ohio
I chose to attend Bluffton for several reasons. One reason was for the small class sizes. I really enjoy the personalized attention I get from professors. I really enjoy how all of the professors know your name and are so willing to help. I also enjoy campus itself. It is so small, beautiful and just feels like home.
Jordan Jennings '24
---
Speech-Language Pathology and Audiology major from Portsmouth, Ohio
Coming from a small high school I knew I wanted to go to a small college. Every time I was able to be on campus I felt welcome, and it wasn't like that on any other college visits I went on.
Danielle King '24
---
Pre-physical Therapy from Tedrow, Ohio
During my college search, I knew I wanted to go somewhere relatively small because my high school wasn't very large, which I loved because I got to know everyone and really enjoyed the community aspect of it. I also knew I wanted to go to a Mennonite college to both further and challenge my faith. After visiting Bluffton once, I knew it was the place for me because it is a Mennonite college, and I felt the sense of community on campus that I was looking for!
Grace Liechty Zickafoose '23
---
Mathematics Education major from Lima, Ohio
I chose Bluffton because it truly felt like home as soon as I stepped onto campus. The tight knit community made me feel so welcomed, and I truly believed that I would grow to my full potential here on campus.
Jeremy Locklear '22
---
Food and Nutrition Business major from Lincoln Park, Mich.
Bluffton was a place that made me feel like I would be successful there. I like being part of the reason someone chooses to come to Bluffton. I have a lot of great experiences to share.
Amy Marshall '22
---
Social Work and Psychology major from Pickerington, Ohio
I came because I knew the professors would help me in doing what I wanted after graduation. I wanted to go into disaster relief through the social work program. When I visited other colleges and talked to the social work professors, they would just nod and say "Oh. That's different." When I visited Bluffton, there were four different professors that heard about what I wanted to do and had a lot of ideas about internships I could participate in or organizations I could work with. I also noticed right away that the faculty, staff, and students were all very close. My tour guide said hello to a lot of the people we passed while walking around campus, and it was clear that the faculty knew the students very well. I loved this community feel and wanted to experience it for myself in college.
MacKenzie Martin '24
---
Speech-Language Patholgy and Audiology major from Hartville, Ohio
I chose Bluffton because the community is not only incredibly welcoming and genuine, but the people here are passionate about seeing and helping each other succeed and reach their goals.
Caitlyn Renner '23
---
Speech-Language Pathology and Audiology major from Cairo, Ohio
I chose Bluffton because it felt like a home to me and I loved how welcoming everyone was. I also really liked how small the class sizes were and how I knew I would really be able to have that one-on-one connection with my professors.
Sarah Rivera Rios '23
---
Business Administration and Marketing major from Comayagua, Honduras
I come from a Christian family, where service and respect were some of our core values, just like Bluffton University. My mom knew that if she was going to send me miles and miles away from home, she had to send me somewhere she could trust. Also, the Business Program at Bluffton University is a great one. It has been recognized as a college of distinction for 2020-2021, and Bluffton's placement rate in jobs, graduate school or voluntary service within six months of graduation is 98%.
Payton Stephens '23
---
Writing major from Lebanon, Ohio
I chose Bluffton because of the sense of community and comfort I experienced from the moment I stepped on campus. People knew my name and were genuinely interested in what I wanted to study, which you don't get with every university.
Alejandra Valenzuela '23
---
Psychology and Social Work major from Honduras
I like the support the university gave me when I was applying. Choosing a college can be very stressful and Bluffton made it less stressful because I could tell they care.
---
To apply to be a President's Ambassador for 2022-23, watch for announcements and application form in the weekly Student's Connection email.