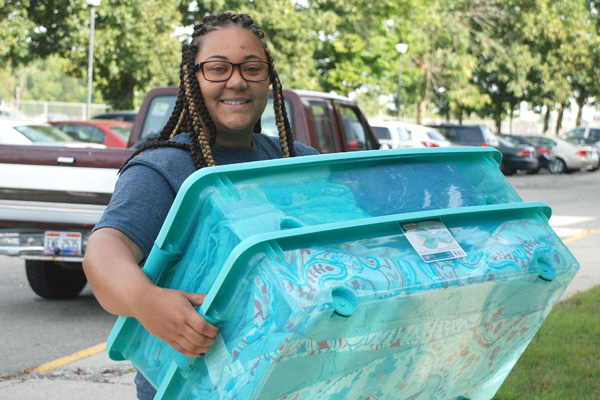 ---
College move in day for first-year students is a stressful day in a normal year. Add COVID-19 to the mix, and well...
Fall Welcome Week
Friday, Aug. 14 - Saturday, Aug. 22, 2020
Our Fall Welcome program is designed to make the start of your college experience a positive one inside and outside the classroom. New students will arrive on Friday, Aug. 14 (three days prior to the start of fall classes) and participate in many activities and events to get to know the campus before classes actually begin. You will not want to miss what this important program has to offer.
The safety and good health of all members of our campus community is important. Be assured that all activities will be conducted with appropriate protocols and safe social distancing. (Activities are subject to change.)
Friday, Aug. 14, 2020
9 a.m.-noon
Residential student check-in
Residence Halls
9 a.m.-1 p.m.
Student IDs
Technology Center, Ground Floor of Centennial Hall

9 a.m.-5 p.m.

Campus Bookstore open

Marbeck Center

11:30 a.m. -12:45 p.m.

Lunch

The Commons, Marbeck Center

12:30 p.m.

Transfer student reception

Kreider Room, Marbeck Center

1 p.m.

Commuter student meeting

Stutzman Lecture Hall, Centennial Hall

1 p.m.

Residence hall floor meetings

Check signs posted on hall floors for locations

1:45-3:15 p.m.
Welcome Group Session #1
Welcome Group meeting locations
3:20-5:30 p.m.
Welcome Group Session #2
split sessions
Academic Success, Finding Your Way, Bluffton 101: How to Be a Beaver!
See daily schedule for times/places

5:30 p.m.

Dinner

The Commons, Marbeck Center

7:00 p.m.

Welcome Group session #2 (continued)


Academic Success, Finding Your Way, Bluffton 101: How to Be a Beaver!



See daily schedule for times/places

8:15 p.m.
Bluffton Olympic Team Preparation
Welcome Groups 9, 10 & 11

Initial welcome group meeting location

9 p.m.

Marbeck After Dark
Movie Night


Neufeld Lawn
SATURDAY, AUG. 15, 2020
SunDAY, AUG. 16, 2020
11 a.m.

Sunday morning worship

Library Field
(Founders as a rain location).

Noon-1 p.m.

Lunch

The Commons, Marbeck Center

Noon-6 p.m.

Bookstore open

Marbeck Center

1:30 p.m.

Learn & Earn: Orientation
to campus work

The Commons, Marbeck Center

2 p.m.

Learn & Earn: Position training

Check location with your employment supervisor

4-7 p.m.

Community building activities

Various locations

5-7 p.m.

Dinner

The Commons, Marbeck Center

7:30 p.m.

Welcome group session #5

Welcome group meeting locations
MONDAY, AUG. 17, 2020
8 a.m.

Classes begin

12:30 p.m.
& 9 p.m.

Things-You-Forgot-at-Home BINGO
Sponsored by MCB

Bob's Place, Marbeck Center

9:30 p.m.

Residence hall floor meetings

Check signs for locations

10:30 p.m.

All hall meeting

Residence hall lobbies
TUESDAY, AUG. 18, 2020
| | | |
| --- | --- | --- |
| 10:45 a.m - noon | Opening Convocation | Copeland Court, Sommer Center |
WEDNESDAY, AUG. 19, 2020
11 a.m.-1 p.m.

Student Involvement Fair




Sponsored by Office of Student Involvement

Marbeck Center

7 p.m.

Shirley's Gourmet Popcorn Give Away

Bassett Plaza, outside lower level of Marbeck Center
THURSDAY, AUG. 20, 2020
11 a.m.

Chapel

Library Field




(Founders as a rain location).

9 p.m.

Thursday Night Spotlight: Make-aMask
Sponsored by MCB

Klassen Court, outide upper entrance to Marbeck Center
FRIDAY, AUG. 21, 2020

8 p.m.

Marbeck After Dark: Dorm Decor DIY
Sponsored by MCB
The Commons, Marbeck Center
Saturday, Aug. 22, 2020

| | | |
| --- | --- | --- |
| 8 p.m. | MCB Presents: Minute to Win It | Neufeld Lawn |