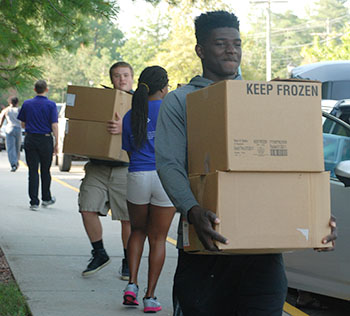 Fall Welcome - Friday
Friday, Aug. 25, 2023

8-10 a.m.
Residential Student Check-in
Sommer Center
Welcome to your home away from home! Check-in begins at 8 a.m. Room keys will be distributed by your residence life staff. Additional staff and students will be available to answer questions and provide assistance.
8 a.m. - 1 p.m.
One Stop Center
Sommer Center
Questions for the registrar's office, financial aid office and the business office can be answered by university staff. Payments may be made at this time, although it is not required. ID pictures may be taken in the Technology Center, ground floor in Centennial Hall.
9 a.m. - 5 p.m.
Campus Bookstore open
Marbeck Center
The campus store will be open to pick up textbooks, supplies and other school gear.
11:30 a.m. - 1 p.m.
Welcome Picnic
The Commons, Marbeck Center
Take a break from unpacking and enjoy a picnic lunch. Be sure to bring your Bluffton ID (and swipe in your parents for a meal together!).
12:30 p.m.
Transfer Student Reception
Kreider Room, Marbeck Center
We welcome all transfer students to this special reception. Get answers to your last-minute questions!
1:30-2 p.m.
Farewell to Families
Unpack the last box, give advice, hugs, and say good bye!
2 p.m.
Residence Hall Floor Meetings
Check signs posted on hall floors for locations
Resident advisors give tours of the halls and an introduction to residence life.
2 p.m.
Commuter Student Meeting
Stutzman Lecture Hall, Centennial Hall
We welcome commuting students to this special session. Get additional information and answers to all your last-minute questions on commuter life.
3 p.m.
Welcome Group Session #1: Bluffton 101
Yoder Recital Hall
In this kick-off to the Fall Welcome activities, students learn more about each other and what it means to be a part of the Bluffton community!
3:30-5 p.m.
Welcome Group Session #2
See list of group meeting locations listed below
New students will gather in small groups based upon their Becoming A Scholar (BAS) class section to discuss campus life in the first of a series of group sessions. Make sure you know your BAS section number! It's listed on your class schedule. (Check after August 14)Students will also meet informally with their BAS faculty and class mentor and be introduced to why at Bluffton ". . . it's all about relationships."
Welcome Group Meeting Locations
Your Welcome Group for the weekend's activities is based upon your Becoming a Scholar class section (1-10). Transfer students not enrolled in this class should check with their admissions counselor or at the 12:30 p.m. transfer student reception.
| | |
| --- | --- |
| Group | Classroom |
| 1 | Lion and Lamb classroom (Riley Court) |
| 2 | Centennial 112 |
| 3 | Centennial 113 |
| 4 | Centennial 206 |
| 5 | Centennial 208 |
| 6 | Centennial 114 |
| 7 | Centennial 212 |
| 8 | Centennial 210 |
| 9 | Centennial 110 |
| 10 | Centennial 109 |
5:30 p.m.
Dinner
The Commons, Marbeck Center
8-10 p.m.
Beaver Block Party
Bren-Dell Lawn
Come on out to Bren-Dell lawn for a block party with music, food, a photo booth and giant slip and slide fun! Free Welcome Week t-shirts and giveaways!