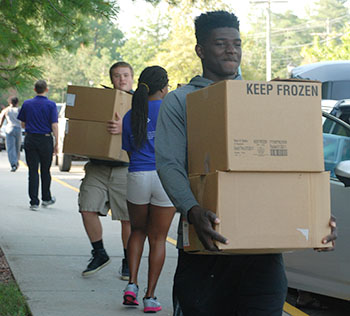 Fall Welcome - Friday
Friday, Aug. 27, 2021

9 a.m. - noon
Residential student check-in
Sommer Center
Welcome to your home away from home! Check-in begins at 9 a.m. Room keys will be distributed by your residence life staff. Additional staff and students will be available to answer questions and provide assistance.
9 a.m. - 1 p.m.
One Stop Center
Sommer Center
Questions for the registrar's office, financial aid office and the business office can be answered by university staff. Payments may be made at this time, although it is not required. ID pictures may be taken in the Technology Center, ground floor in Centennial Hall.
9 a.m. - 5 p.m.
Campus Bookstore open
Marbeck Center
The campus store will be open to pick up textbooks, supplies and other school gear.
11:30 a.m. - 12:45 p.m.
Welcome Picnic
The Commons, Marbeck Center
Take a break from unpacking and enjoy a picnic lunch. Be sure to bring your Bluffton ID (and swipe in your parents for a meal together!). Parents and families depart following lunch.
12:30 p.m.
Transfer student reception
Kreider Room, Marbeck Center
We welcome all transfer students to this special reception. Get answers to your last-minute questions!
1 p.m.
Commuter student meeting
Stutzman Lecture Hall, Centennial Hall
We welcome commuting students to this special session. Get additional information and answers to all your last minute questions on commuter life.
Welcome Group Meeting Locations
Your Welcome Group for the weekend's activities is based upon your Becoming a Scholar class section (1-11). Transfer students not enrolled in this class should check with their admissions counselor or at the 12:30 p.m. transfer student reception.

| | |
| --- | --- |
| Group | Classroom |
| 1 | Burcky Gym |
| 2 | Kreider Room |
| 3 | Library Reading Room |
| 4 | Room 410, College Hall |
| 5 | Bob's Place |
| 6 | Reichenbach Room, Sommer Center |
| 7 | Gilliom Room, Mosiman Hall |
| 8 | Ropp Multipurpose Room |
| 9 | Lower Level, Hirschler Hall (Riley Court) |
| 10 | Founders Stage |
| 11 | Room 211, Centennial Hall |
1:45-3:15 p.m.
Welcome Group Session #1
New students will gather in small groups based upon their Becoming A Scholar (BAS) class section to discuss campus life in the first of a series of group sessions. You will also meet informally with your BAS faculty and class mentor and be introduced to why at Bluffton "...it's all about relationships."
3:20-5:30 p.m.
Welcome Group Session #2
Achieving Academic Success and Finding Your Way
Sommer Center and Stutzman Lecture Hall, Centennial Hall (Welcome Groups 1-6 will start in the Sommer Center and Welcome Groups 7-13 will meet in Stutzman Lecture Hall)
In this split session, one session focuses on ways to help ensure your success in the classroom and includes vital information on your academic program, career and vocation exploration to help you make the most of your academic experience. The other session involves a team scavenger hunt introduction to important university services, locations and facts designed to assist new students in successfully navigating campus.
5:30 p.m.
Dinner
The Commons, Marbeck Center
6:30 p.m.
Residence hall floor meetings
Check signs posted on hall floors for locations
Resident advisors give tours of the halls and an introduction to residence life.
7 p.m.
Welcome Session #3
Bluffton 101: How to Be a Beaver!
Yoder Recital Hall
Students will have opportunities to learn more about each other and participate in an entertaining and interactive introduction to being a Bluffton Beaver!
8:15 p.m.
Bluffton Olympic Team Preparation
Welcome Group Meeting Location
Finalize your group's strategy for Bluffton Olympics. Learn the games and rules, and get excited for this beloved annual event!
9 p.m.
Marbeck After Dark - Paint U!
Neufeld Lawn
Marbeck After Dark (MAD) is a series of late-night weekend events that feature different themed entertainment on a weekly basis. Things are about to get messy on the Neufeld lawn! Paint-U is a paint dance, so wear white and bring your best moves. Music provided by DJ Double K. Sponsored by Marbeck Center Board (MCB).