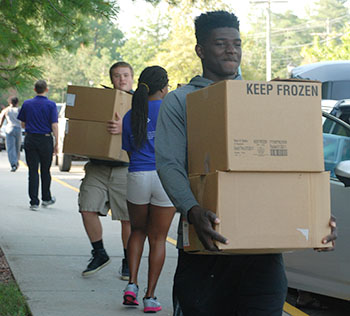 Fall Welcome - Friday
New students will arrive on Friday, Aug. 25 (three days prior to the start of fall classes) and participate in many activities and events to get to know their classmates and the campus before classes actually begin. You will not want to miss what this important program has to offer.
Friday, Aug. 24, 2018

9 a.m. - 1 p.m.
Residential Student Check-in
Welcome to your home away from home! Residence Halls open at 9 a.m. Room keys will be distributed at the front desk of each building by your hall director and residence life staff. Other staff and students will be available to answer questions and provide assistance.
9 a.m. - 2:15 p.m., and 3:30-4:30 p.m.

One Stop Center
Questions for the business office and the registrar's office can be answered by university staff. Payments may be made at this time, although it is not required. ID pictures may be taken and vehicles registered.
Location: Sommer Center
In addition, the campus nurse and counselor will be available in the Health Center on the lower level of Ropp Hall
9 a.m. - 5 p.m.
Bookstore open
The bookstore will be open to purchase books, supplies and other school gear.
Location: Marbeck Center
11:30 a.m. - 1 p.m.
Welcome Picnic
Take a break from unpacking and enjoy a picnic lunch. Be sure to bring your ID (and swipe in your parents).
Location: The Commons, Marbeck Center
2:30 p.m.
Presidents' Welcome
New students and families are invited to a special welcome program and greetings from President Dr. Jane Wood, Student Senate President Jacob Hill and other members of the Bluffton community.
Location: Sommer Center
3:30-3:45 p.m.
Farewell to Families
3:30 p.m.
Transfer student reception
We welcome all transfer students to this special reception. (Get answers to your last-minute questions.)
Location: Gallery Lounge, Marbeck Center
4 p.m.
Welcome Group Session #1
New student will gather in small groups to discuss campus life in the first of a series of group sessions.
Location: Check signs posted on residence hall floors, lobbies or Marbeck Center
5:30 p.m.
Dinner for New Students, Community 101
Students will dine with their respective orientation welcome groups. Following dinner, students have opportunities to learn more about each other and participate in an entertaining and interactive introduction to Bluffton. Hosted by our campus pastor, ministry assistants and Student Senate.
Location: The Commons, Marbeck Center
8 p.m.
Residence Hall Floor Meetings
Resident advisors give tours of the halls and an introduction to residence life.
Location: Posted on floor
9 p.m.
Marbeck After Dark - Paint U
Sponsored by MCB
Marbeck After Dark (MAD) is a series of late-night weekend events that feature different themed entertainment on a weekly basis.
Things are about to get messy on Neufeld Lawn! Paint-U is a paint dance, so wear white and bring your best moves. Music provided by DJ Double K.
Location: Neufeld Lawn