2014-15 Education Matters!
Learning for Life, Vocation and Responsible Citizenship
For the 2014-15 academic year, we explored just what exactly makes education so important.
Many people view attending elementary through high school as a rite of passage, or "just part of growing up," and that often includes college education as well. But for many others a sound education is not only not a normal part of life, it's not even a possibility. Children around the world are barred from attending school due to poverty, conflict and other reasons. For those of us who have had the opportunity to graduate from high school or higher education, education should not be taken for granted.
Topics throughout the year not only challenged the purpose of education, but sought to reinforce the belief that education is vital to human development. Some speakers, such as "What the Best College Students Do" author Ken Bain and Susan Schultz Huxman, president of Canada's Conrad Grebel University College, explained why a liberal arts education makes a positive difference in our world. Other presentations, like Linda Gojak's lecture on Common Core, addressed the ever-changing world of academia.
Our civic engagement speaker this academic year was Kate Spike, Bluffton's professor of Teaching English to Students of Other Languages. For her, education and lifelong learning don't need to be confined to the classroom. Whether we learn in a classroom, a foreign country or in our own backyard, we'll always be learning as long as we leave our comfort zones and engage with others, she said.
Deep Learning
---
Dr. Ken Bain, auther of the required summer reading "What the Best College Students Do," spoke at the Opening Convocation. A Northwestern University undergraduate first got Dr. Bain's attention because he hadn't read a book assigned by Bain for a history course.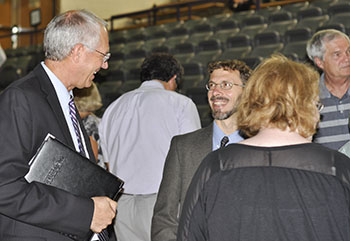 President's Forum
---
Liberal arts education "makes a difference — for those who receive it and for the society we live in," Bluffton University's president reminded students, faculty and staff in his address.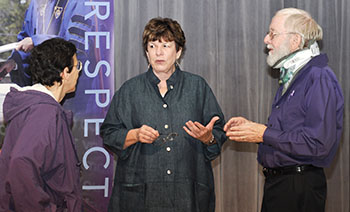 Common Core
---
The immediate past president of the National Council of Teachers of Mathematics said that she thinks "there's a lot of misunderstanding" about the Common Core State Standards for math.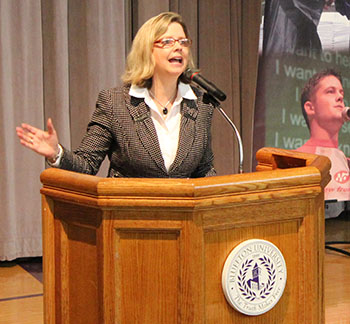 The three 'C's
---
The three 'R's have been viewed as foundations of education since the days of the one-room schoolhouse. But the president of Canada's Conrad Grebel University College proposed that the success of small, Christian liberal arts colleges boils down to three 'C's.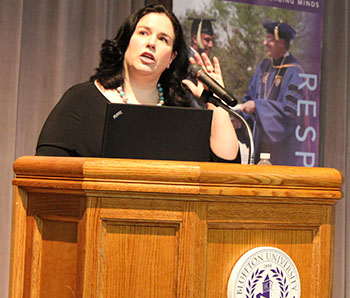 The Contact Zone
---
The "contact zone," as defined by Kate Spike, will never be confused with the comfort zone where many people like to spend their time.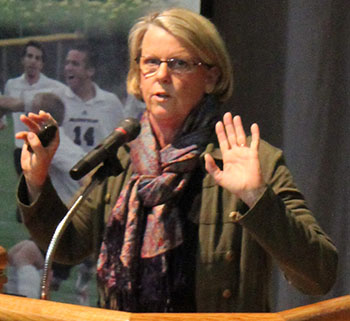 The plot thickens on film
---
As a scholar of 19th-century women's literature, Dr. Cheri Larsen Hoeckley knows that marriage plays a central role in many classic novels. But the pressure to get married that can be found in those books also lives on in modern movies and culture, the Westmont College professor says.