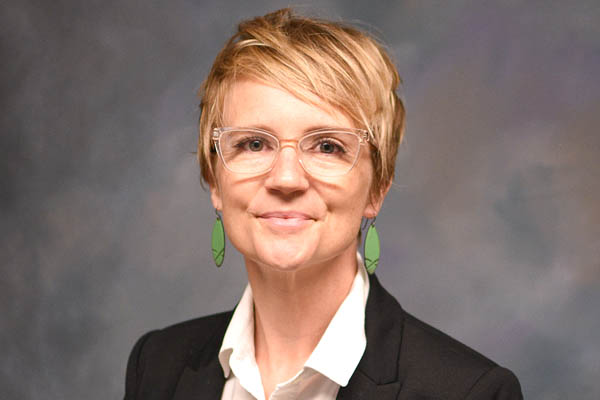 Civic Engagement Lecturer
---
Marathana Prothro, assistant professor of communication, will present "Echo chambers & fun-house mirrors: Navigating an age of alternate facts, distorted reality and fractured relationships," for the spring 2023 Civic Engagement Forum.
Civic Engagement Day
exploring the continuum of emotional wellness
Wednesday, April 10, 2024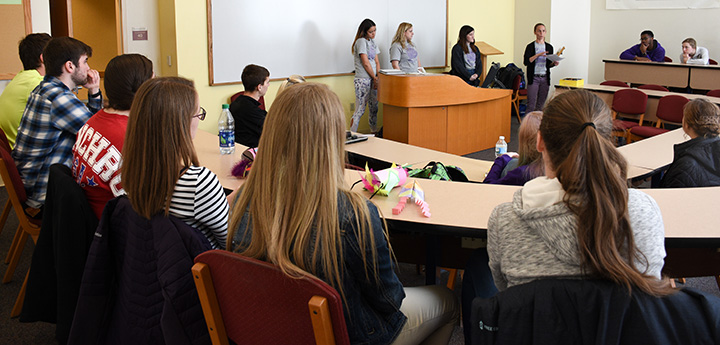 Civic Engagement Day is the culmination of year-long exploration of the civic engagement theme, an opportunity for members of the campus community to share the broad learning taking place. The entire campus community is encouraged to participate in events throughout the day.
---
2023 Civic Engagement Day schedule
These events occured at last years Civic Engagement Day. Visit back spring semester for an updated schedule.
8 a.m.

Yik Yak: Finding Positivity in a Herd of Negativity
Jackson Clark, Bishop Florence, Evan Hill, Brooklyn Phillips (Chris Morrissey)
Stultzman Lecture Hall
We will be discussing the negativity behind Yik Yak from a broad app standpoint down to the specific environment of Bluffton University and individual student experiences through a slideshow, Q&A/survey, etc. We will focus in on how to shift the negativity on the app to a more positive environment for our campus. Throughout our presentation we will be touching on authentic conversations amidst the anonymity of Yik Yak.
Consumer Perception and Brand Image
Market Research Class (Brienne Sprunger)
Centennial Hall 211
Have you ever thought about what's behind a company's logo? In this interactive session, participants will be challenged to discuss some of their favorite companies based on their current perception and take a behind the scenes look at some of their favorite brands. Can we get you to see beyond the logo and possibly challenge your current perception of some of your favorite brands? Join us to find out!

---

9 a.m.

How Can We Improve Arts & Lecture Credit?
General Education Committee (Darryl Nester)
Stultzman Lecture Hall
The Arts & Lectures requirement was introduced 20 years ago, to encourage students to broaden their exposure to Forum, music and theatre performances, and other academic events that occurred outside of the normal classroom. How well is it serving that purpose? Can we find common ground between what faculty want from A&L events, and what students want?
Aliens Among Us?: Opening the Border to Authentic Conversation about Immigration
TESOL: Theories & Issues Class (Ally Zvara, Mara Ruhlen, Mya Steele, Emma Mueller)
Centennial Hall 113
"Immigrants are stealing our jobs!" "All immigrants are criminals!" "Immigrants increase terrorism!" These are all common misconceptions about immigration in America. Through an interactive presentation, we will debunk different myths about immigration, explore immigration laws, and provide other important information about immigration as a whole. All are welcome to join us to learn the truth about immigration and respectfully exchange any ideas related to this topic.
Musical Movements: How Music Has Ignited Social Change
Kelley VanGilder & Sid Lewis
Centennial Hall 211
For centuries, we have connected through music. In this session we will explore how we have used music through protests to advocate for peace, to bring awareness to criminal justice cases to fight for exoneration, to bring awareness to mental health issues so others know they're not alone in their struggle, and how one band in particular used their voice when they were ghosted by an entire demographic.
Interactive Workshop on Race and Criminal Justice
Theatre for Social Change Class (Melissa Friesen)
Kreider Room (Marbeck Center)
Students from the Theatre for Social Change class explore the complexity of engaging meaningfully and authentically in difficult conversations using interactive theatre techniques. Join us for a highly participatory interactive workshop involving theatre games, scenes and discussion about the issues of race, policing and criminal justice.
Having Difficult Conversations with Yourself: Guided Journaling
PALs (Peer Awareness Leaders) (Evie Masters & Olivia Daugherty)
Centennial Hall 205
Sometimes the most difficult conversations that we can have are with ourselves. Join PALs members in this guided journaling activity where participants will be encouraged to meditate on their own well-being and respond to questions and prompts through writing. Journals will be provided. This session is limited to 30 participants.

---

10 a.m.

The Things We Share: Interactive Presentation
PEACE Club (Trinity Borgman)
Copeland Court (Sommer Center)
In this session, Bluffton students will first be categorized into different groups that they fit in (for example sports teams, music activities, education majors, etc). Then, various different questions will be asked to the students such as "who here has seen a cow?," "who here has divorced parents?," "who here is bisexual?," etc. Those who answer 'yes' to each question will step into the center of the room. The point of this exercise is to show that despite cliques and groups on campus, we all have more in common than we think. After the activity there will be a discussion about how we can work on having authentic conversations with those who we initially viewed as different than us.
Defining Emotions: A Workshop & Conversation
Refuge 461 (Lou Westcott & Marcella Ciccotelli)
Stutzman Lecture Hall
How many emotions can you name? Most people can name 3 to 5 (think of the movie Inside Out). Famous author Brene Brown in her latest book catalogues and defines 87 emotions (energies) and experiences that define "what it means to be human." But why does this matter? Because learning to define our emotions helps us better connect and communicate with one another. Connection (sometimes called a sense of belonging) is a core human need and the basis for authentic relationships. This workshop will explore emotional energies based on categories through storytelling and video clips.
Cross Cultural Communication Panel
Emily Buckell
Centennial Hall 113
A panel discussion about the differences in communication across cultures. Let's talk about what it's like living and existing in different cultures.
Interactive Workshop on Gender Expectations
Theatre for Social Change Class (Melissa Friesen)
Kreider Room (Marbeck Center)
Students from the Theatre for Social Change class explore the complexity of engaging meaningfully and authentically in difficult conversations using interactive theatre techniques. Join us for a highly-participatory interactive workshop involving theatre games, scenes and discussion about gender expectations among various generations.

---

11 a.m.

When Proof is Faith- Redemption for Those Facing Execution for Capital Offenses
CRJ 325 Class (Michael Barrett)
Stutzman Lecture Hall
In CRJ 325 we watched Dead Man Walking, the story of a convicted murderer who seeks redemption for a heinous crime. We will discuss the concept of redemption as one faces their hour of death.
Say What?: Code-switching, Translanguaging, and Multilingual Communication
Emily Buckell
Centennial Hall 113
A presentation and discussion on the ways in which multilingual people use and function with their linguistic abilities. We will watch a video by Mike Mena explaining translanguaging and code-switching and then discuss.
Being Authentically YOU: Coming Out on a Small Campus
Brave Space (Aspyn Rafac)
Centennial Hall 211
Brave Space members will share on having difficult conversations about gender & sexual identity, the burden of educating others, how you approach adversity, and the coming out process.
Interactive Workshop on Mental Health Education
Theatre for Social Change Class (Melissa Friesen)
Kreider Room (Marbeck Center)
Students from the Theatre for Social Change class explore the complexity of engaging meaningfully and authentically in difficult conversations using interactive theatre techniques. Join us for a highly-participatory interactive workshop involving theatre games, scenes and discussion about the need for mental health education.

---

12 noon

Healing Religious Trauma
Aspyn Rafac & Chalsi Campbell
Stutzman Lecture Hall (Centennial Hall)
Open discussion on the impact of religious trauma with resources provided and a healing service.

---

1 p.m.

Yik yAAk: Authenticity vs. Anonymity
Leah Bowman, Meg Widmer, Sid Lewis (Chris Morrissey)
Kreider Room (Marbeck Center)
Does anonymity limit honesty and authenticity within interpersonal communication? This small group interactive session will explore the effect of anonymous Yik Yak posting on authentic conversations.
Issues in Education Student Presentations
Issues in Education Class (Paul Neufeld Weaver)
Centennial Hall 113
Three students from the fall 2022 Social and Philosophical Issues in Education class will present presentations oriented towards making education more accessible, human and inclusive.
Authentic Controversies in International Economics
International Economics Class (Jonathan Andreas)
Centennial Hall 211
A series of topics in international economics which are often controversial public discussion topics. Professional economists have near unanimous agreement about some of these topics, and that consensus often differs from the popular discourse.
Google Translate Fails: Discussion of Acceptable Use of Translators in Second Language Classrooms
Spanish Club (Emily Buckell)
Stutzman Lecture Hall
Enter into a conversation with language instructors regarding the use of translation tools in the world language classroom. Add your input to the discussion of policies for language classrooms on our campus.

---

2 p.m.

Uncovering Jim Crow in Lima, Ohio
History: Theory & Application Class (Perry Bush)
Stutzman Lecture Hall
In this presentation, Bluffton University history majors will present the results of a length class assignment called the Neighborhood Reconstruction Project they completed last fall for the history methods class, HIS 300: History: Theory and Application. They researched a sample of about 130 people living in a Lima, Ohio, neighborhood called the Far West End, (on W. Spring St. just west of Cole Ave, near St. Paul AME Church). They will walk the audience through the research project and show how they uncovered the foundation of Lima's first African American neighborhood in the 1900-1940 decades. They found that by 1940, upwards of 70 percent of the residents of this neighborhood were African Americans. This was by far the highest African American neighborhood of any in the city at that time, indicative of deep-seated patterns of de facto Jim Crow segregation.
Growing Up in Gaza, Palestine to Co-Directing The Lion & Lamb Peace Arts Center at Bluffton University
Tareq Abuhalima - Lion & Lamb Peace Arts Center (Paul Neufeld Weaver)
Centennial Hall 211
Tareq Abuhalima came to Bluffton in January to serve as the graduate assistant at The Lion and Lamb Peace Arts Center. He will talk about life in Gaza for the Palestinians living there. He will share his own story of growing up and living in Gaza, which is under siege by Israel, his work with Youth Vision Society (YVS) and coming to the United States to study at Bluffton and work at The Lion and Lamb.
Team Building Through Situational Leadership
2023 Leadership Class (Tami Forbes)
Copeland Court (Sommer Center)
The class with provide a variety of interactive situations for students to develop and understand how different leaders emerge when presented with different scenarios. Participants should plan to be physically active.

---

3 p.m.

Bluffton Student Film Festival
Creative Nonfiction Class (Tobias Buckell)
Stutzman Lecture Hall
Three students will present short student films created from scripts written in the Creation Nonfiction class. Learn about the secret behind the show Scooby Doo, experience Michael Jordan's stunning last shot of his basketball career and find out about the haunting emotional impact of the video game Disco Elysium. Followed by a Q&A about the short films, how the students made them, and discussion to follow about the film's topics.

---

7 p.m.

Having Authentic Communication in a Time of Chatbots
Tobias Buckell
Stutzman Lecture Hall
Tobias Buckell will engage students about how chatbots and AI are influencing our communication. He will offer some initial thoughts, but much of the session will be an interactive conversation with students.

Students are encouraged to send questions ahead of the session to Lamar Nisly for inclusion in the evening. Arts & Lecture Credit is available.