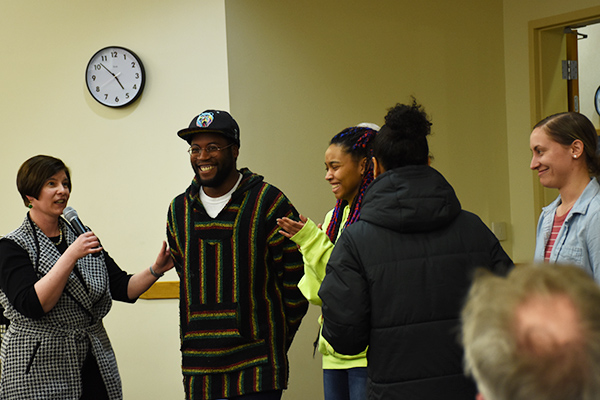 ---
Community-based theatre has a purpose that extends well beyond entertainment, its intent is to engage and spark change.
Civic Engagement Day
Civic Engagement Day is the culmination of year-long exploration of the civic engagement theme, an opportunity for members of the campus community to share and experience the broad learning that is taking place at the university. The entire campus community is encouraged to participate in events throughout the day.
The Civic Engagement theme for 2018-19 year is "When Talking is Tough: Respectful Conversations in a Divided Nation."
---
2018-19 Lecturer
Marathana Prothro is the 2018-19 civic engagement lecturer.
"Using Ancient Wisdom to Stop Destructive Communication
in its Tracks: Reining in Gottman's Horsemen"
11 a.m. Tuesday, April 2
Yoder Recital Hall
"My lecture centers on the Four Agreements as described by Don Miguel Ruiz, Jr., and correlates them with what researcher John Gottman describes as the Four Horsemen of the Apocalypse. Gottman is a researcher whose emphasis is on the kinds of communication that bring destruction to relationships—criticism, contempt, defensiveness, and stonewalling. Each of the Four Agreements directly correlates with a seemingly simple (yet beautifully rich) 'antidote' to each of Gottman's 'Horsemen.' Though the Agreements — let your word be impeccable, don't make assumptions, don't take anything personally, always do your best — draw from ancient wisdom in an oral culture, they are particularly relevant in a post-modern secondary orality and will give students tangible options for moving away from division and toward understanding, without necessarily compromising."
---
2019 Schedule
as of March 13, 2019
APRIL 3, 2019

8 a.m.
Centennial 113
Politics, Faith & Climate: Artistic and mathematical perspectives on a major "Elephant in the Room"
Lead by Steve Harnish
Politics, faith and climate change are each "Elephants in the Room" that people often find difficult to discuss. We'll explore ideas from art and math that could help foster more active listening and productive planning in conversations on the scientific, political and faith aspects of climate change.
--Joined by several students attending the March conference with Katharine Hayhoe, "Christians, Climate, and Culture: Relationships, Tensions, and Resolutions"

9 a.m.
Centennial 211
Can We/Should We Make use of Research Results from Grossly Unethical Practices?
Lead by George Lehman
I have long been both morbidly fascinated and appalled at scientific research done on unsuspecting subjects that often created great harm to the subjects. What do we do with the information gained from these projects? Should we ignore it? Should we use it in an attempt to get some benefit from bad behavior? Does using it only encourage more of the same thing?
The presentation will give a number of illustrations of actual unethical research and how the researchers have been accepted or rejected by the public.
Kreider Room
Theater for Social Change: Child Abuse
Lead by Melissa Friesens' Theater for Social Change Class
Students from the Theatre for Social Change class will hold an interactive workshop that addresses the issue of child abuse and neglect. This topic will be explored through interactive games and activities, leading to a reflection/discussion of the topic, and may be particularly relevant for education majors, social work majors, and others interested in working with children and young adults.
10 a.m.
Stutzman Lecture Hall
Tough Talk in Sports
Lead by Kevin White
This Q&A session will deal with the way Coaches, Parents, Players and Referees communicate with each other, and how that has changed over time.
Centennial 211
Child Abuse Awareness Month: Tough Topics When Dealing With Child Abuse
Lead by the Social Work Club
Speakers from the Allen County Children Services unit will talk about the tough situations they see and have to deal with when dealing with child abuse. April is also Child Abuse Month so we are wanting to bring awareness to this topic.

11 a.m.
Centennial 113
Learning to Let Yourself Be Vulnerable: A Conversation
Lead by Berlin Fuqua
This presentation is about how I have navigated life as a individual/artist while being transgender and how I coped with it over almost a decade. In the presentation, I will go through a series of artwork/self portraits from 2011 to present day. While I do that, I will talk about my own personal identity and how I went from someone who was internally transphobic, self hating, secretive and hateful to others who asked, to how I became comfortable about my own identity, being able to talk about my identity and show how I think it has possibly translated through my artwork over the years. Then I would give people the opportunity to ask questions about what I spoke about in the presentation, my life, my identity/community, etc.

Centennial 209
Tell It Slant: Hard Conversations in Writing
Lead by Writing Students of Jeff Gundy
Writing has often been a powerful tool for carrying on hard conversations and speaking difficult truths—sometimes directly, sometimes by "telling it slant," as Emily Dickinson suggested. In this interactive presentation, students from Writing Seminar and Advanced Nonfiction will read from their own work, discuss the challenges and rewards of such writing, and take questions from the audience.


1 p.m.
Centennial 209
Conversing Between Worlds: Out of Many, One
Lead by TESOL Theories and Issues Class
The issue of immigration is one of the most contentious in the US today. Presenters will guide participants through an exploration of the many varied experiences of newcomers to the U.S. The presentation will include a panel discussion in which individuals who have decided to come to the U.S. will share their stories. Session participants will be encouraged to expand their understanding of what it means to be an immigrant in the U.S. today.

Centennial 211
The Fire in Our Words: Blessing and Cursing in a Culture of Violence
Lead by Gerald Mast
Responding to our current culture of conflict and violence, this presentation offers a model for peaceable speech that includes confrontation as well as collaboration. Reconciling speech goes beyond the Greek model of civility rooted in rhetoric to incorporate a biblical vision of blessing grounded in wisdom. Such reconciling speech creates a path toward healing and hope by offering testimony, inviting repentance, and accepting rejection.
Kreider Room
Theater for Social Change: Abortion
Lead by Melissa Friesens' Theater for Social Change Class
Students from the Theatre for Social Change class will hold an interactive workshop that addresses the issue of abortion. How can we have respectful conversations when we come from different perspectives, experience and belief systems? This topic will be explored through interactive games and activities, leading to a reflection/discussion of the topic.
2 p.m.
Centennial 113
Discovering Disability
Lead by Bluffton National Student Speech, Language and Hearing Association
In our session, we will be opening a space to discover disability. There will be a brief introduction on the topic, and then there will be four stations: Dysphagia, Aphasia, Nonverbal and Stuttering/Fluency. Participants will explore a certain disability and have time to discuss their experience. This is an opportunity for people to talk when talking is tough because talking about disability can be hard. We hope to educate participates on disability and give them a safe space to ask questions and discuss different disabilities.

Centennial 209
It Could Happen to You
Lead by the Gender Perspective
Discussion and Q&A on the topic of sexual violence and how to be supportive to someone in a tough situation. This will be how to have conversations and support people who have been assaulted and also in relationships where violence has occurred.
3 p.m.
Centennial 113
Should We Really Do This? - Discussions at the Leading Edge of Science
Lead by the Science Club
A panel of students will present some current "hot topics" in various scientific fields that are going through difficult conversations (possibly including: childhood vaccinations, gene editing and climate change - but the lineup is not yet finalized). After a summary of the topic, and a presentation of the current challenges, the audience will be given time to ask questions.

Kreider Room
Faith and LGBT
Lead by Brave Spaces
Brave Spaces would like to present a panel of those identifying as LGBT and how faith has impacted their lives. Religion and LGBT have long been subjects that have caused great discussions and hurt. This presentation would like to discuss these topics in an open and reconciled way. Can you be faithful and support the LGBT community?