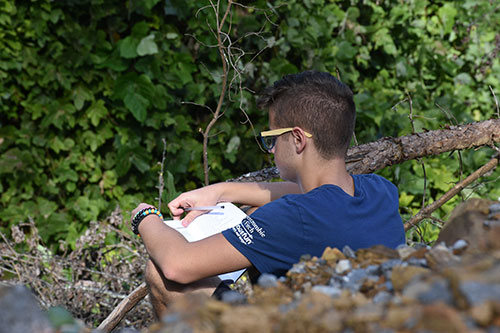 ---
The Great Adventure is a retreat for first-year Bluffton University students. In a location with inspirational beauty and removed from their normal environment, students are asked to ponder, process and seek answers to questions concerning their purpose, personal and vocational direction.
Finding Ourselves at the Center
Collaborative Spaces for Purpose, Work, Learning and Engagement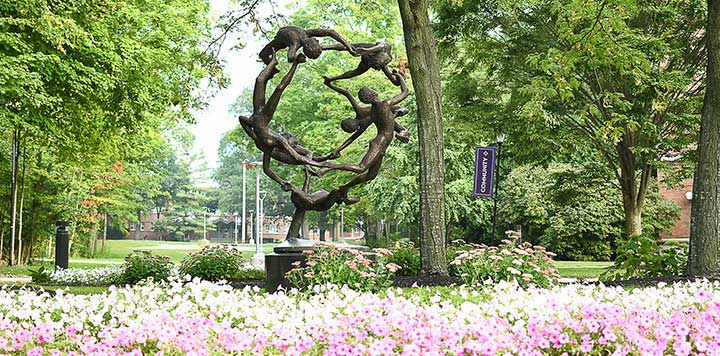 A NetVUE Regional Gathering
May 31-June 2, 2023
Bluffton University
Many institutions have established "centers" as integrated spaces that combine areas once considered distinct: career development, academic advising, community engagement, vocational discernment, diversity initiatives, internships and more.
This gathering will examine both the impetus for and the outcomes of such creative realignments. What can we do together—at the "center"—that we cannot do from our individually defined locations at the periphery? Can centers create a space where career and vocational inquiry is less instrumental and more focused on larger existential questions? Can centers help to integrate the academic program with other parts of the college?
We will also explore models and best practices for involving various constituencies in this enterprise, including faculty, administrators, program directors and the local community.
schedule
Wednesday, May 31, 2023

Time
Event
3:30 p.m.
Arrival and check in begins
5:30 p.m.
Opening reception
6-8 p.m.
Dinner and presidential welcome
8-9 p.m.
Evening campus/community activities, Optional

Thursday, June 1, 2023

7:15 a.m.
Breakfast
8-8:30 a.m.
Check in for commuters
8:30 a.m.
Hospitality announcements and opening worship
9-10 a.m.

Why and How We Center: The Risks, Rewards and Promises of Campus Centers for Vocation
by Krista Hughes, Director of Muller Center, Newberry College

Centers can give focus, elevate institutional priorities, develop and distribute resources, gather and equip people, and incubate collaborations. Centers can also, oddly, be marginal to the college student experience, offering opportunities or services that may seem optional relative to required academic, athletic, co-curricular and personal commitments.

How can centers for vocation most effectively do their work in an atmosphere of competing priorities? This talk will consider both the risks and the rewards of centering certain programs and initiatives in a designated space on campus, and it will also invite participants to think creatively about untapped possibilities on their own campuses as we take up the larger questions of why and how we institutionally "center" our work.

---

Dr. Krista E. Hughes is founding director of the Muller Center for Exploration & Engagement at Newberry College in Newberry, S.C., where she is also associate professor of religion. She has led the integration of vocational exploration into first-year programs and academic advising. A published author, she is vice chair of the Building Thriving Communities Foundation in Newberry and a regular facilitator for the community transformation organization Speaking Down Barriers, located in Upstate S.C.

10 a.m.
Table conversation to discuss applications of Dr. Hughes' keynote address
10:45 a.m.
Break
11:15 a.m.
Small group vocational discussions: How do vocational discussions with students differ among faculty, support services, coaches or even academic disciplines (Humanities, Social Sciences, STEM, etc.)
12:15 p.m.
Lunch
1:30 p.m.

Introduction to the Bluffton Blueprint
"How do you prepare the next generation of students for a future that will be different than anyone can imagine?

At Bluffton University, the answer is through the Bluffton Blueprint—four foundational courses, one each year, which create a core of resiliency. Each course within the Bluffton Blueprint aligns with one of Bluffton's enduring values—Discovery, Community, Respect and Service. These courses allow students to see how different groups of people come together to create positive change.

Marathana Prothro
Asst professor of communication

Discovery:
Becoming a Scholar

Walt Paquin, Ph.D.
Professor of social work

Service:
Learning in Community

Paul Neufeld Weaver EdD
Director of Global Education

Community:
Cross Cultural Experiences

Randy Keeler D.M.
Associate academic dean

Respect:
Enduring Values Capstone

2:05 p.m.
2:55 p.m.
3:40 p.m. - break
4:15 p.m.
Bluffton Blueprint course concurrent sessions with breaks

During the Bluffton Blueprint Course Concurrent sessions, participants will hear from the lead faculty for each of the Bluffton Blueprint courses and a student about how the course has impacted their consideration of vocation.
5:05 p.m.
Wrap up discussion on the Bluffton Blueprint
6 p.m.
Catered dinner

Friday, June 2, 2023

7:30 a.m.
Optional morning prayer
8 a.m.
Breakfast
9:15 a.m.

Closing presentation

Reclaiming the Center for Uncertain Times
Shari Ayers, Director of Contextual and Experiential Formation,
Trinity Lutheran Seminary at Capital University

Most of us know that students, faculty, staff and even institutions themselves are under stress. If we didn't know this already, the frequent studies and stories arriving in our inboxes would tell us so. In such uncertain times, programs and centers focusing on integrated and holistic vocational discernment can seem like a luxury item most campuses cannot afford. During this final time together, we will look at why and how we "center." We will examine the risk, rewards and promises of campus centers for vocation and reimagine some possibilities for reclaiming this essential space in creative ways.

---

Shari Ayers served as director of Bluffton University's Center for Career and Vocation from 2013-19. Since May of 2021, she has occasionally returned to this work in consulting and interim capacities. Shari is an ordained pastor in the Evangelical Lutheran Church in America (ELCA) and is a trained intentional interim/transitional pastor. In this role, she is often called on to assist faith communities in their shared discernment of their gifts and their direction. Shari lives in Columbus, Ohio, with her wife Lynn and two cats, Franny and Jett.

10:15 a.m.
Table conversation
11 a.m.
Break
11:15 a.m.
Final thoughts/evaluations/wrap up
Noon
Boxed lunches and check out
Meals and accommodations
Full registration includes:
Two nights of accommodation (Wednesday and Thursday night) on campus in one of two air conditioned residence halls. All rooms are "doubles" that have been converted to single rooms for this event. Linens are included. Shower and restroom facilities are shared between multiple rooms. * Opening reception (Wednesday night), Breakfast (Thursday and Friday), Lunch (Thursday), Dinner (Wednesday, Thursday), and Boxed Lunch (Friday).
Registration fee
NetVUE member participants - $50
Non-NetVUE member participants - $125
The deadline to register is May 15, 2023. In the registration process, you will also be able to indicate lodging requests.
Travel
All attendees are responsible for their own travel to the event venue. Popular airports within a two-hour radius include: Detroit, Columbus and Dayton. Once on campus, all other locations are within walking distance. There is ample on-campus parking.
This event is made possible by the Network for Vocation in Undergraduate Education (NetVUE). NetVUE is administered by the Council of Independent Colleges with generous support from Lilly Endowment Inc.
Questions can be addressed by:
Walt Paquin
paquinw@bluffton.edu
419-358-3386