It's okay to fail
11/01/2023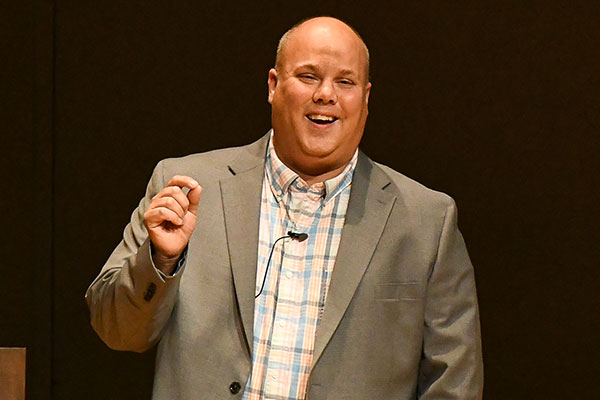 Bluffton Alumnus challenges community to 'love your neighbor'
2007 Bluffton University alumnus David Glick returned to campus the week of Oct. 22, 2023, for fall semester's Spiritual Life Week. Now pastor of student ministries at Ebenezer Mennonite Church in Bluffton, Glick provided the Forum and Chapel messages and worked with students as they explored John 15:5 and the theme "Be Rooted."
"We chose the theme because we realized that in our chaotic society, we need to find unity," said Madeline Kidd, Spiritual Life Week coordinator. "We found unity in that verse, and in each other. We need to be rooted in Christ."
While working with the students, Glick was open about his time on campus including both his struggles and successes.
"This place left an indelible mark on my life," he shared. "Take this opportunity as a gift you've been given to really let Bluffton speak to you. It's a beautiful gift."
During his Forum presentation, Glick shared four things he took away from Bluffton University.
Finding a place of belonging
Glick described himself as an awkward, homeschooled kid who played the harp and never felt like he really fit in. However, at Bluffton he was "blessed with a community that cares."
Developing friendships that have lasted
In addition to bonding over pranks and intramurals, Glick shared about the death of a close friend and how the Bluffton community came together to support each other during the difficult time.
"When you're hurting, God does his best work," said Glick.
Learning it's okay to fail
Glick was placed on academic probation and took some time away from college. However, he was given a second chance.
"Your past does not define you. Not one professor held my past against me," explained Glick. "In fact, they cheered me on."
Thinking about my neighbor
At Bluffton, Glick's world opened up around him as he was introduced to a community of diverse ideas.
"I learned to flip the script. I went from thinking about what will happen to me to what will happen to them," Glick said.
At Chapel, Glick continued to challenge the campus community.
"What will you do with your Bluffton education? What will you do to love your neighbor?" asked Glick. "We're at a critical juncture with loving your neighbor. The world is divided, but that's the basic command we're called to. We need you to live out your faith. We need you to live out your Christian values."
The week also included evening worship events, a Campus Ministries takeover of the Commons and a fellowship event at the campus fire pit.
"Be Rooted" not only served as the theme of Spiritual Life Week but the campus ministries theme for the entire semester. Chalsi Campbell, campus pastor, was excited about the growing turnout for Spiritual Life Week events.
"Keeping the campus ministries theme tied to Spiritual Life Week has been helpful, and we're seeing the fruits of it with all the people who taking part."
Spiritual Life Week returns during the spring semester with "Even when we are not…" serving as the theme.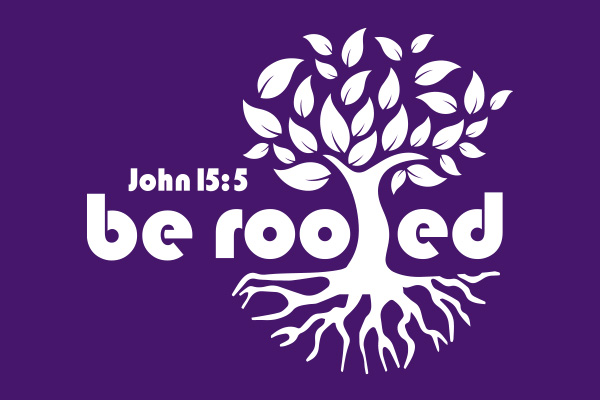 ---
One week each semester is set aside for a special time of focusing on the Christian life.