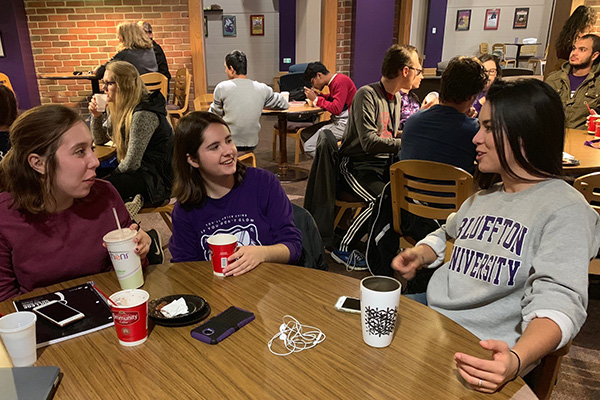 ---
"Hannah showed us that you don't need to feel qualified to do this work, you just need to start and follow through. Spiritual Life Week was both inspiring and challenging... looking at what we can do as the Church and also as people."
Spiritual Life Week
One week each semester is set aside for a special time of focusing on the Christian life. Students play a major role in planning activities that help strengthen growth and faithfulness in our relationship with God. The week includes guest speakers and special times of worship.
Spring 2021 Spiritual Life Week: March 21-26
"

getting into good trouble

"
Theme verse:
"And what does the Lord require of you? To act justly and to love mercy and to walk humbly with your God." -Micah 6:8
Featuring guest speaker:
Dr. Drew G. I. Hart is an activist, writer, and sought-after speaker on topics of racial justice, black theology, Anabaptism, and white supremacy. He is an assistant professor of theology at Messiah University in Mechanicsburg, Pennsylvania.

Day
Event
Location
Time
A&L credit

Sunday, March 21

Drinks and Soul Movie Night

Bob's Place

7 p.m.

No

Monday, March

22

Walk the Walk

Begins at the Lion & Lamb Peace Center

6 p.m.
No

Tuesday,

March 23

Forum

Live streamed in Yoder, Cent. 205, 209 & 211 Evening session- Stutzman Lecture Hall

11 a.m. & 8 p.m.

Yes

Wednesday, March 24

Q&A with Speaker

The Commons

7 p.m.

Yes

Thursday, March 25

Chapel

Zoom

11 a.m.

Yes
Thursday, March 25


Tie-Dye

Bob's Place

8 p.m.

No