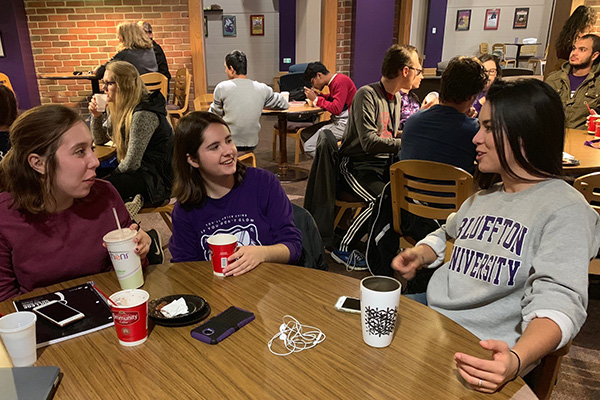 ---
"Hannah showed us that you don't need to feel qualified to do this work, you just need to start and follow through. Spiritual Life Week was both inspiring and challenging... looking at what we can do as the Church and also as people."
Spiritual Life Week
One week each semester is set aside for a special time of focusing on the Christian life. Students play a major role in planning activities that help strengthen growth and faithfulness in our relationship with God. The week includes guest speakers and special times of worship.
Fall 2020 Spiritual Life Week: Oct. 25-29
"

All the small things

"
Theme verse:
"Truly I tell you, if you have faith as small as a mustard seed, you can say to this mountain, 'Move from here to there,' and it will move. Nothing will be impossible for you." Matthew 17:20
Featuring guest speakers:
Sarah Arthur & Erin Wasinger, Co-authors of "The Year of Small Things: Radical Faith for the Rest of Us." They are covenantal friends and colleagues in ministry at Sycamore Creek Church in Lansing, Mich.

Day
Event
Location
Time
A&L credit

Sunday, Oct. 25

DIY Percussion

Bob's & Bassett Plaza

6 p.m.

No

Monday,

Oct. 26

Ask Us Anything with the Speakers

Stutzman Lecture Hall

8 p.m.
Yes

Tuesday,

Oct. 27

Forum: "Everyone Wants a Revolution (but no one wants to do the dishes)"

Live streamed in Yoder, Stutzman, Cent. 205, 209 & 211

11 a.m. & 8 p.m.

Yes

Wednesday, Oct. 28

Doses of Inspiration

Kreider

7 p.m.

No

Thursday, Oct. 29

Chapel

Zoom & Live streamed in Yoder Recital Hall

11 a.m.

Yes