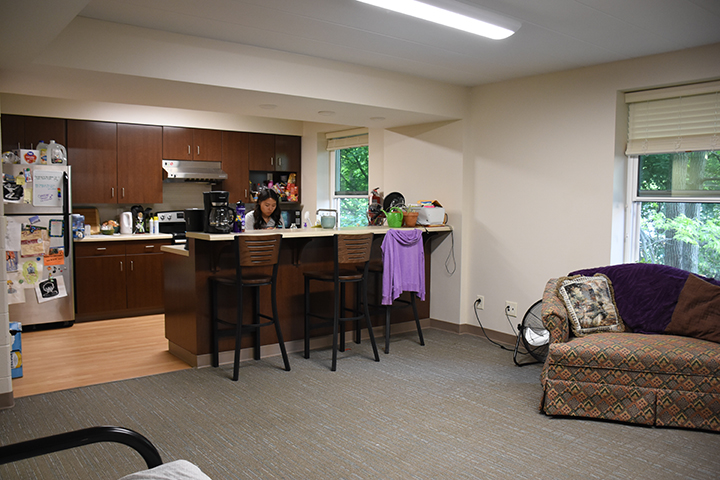 Riley Court Apartments
There are six apartment suites in the Riley Court Hauenstein and Hirschler Halls, providing housing for six students each. Apartments are open to both men and women, divided by suites.
Upper classmen may choose to live in the apartments during the room draw process. The apartments are part of residence life, with a hall director and resident advisor.
Preference for living in the Riley Court apartments will be given to groups of six people, with upperclassman being given priority within those groups. If any apartments are left after these groups of six register, there will be a room draw for any available apartments in groups of two.
Students must plan to attend classes on the Bluffton campus for the entire academic year to live in the apartments. Student's conduct record, GPA and seniority will be considered when assigning apartment lodging.
Suitemates will work together to furnish and arrange their common area. Apartment dwellers must select the Apartment Block 70 meal plan, which provides 70 meals in the Commons plus $150 in Beaver Bucks per semester. This gives the opportunity to cook your meals, while still providing access to meals in The Commons. Other meal plans can be purchased for an additional fee.
Originally built in 1969 as student housing and later used as faculty/staff offices, Hauenstein and Hirschler Halls were renovated into campus apartments in fall 2016.
Each apartment suite has the following:
Full kitchen with refrigerator, sink and stove

Laundry facilities

Spacious common area
Each bedroom in the apartment houses two students and includes the following for each resident:
Cable tv jack
Network data connection
Desk & chair
QAM converter
Hall director: Marissa Hall, Bren-Dell apartment
RA: Zach Boch, 2nd Hirschler, room 201
Ministry assistant: TBD
Bed frame: 36.5" x 80"
Mattress: 36" x 80"