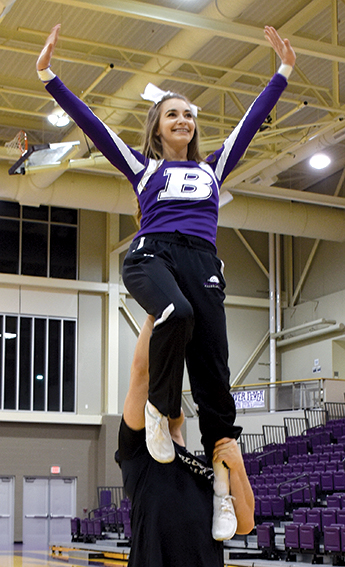 Cheerleading
Celebrating 100 years of cheer in 2020!
Incoming first-year, transfer and current Bluffton students are encouraged to try out for football and/or basketball cheerleading.
You may submit a video tryout to cheerleading@bluffton.edu.
Video submission should include: toe-touch, pike and a double jump; short cheer so we may evaluate motions and voice; any running/standing tumbling skills, and photos or videos of any partner or group stunts. Please include your history with cheerleading – high school, all-star, gymnastics, etc.
Please indicate which teams you are trying out for: football and/or basketball. Preference will be given to those with at least three years of tumbling and stunt experience. However, a good attitude and willingness to learn will be factored in.
New students must be accepted to Bluffton University to be invited to join the cheerleading squads.
Questions?
Contact cheerleading@bluffton.edu. Follow the cheerleaders on Facebook and Instagram.