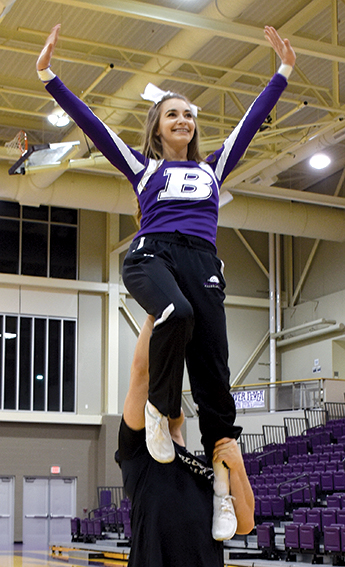 Cheerleading
Celebrating 100 years of cheer in 2020!
Incoming first-year, transfer and current Bluffton students are encouraged to try out for football and/or basketball cheerleading.
You may submit a video tryout to cheerleading@bluffton.edu.
Video submission should include: toe-touch, pike and a double jump; short cheer so we may evaluate motions and voice; any running/standing tumbling skills, and photos or videos of any partner or group stunts. Please include your history with cheerleading – high school, all-star, gymnastics, etc.
Please indicate which teams you are trying out for: football and/or basketball. Preference will be given to those with at least three years of tumbling and stunt experience. However, a good attitude and willingness to learn will be factored in.
New students must be accepted to Bluffton University to be invited to join the cheerleading squads.
Bluffton hopes to join a select number of schools offering STUNT in the 2021-22 school year. STUNT is a female-only sport that showcases the athleticism of cheerleading through stunting, jumping and tumbling in a head-to-head game format at regional matches against other universities.
Bri Hartle, Co-Captain, Senior
---
High School/Hometown: Greenville High School/ Versailles, OH
Major: Child Development; minors in Education Studies & Special Education
Leslie Diaz, Junior
---
High School/Hometown: Santa Maria Reina, Chiclayo, Peru
Major: Graphic Design & Marketing
Searra Hough, Sophomore
---
High School/Hometown: Triad High School/North Lewisburg, OH
Major: Dietetics
Karissa Mead, First Year
---
High School/Hometown: Liberty Benton High School/Findlay, OH
Major: Child Development; Minors in Art & Photography
Mattie Sevitz, First Year
---
High School/Hometown:Delphos Jefferson High School Delphos, OH
Major: Psychology
Questions?
Contact cheerleading@bluffton.edu. Follow the cheerleaders on Facebook and Instagram.