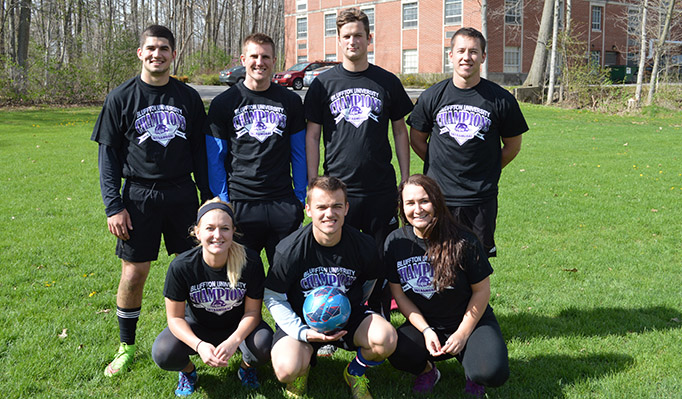 2016 soccer champions
Soccer
Intramural soccer will consist of two 15-minute halves. We are allowing the teams to be co-ed teams with no specific gender requirements. The game will consist of 6 players from each team on the field with NO goal keeper. The clock will run continuously except for injury and official's time outs. Half time will be 3 minutes. The team with the most goals at the end of the game will be declared the winner. Games that are tied after regulation time will have penalty kick (PK) shootouts from 15 yds out. You will select 4 players to take the PK's and if there is a tie after this the other people on the team's roster will shoot until somebody misses.
RULES
All general soccer rules applied such as tripping, high kicks, pushing and so on will be called
There will NOT be offside calls
There will be absolutely No Slide tackling
If the ref calls a foul, the team will place the ball down and resume play
NO stalling, so we can keep the game going
If the ball goes out of play kick-ins only (ball placed on the end line and kicked in)
If the ball goes out on the end line off the defensive team then the team will be awarded a corner kick; but if the offensive team kicks it over the end line of the defensive teams end line the defensive team will be awarded a goal kick (first pass out is free then the defensive team can pressure them)
There will be NO GK's (We will make a call if we feel like one of players is standing too close to the goal a majority of the time)
At the start of each game Rock/Paper/Scissors will be played to determine who will have the kick- off
After each goal we will have a proper kick-off


EQUIPMENT
We will provide the game ball
NO Metal Cleats. You may wear cleats put please no metal
Shin guards are NOT required but if you would like to wear them you may


FIELD DIMENSIONS
40 yds by 20 yds


Registration
There are no gender requirements for this intramural competition. Men, women or co-ed teams. All are welcome!
Questions? Contact Michael Bryan at bryanm@bluffton.edu