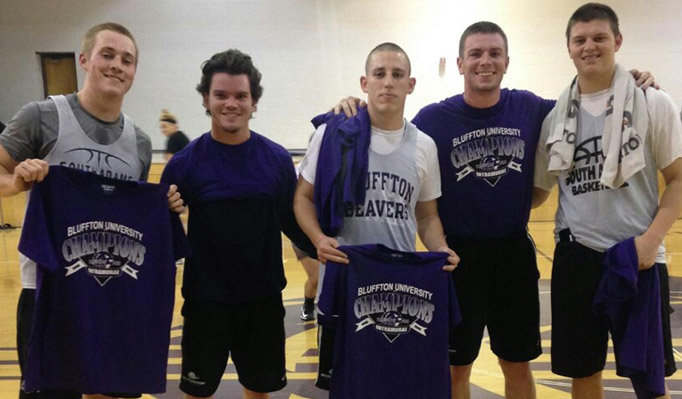 2015 5 on 5 basketball champions
5 on 5 Basketball
CO-ED LEAGUE
Any high school or competitive basketball experience or none at all
Skill level is average but doesn't meet any of the A league criteria
Play is competitive and style of play is similar to open gym
League is mostly for fun
Rules and fouls are limited
Teams must have at least 2 females and 2 males on a team.
INTRAMURAL BASKETBALL RULES
The rules of the National Federation of College Athletics Associations will apply in all cases except where special intramural rules apply.
Playing time
The game will consist of two 20-minute halves.
Half time will be 3 minutes.


Game over
At the completion of the game each captain must sign the score sheet.
Ball
Teams must provide their own ball. If neither team provides a playable basketball, the game shall result in double forfeit.
Time-outs
Each team is allowed one time-out per half. It does not carry over into the next half.
Time-outs are one minute in length.


Alternate possessions
Each game will begin with a jump ball. Every jump ball called from then on will be an alternate possession call. The team NOT gaining possession on the jump will receive the initial alternate possession.
The direction of the possession arrow is reversed immediately after an alternating possession throw in is completed.
Technical
If a player receives one technical in a game, they will be ejected from that game and subject to a disciplinary hearing,
Substitutions
Report to the scorer and remain there until a dead ball occurs.
An official must beckon the player(s) onto the court.
Substitutions should occur without delaying the game.


Overtime
Tie score at the end of regulation time will result in a three minute overtime period.
Overtime will start with a jump ball leading to an alternate possession.


Uniforms
The first team listed is the home team and needs to wear white shirts. The second team is the away team and needs to wear dark shirts.
Nights and dates of play will depend on the popularity of the season; women will have their own league if there is enough interest. With enough teams, we will again be having two levels of play (A league and co-ed league)


Registration
Teams will be limited to 10 players. If you have any questions, please contact Michael Bryan, bryanm@bluffton.edu.