Semester in D.C.
09/11/2018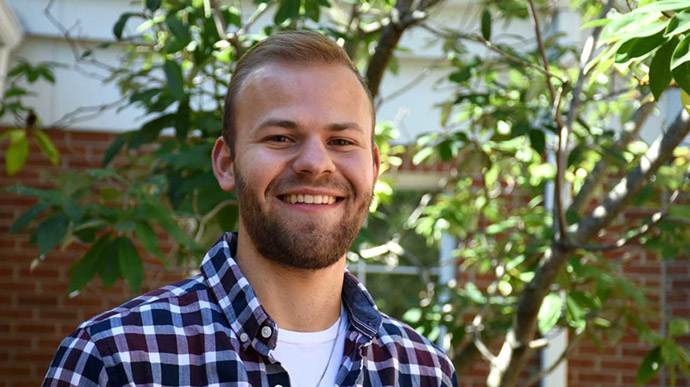 D.C. semester gives business major a new outlook on economics
Joshua Ehlers '19 spent his summer in the heart of Washington D.C., learning about the economic divide on each half of the Anacostia River. Through classes and internship opportunities, Ehlers served the community, gained first-hand experience and explored social diversity while participating in the Washington Community Scholars' Center (WCSC).
"Anything on the north side of the river is what you think of when you think D.C. – the White House, tourist attractions, big hotels and expensive apartments," said Ehlers, an accounting and business administration double major from Defiance, Ohio. "But it's very different when you start branching out from that area."
In contrast, the south side of the Anacostia River is extremely poverty stricken. It was a divide Ehlers describes as "very eye opening."
The WCSC is a program run by Eastern Mennonite University, but it is also open to Bluffton University students. Participants live in a house with up to 14 other WCSC students in the working-class neighborhood of Brookland. They share meals, split household responsibilities and take a weekly classes together. During the summer semester, Ehlers was joined by fellow Bluffton student Shanon Gallagher '18.
"It was neat to be in the environment and a good learning experience for me," Ehlers said.
For 10 weeks, he interned with Bread for the City, a nonprofit organization, in the Shaw neighborhood of D.C.
"We worked with developmentally disabled individuals and helped them manage their Social Security income," said Ehlers. "I personally worked on prefilled budget forms and helped clients fill out a discount utility forms."
The experience provided Ehlers with an up close look at both the positive and negative impact of economic progress in a city.
For example, "when a real estate developer comes in and buys land, they'll build new apartment buildings. However, that pushes all of the current residents out," Ehlers explained. "It creates a problem identified by some as gentrification."
Ehlers transferred to Bluffton from Northwest State Community College. He is the president of Bluffton's Investment Club and vice president of Bluffton University Business Leaders.
"My main goal is to be a financial advisor, but a different type of financial advisor than what most people think," Ehlers stated. "I'm not going to sell you something you don't understand. I'd like to teach people about investment products, how to get the right portfolio and better understand financial literacy."
-B-