Becca Starn '18
08/29/2018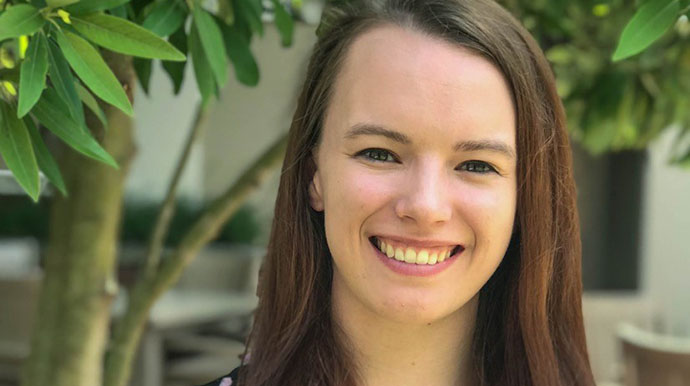 Bluffton senior selected for competitive paid internship
Psychology and food and nutrition might seem to be two majors with very little in common, but for Becca Starn '18 they are an ideal match. The double major from Findlay, Ohio, used skills gained in both areas during a dream internship in Lebanon, Tenn. Starn was one of just 24 students out of more than 300 applicants selected to participate in Cracker Barrel's paid Summer Scholar Program.
"The internship was perfect because I could look at the human resources aspect of the business as well as the food and nutrition aspect," said Starn. "Everyone there was more than willing to help me and to make sure that I learned what I needed to learn."
Starn, who is a server at Cracker Barrel on top of being a full-time student, spent eight weeks at the restaurant's home office. She rotated between four different departments and gained a wide variety of experiences—from assisting with tasting panels to visiting suppliers to updating nutritional guides.
"I was able to visit our pork supplier, Purnell's in Kentucky, and go to Country Fresh Fudge," said Starn. "They were very different types of suppliers, but that was probably my favorite part—seeing how different things were made, how production facilities work and what goes on behind our products."
Starn also learned the value of paying attention in class at Bluffton.
Prepared for vocation
"You know, sometimes you learn something and you think 'Am I really going to use this?' and then I got there, and I realized you do need these skills."
For example, Starn had learned about taste panels during her food science courses. At the home office, she helped administer tasting panels on three products—steak, tortilla soup and cupcakes.
"Once I got into doing the work with the tasting panels, we started talking about standard deviations and the mean of preferences." These topics were covered during statistics classes taken for her psychology major.
Starn also spent time with Cracker Barrel's registered dietitian nutritionist. "I loved that week. She was really hands-on and took me to a ton of meetings," said Starn.
Cracker Barrel's customers will soon see some of Starn's work, as she helped update and change the nutritional guides for the company. She also hand input all of the calories onto Cracker Barrel's new online ordering system, which will be unveiled later this year.
"If you see a calorie number beside a dish, I probably did it," said Starn. "I helped edit and make sure the calories were right and that the product descriptions were accurate."
Now that the program is complete, Starn is focusing on her final semester at Bluffton. She will graduate a semester early. Starn came to Bluffton to play on the volleyball team, but stopped after her freshman year because of health issues.
"It's just how things worked out," explained Starn. "I'm glad I chose a school based on wanting to be at the school and not just for volleyball."
Starn also credits her psychology advisor Dr. Deanna Barthlow-Potkanowicz and her research seminar class with having the biggest impact on her education.
"We had the opportunity to create our own experiments, and we were able to present the research at a poster conference," Starn said. "It was an amazing experience that showed me that I have the ability to do research."
Starn has a few months to figure out her post-graduation plans. However, she would like to eventually pursue a master' degree in industrial organizational psychology, "but I would also love to work for a company that has access to food."
-B-